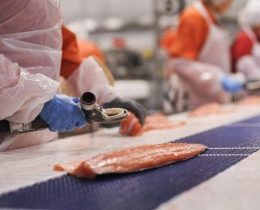 The Norwegian Seafood Federation (FHL) has noted the renewal of Russia's ban on food imports from some western nations, including its former main salmon supplier Norway, is a concern for long-term trade links. "Some of Russia's importers have already gone bankrupt, and some are still struggling now," Trond Davidsen of the FHL told Undercurrent News. "It is a worry for when the market re-opens – more may be gone by the time this ban lifts. We might need to build new relationships once trade begins again."It all depends on the length of time this ban lasts, he said, but added that Norwegian firms are retaining contacts with Russian importers, as is the FHL itself.
The Norwegian Seafood Council (NSC) confirmed it had heard of Russian importers needing to find other suppliers in order to try and remain in business. Geir Bakkevoll, director of communications for NSC, also pointed to other implications in the long run.
"Our analysis is that we expect the Russian seafood market to be changed in different ways during the import ban. The most important change is that when fresh Norwegian salmon is substituted with frozen salmon from other seafood producing nations, the marketing investments will change."
Also, when there is less salmon with a higher price in the market, consumption will go down, he said.
Borge Prytz Larsen, sales director with major Russian salmon importer Severnaya, is optimistic, despite the ban renewal.
"Some importers have had to close, yes, but that does mean more import volumes available for those left," he said. "I think maybe 25% of importers have been forced to close; this does mean a slightly better situation for those left."
When trade does eventually resume Russia will be in for yet another turbulent period, he added, though it is likely to be an easier transition. "Hopefully the currency should be more stable by then. The firms that will have survived the ban can survive anything, I think."
All three Norwegians — albeit one with the Russian company, Prytz Larsen — noted that this sanction renewal was not unexpected and had been factored in to firms' plans.
"Previous to the import ban, the Norwegian seafood industry had long experience with trade barriers in Russia, and was thus prepared for such situations," said Bakkevoll. "Although Russia was an important and long-term development market for Norwegian seafood, the industry has adapted to the situation in the year that has passed."
NSC data has shown the country's salmon exports have remained relatively stable in 2015, flat in May 2015 when compared to the previous year.
"Of course we'd like the markets open again; it would result in that much more profitability," said Davidsen with the FHL. "NSC figures show trade has been great in 2015 – but it could have been that much higher with Russia buying. However, demand is increasing faster than supply, and supply growth should level out soon, so prices should remain strong."
Currency vital to the market
Indeed, the aforementioned currency issues actually remain vital to the salmon trade, and possibly more important than developments in trade sanctions, several sources agreed.
"The ban continuation wasn't unexpected, and more important in the coming months will be the weaker ruble," Kjetil Lye, equity analyst with Handelsbanken Capital Markets, told Undercurrent. "The trade ban is negative, but the ruble is a bigger factor. Russian imports continued on after the ban started [first in August 2014], before falling when the ruble dived in value. Imports became too expensive."
While it was still able, Russia brought in salmon from Chile and the Faroe Islands – not to fully make up the volumes it had bought from Norway, but a sizeable portion. The ban took a heavy toll on imports in August, but they then recovered to near pre-ban levels in September 2014, thanks to a huge spike in imports from the Faroe Islands and Chile.
Data from Customs Inform showed Chilean exports more than doubled from September 2013 to October 2014, marking a 376% increase year-on-year.
Meanwhile, Faroese exports rose by another 29% from September — or a near five-fold increase when compared to October 2013.
Markets these countries had been supplying, such as the US and some European countries, turned to Norway. However, when Russia's ruble hit rock bottom and it simply could not buy, excess salmon supplies were available, and this was when the market hurt.
Lye added that he expects Norwegian salmon spot prices to hold as they have done, especially with supply growth gradually slowing down.
"In terms of demand for Norwegian seafood, the exchange rate is more important than the decision to continue the food import ban for another year," said Henning Lund, equity research analyst with Pareto Securities. "Farming companies have definitely adapted to the market situation, so this should not have too much impact."
"Spot prices have been stable despite the closure of the Russian market – in fact they're up year-on-year; they have stayed strong. "The ban continuing is more of a positive for Faroese farmers than it is a negative for Norway's," he said.
Bakkafrost CEO Regin Jacobsen told Undercurrent that sales to its Eastern European customers have been stable in the past few quarters, and reiterated that the company, despite being the largest producer in the Faroes, was constrained by its own production levels.
In the third quarter of 2014 its sales of salmon to Eastern Europe made up 24% of its total – compared to just 4% the previous year.
"I think this amount has grown as much as it can," Bakkafrost marketing manager Arni Olsen told Undercurrent in November 2014. "Our CEO has said exports to Russia are unlikely to increase more, as our limited production means we can't just drop existing customers to supply Russia."
"We [the Faroe Islands] have some 70,000t of production – the Russian market is 150,000t. It is our supply, rather than Russian demand, which limits sales there."
Trout to go on suffering
Davidsen warned Norway's chief concern in terms of international trade was for its trout. Comparatively minor next to salmon exports, it has struggled to find replacement markets with Russia closed, he said.
"Norway has put a focus on southeast Asia, but it's taking time to build up trade links there," he said. "It's the same for pelagics, a bit of a challenging time growing trade."
Leroy Seafood Group, as the world's largest farmed trout producer, noted it has continued to feel the pinch in 2015.
The market outside of Europe reports positive growth, the company noted in its first quarter 2015 results, but the main trend indicates that volumes formerly sold to Russia in Q1 2014 has now been sold to Europe in Q1 2015.
As a result, the growth in supply to important end markets in Europe is much higher than indicated by the growth in export from Norway, it said.
"This dynamic has also had a negative impact on the prices for Atlantic salmon, although the impact on the trout market is much more predominant."
(undercurrentnews)