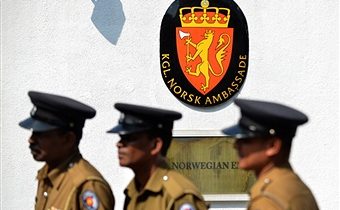 Knut Nyfløt, the First Secretary to the Royal Norwegian Embassy to Sri Lanka, Mohamed Muzain, the Programme Manager of the UNDP Sri Lanka Governance of Local Economic Programme and Vethanayahan, the District Secretary of Jaffna, recently visited the resettled areas of Palaly North of Tellipalai DS Division to hand over completed infrastructure facilities to the families in the area.
During this visit, the First Secretary declared open and handed over completed economic infrastructures especially a Multi-Purpose Cooperative Society Sales Outlet which will ease the resettled communities' access to dry rations and grocery items at a nominal price.
In addition, the First Secretary declared open the Village Secretariat in Palaly North which will enhance access to all government services under one roof. During this visit, the dredging work of the Boat Access Way and the Landing Site for the fishermen at Palaly North also commenced which will support fishermen to restart their fishing activities. All these facilities will enable the 120 resettled families to regain their livelihoods.
Speaking at the event, Knut Nyfløt said, "Norway has a longstanding development co-operation with Sri Lanka. A major part of this support has been extended through UNDP to enhance the livelihood opportunities of the affected communities. It is very important for people to return to their original places and re-established their lives and therefore, the Norwegian Government remains committed to support livelihood activities whilst promoting the resettlement process. So far we have supported between 1100 and 1400 households in the newly released areas in Tellipalai, Vallalai and here in Palaly as well as in Sampur, Trincomalee".
Also speaking at the event, the Mohamed Muzain said, "UNDP would like to see that the returned families are making best use sustaining the livelihood assistance provided through the Government of Norway. As a key development partner working for five decades in Sri Lanka and beyond, UNDP remains committed to assist the people of Sri Lanka to achieve sustainable human development."
UNDP Sri Lanka works with resettled communities in Jaffna with funding assistance from the Royal Norwegian Embassy to uplift their livelihoods and revive the local economy in the area. The project also seeks to enhance access to government services whilst strengthening community organizations and networks.
(N.Sethu)