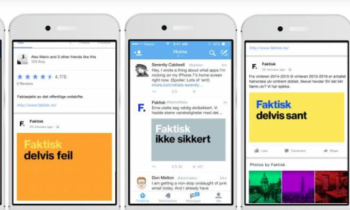 Imagine that The New York Times, The Washington Post and PBS launched a joint fact-checking project. That is, roughly speaking, what happened in Norway earlier this week.
VG and Dagbladet, Norway's two largest online news sources by readership, joined forces with NRK, the public broadcaster, to launch Faktisk. The initiative, a team of at least five journalists led by investigative reporter Kristoffer Egeberg, will start publishing by June and operate as a separate nonprofit organization. It has received financial support, among others, from the Norwegian Free Speech Foundation.
Faktisk, Norwegian for both "actually" and "factually," will not be the first fact-checking project in the country. Bergens Tidende, a newspaper based in Norway's second-largest city, launched the now inactive Faktasjekk.no in 2009.
What's unusual about Faktisk, however, is the organizations it brings together.
"Cooperation among the three most-read Norwegian news outlets digitally, who otherwise are rivals, highlights the the fact that the challenges are so fundamental that we have to cooperate," said Helje Solberg, editor of VGTV and a leading force behind Faktisk.
These challenges are easily recognizable to American journalists, down to the very words used: The lead of the VG article announcing the partnership includes the terms "falske nyheter" and "alternative fakta," for which no translation is needed.
Fact-checking has led to competitors working collaboratively around the world, including in the United States and France.
Eivind Lid, director of the Norwegian Institute of Journalism, says Faktisk "is a new creature in the Norwegian context." The project is distinguished by its unprecedented collaboration and its mission of fact-checking the media as well as politicians, he said.
"I think it is a timely and possibly very valuable contribution to the Norwegian media scene," Lid said. "It is a way to counter the divide between the people and the media before the divide becomes too large to bridge."
Faktisk will have to combat the underlying reality of lagging reader trust in the media, said Bente Kalsnes, an associate professor of journalism in Oslo.
Declining trust in the media isn't a phenomenon confined to the United States, said Petter Bae Brandtzæg, senior research scientist at the research outfit SINTEF.
"In Norway, we find the same pattern of low trust in news media as seen internationally, although Norway is regarded as a small country with a high level of social trust," he said.
In a recent poll, only 42 percent of the sample said they trusted news organizations, Brandtzæg said.
In addition, far-right parties are using the term "fake news" to discredit mainstream media, Lid said.
That's why Faktisk would probably have started with a bigger reservoir of trust if it hadn't been tied to large media outlets at all, Brandtzæg said. Several early comments on the pieces announcing the collaboration expressed skepticism — though of course these aren't necessarily representative of the broader public.
Each analyst interviewed for this article said Norway's political and media environment is not as partisan as its American counterpart. It's also more resistant to fake news and false political claims.
"The political and cultural divide is not as significant as it is in the U.S," Lid said. "Not yet, anyways."
For Brandtzæg, "trust in media is going a bit down, but not to a level comparable to the U.S."
"We don't have politicians who are lying as bluntly as Donald Trump," Kalsnes said. "If a Norwegian politician was lying as openly as Trump has done, I think they wouldn't get away with it."
Faktisk will therefore be particularly valuable as a classic political fact-checking website, especially with upcoming parliamentary elections in September, she said.
Staffers at the site are aware of the changing mood among media consumers and are pursuing several strategies beyond its collaborative format to try and stand out, Solberg said.
First, it will attempt a fresher format than traditional media projects and invest heavily in video.
Perhaps more important, Faktisk will run on open-source software that allows unlimited access for reuse and distribution of its structure and its content.
"The aim is to reinforce the credibility of the organization as open and transparent in methodology and tools," Solberg said.
Finally, Faktisk is looking to help move the needle on automating fact-checking. The project has been in talks with IBM to see whether Faktisk could be an opportunity for its Watson computer to be trained on fact-checking tasks.
(poynter)