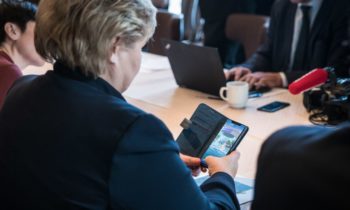 It was the must-have game last year, and it seems that Norway's Prime Minister is still enjoying playing Pokémon GO in 2018.
Erna Solberg, who has been Prime Minister of Norway since 2013, was caught playing the popular game just before a meeting with Donald Trump at the White House.
Prior to the meeting, Ms Solberg held a conference with the Norwegian press, after which she decided to play some Pokémon Go.
Unfortunately for her, a sneaky photographer caught her in the act, minutes before her meeting with Trump.
When asked if it was a way for her to de-stress, bizarrely Ms Solberg claimed she was chatting with her family on the game.
She said: "No, there's a way to send a message with Pokémon to the family at home."
This isn't the first time that Ms Solberg has admitted to playing Pokémon Go in public.
In 2016, during an interview with Aftenposten , Ms Solberg said that she had reached level 14 of the game, and regularly ventured around Arendal in search of Pokestops.
(mirror)