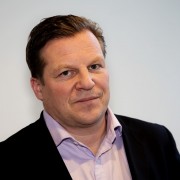 A Norwegian investor whose firm owns the Swedish version of the Metro has bought a 5pc stake in UK regional publisher Johnston Press.
Christen Ager-Hanssen, left, who is reckoned to be worth £2.5bn, has unveiled ambitious plans for the group and says he intends to increase his investment further over time.
The businessman, once regarded as Norway's richest man but based mainly in London since the 1990s, purchased a 5.14pc stake in JP on Wednesday.
Johnston Press shares have surged by nearly 20pc in the wake of the deal to stand at 16.5p.
Over recent years JP has paid off tens of millions of pounds worth of debt accumulated during the 1990s when it bought up scores of UK newspaper titles, but it still has £220m worth of bonds due to be repaid by 2019.
But in an interview with a national newspaper published today, Mr Ager-Hanssen vowed to help it sort out the bond issue, indicating that he had lined-up other investors to help take on the debt.
"I believe in the company and I think that they will be able to sort out the bond issue and that we can help them do that," he told the Daily Telegraph.
"I think we need to move quite quickly. This is something that will happen over the next six months."
Mr Ager-Hanssen's firm Custos bought the Swedish freesheet Metro and its associated websites earlier this year, but he said there would be no direct link between the two companies.
"I don't think we see any strategic synergies. Where we are focused is actually building audience and we want to invest heavily into UK media. And we will do that. We will increase our stake in Johnston.
"You can take Johnston's audience, which is 32m, or 34m, and kick-start new companies like we did in Sweden."
A spokesman for Johnston Press said: "As a major new shareholder, and with his experience, we of course welcome a conversation with Christen and a meeting has been set up.
"As shown at the latest results, JP is showing some good signs of growth – digital revenues and the i's success being two stand-out points. We continue to work on the strategic review and are making progress."
(hold the frontpage)