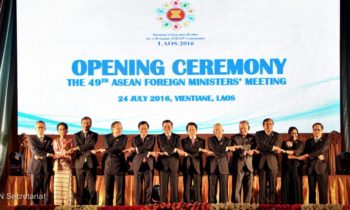 From 24 to 26 July the 49th ASEAN Foreign Ministers' Meeting took place in Vientiane, Laos. The meeting was attended by a range of foreign ministers from Southeast Asia, but also other regions of the world, including Norway, represented by Foreign Minister, Børge Brende.
"The partnership with ASEAN is very positive for Norway," Brende said ahead of the meeting.
"It provides us access to important political arenas, and Norwegian minisitries and businesses have better access to meeting potential partners at the governmental level. This improves Norwegian companies' opportunities in the Southeast Asian markets," he added.
During the three day long meeting, Brende met with Daw Aung San Suu Kyi, who today is Union Minister for Foreign Affairs to Myanmar.
Besides the famous, Burmese politician, the Norwegian FM met the ASEAN Secretary-General and the FMs from Laos, Vietnam and the Philippines. Brende discussed topics such as the countries' mutual contribution to peace, economic development in the region and Norway's bilateral and trade relations with the resepective ASEAN member states.
"Through our dialogue and our partnership with ASEAN, we want to work together to strengthen regional stability, peaceful and sustainable development, regional economic integration and good, predictable framework conditions for Norwegian industry. Regional and global issues and respect for international legal order and human rights will also be on the agenda," Brende also said before the meeting.
In 2015, the ASEAN member states were Norway's fourth biggest trading partner and the third most important export market. The same year, Norway also entered into a strategic partnership with ASEAN that further strengthened trade and other relations between the Scandinavian country and the ASEAN member states.
During the ASEAN Meeting, the 25th anniversery for diplomatic relations between Norway and Laos was also marked. Especially the Norwegian organization, Norwegian People's Aid's humanitarian disarmament efforts in Laos was highlighted at the reception.