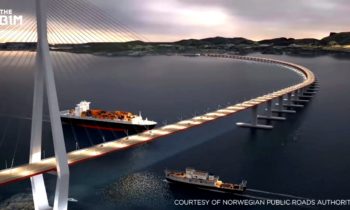 The Land of Fjords (as Norway is known) delights us with truly magical, colorful sceneries, mainly thanks to the narrow and deep inlets of water flanked by steep cliffs.
But the same topographical wonders also create very difficult challenges when it comes to connecting the cities with roads. Norway is an environmental-conscious country and requires solutions that help both its traffic and preserve its pristine fjords. It cannot keep the status quo, though.
The Norwegian western coast is crossed by the E39 highway that connects the north and the south, interrupted by seven ferry crossings. You need 21 hours to make the 1,100-km journey from Kristiansand to Trondheim along the coast. Developing this huge area is also a problem, as ferries depend on the weather and are too slow for the XXIst century. The government wants to help the traffic flow, so it's thinking of means to connect the land bits with asphalt. And it's not easy.
The infrastructure plans will cost Norway no less than $47 billion and would spawn amazing solutions for crossing the fjords. Take, for example, the $2bn Boknafjorden tunnel, a 27-kilometer-long subsea tunnel build 390 meters below the sea level. It will be the longest, deepest tunnel in the world.
A little bit further, the Sulafjorden bridge will cover a 4-kilometer-wide stretch of water. Its middle pillar would connect to the seabed at a 400-meter negative elevation! But the most challenging crossing is that over the Sognefjord. 3,700 meters width, and 1,300 meters depth — it's the biggest fjord in Norway. There are several solutions that will have to cater to the needs of car traffic and sea traffic, while also keeping an affordable budget – floating submerged tunnels, huge bridges, or a combination of the two.