The Norwegian special envoy for Afghanistan, Per Albert Ilsaas, in a meeting with Chief Executive Abdullah Abdullah said that his country is ready to host intra-Afghan negotiations and that it is working for facilitating the talks, Mr. Abdullah's office said in a statement.
The statement said that Mr. Abdullah and the Norwegian envoy discussed latest developments in the preparations of Norway for hosting intra-Afghan negotiations.
The talks are expected to take place after the US signs a peace deal with the Taliban in Doha – probably in the coming days.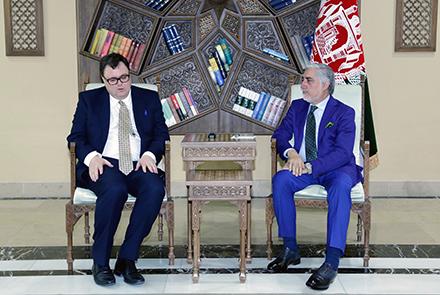 Mr. Abdullah said in a tweet that called his meeting with Norway's special envoy for Afghanistan productive.
"We discussed the Afghan peace process and the Afghan presidential election. I welcomed Norway's readiness to host the Afghan peace talks with the support of Germany and the US," he said.
This comes as US Special Representative for Afghanistan Reconciliation, Zalmay Khalilzad resumed his trip to Qatar and Afghanistan, the US Department of State said in a statement on Tuesday.
In Doha, Ambassador Khalilzad will resume talks with the Taliban as part of an overall effort to facilitate a peace process that ends the conflict in Afghanistan, the statement said.
The statement added that in Kabul, Mr. Khalilzad will consult with the leadership of the Afghan government on the peace process and encourage full preparation for intra-Afghan negotiations.
The US and Taliban representatives have been negotiating since October 12, 2018, in Doha, capital of Qatar to strike a peace deal and end the 18 years' war in the country.
Both sides hope to finalize a peace deal after eight rounds of the peace talks in Doha and UAE.