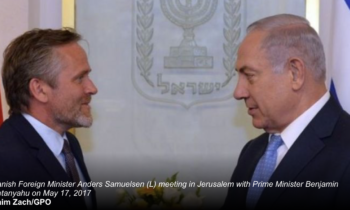 Government's believes in 'dialogue and cooperation to create mutual trust' as solution to ending conflict
Norway announced on Monday that it would limit its funding to Palestinian non-governmental organizations (NGOs) promoting anti-Israel incitement, joining Denmark in its call to oppose efforts of boycotting.
A Norwegian statement on the matter stated that in accordance with the government's 2018 policy it would not support organizations whose mission was to promote boycotts against Israeli policy. It reiterated the government's belief in "dialogue and cooperation to create mutual trust as part of the solution to the Israeli-Palestinian conflict", stating that "boycotts create distance."
"This decision is another expression of the Norwegian government's consistent opposition to boycotts against the State of Israel," the statement continued.
The Danish review came after a meeting where Israeli Prime Minister Netanyahu provided Samuelsen with a list of organizations linked to the Boycott, Divestment and Sanctions (BDS) campaign, putting pressure on the Danish minister to limit the funding.
The ministry however emphasized that a "high-priority" goal was, "to support civil society organizations focusing on the human rights situation in Palestinian", which the Foreign Ministry asserted it would do.
Samuelsen described the announcement as a "significant achievement for Israel in its fierce struggle against the boycott organizations" that "promote boycotts", "present a distorted picture of Israel" and "maintain contact with terrorist organizations."
Commenting on the Norwegian decision, Minister of Strategic Affairs Gilad Erdan said that "this is another important step against boycott organizations," adding that, "the ministry will continue to act consistently to expose European funding to Palestinian delegitimization organizations."
The Danish announcement followed suit from Erdan's words on Friday where he "call[ed] on other European governments to exercise the same moral responsibility and take similar steps."
(i24news)