Mr Vassilenko started by emphasising the historic nature of the recent election as the former president was not on the ballot for the first time in the country's history and the fact that there was 77.4% turnout of the electorate, a very high turnout.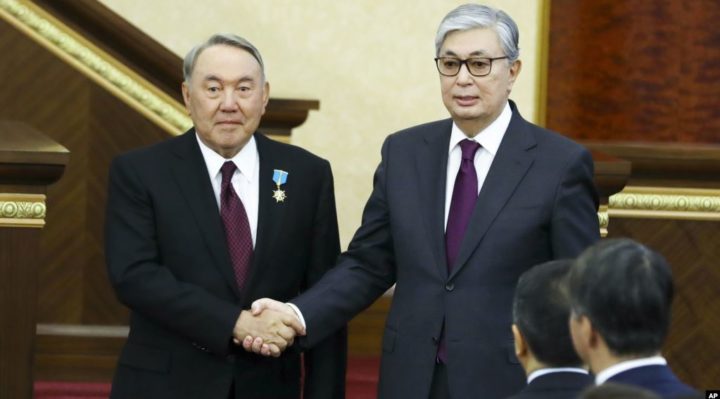 The new President, Kassym-Jomart Tokayev was elected on June 9th 2019 and in his inauguration speech, he outlined several key areas of reform. The Deputy Foreign Minister referred to Mr Tokayev as a "principled reformer" who is already implementing changes that he promised in his electoral campaign. He has already set up two new ministries of ecology, geology and natural resources and of trade and integration, as well as two new agencies, for civil service and for fighting corruption.
Key improvements also planned to increase the number of women and young people within the government. In the first week of his term, a new chairwoman of the Agency for Civil Service was appointment, as well as a female Minister of Culture and Sports. They join a female Deputy Prime Minister in the cabinet. Currently 25% of the Kazakh Parliament are female with a further 65% of low to mid-level officials within the government service. This shows that gradual changes are being made but there is still a way to go.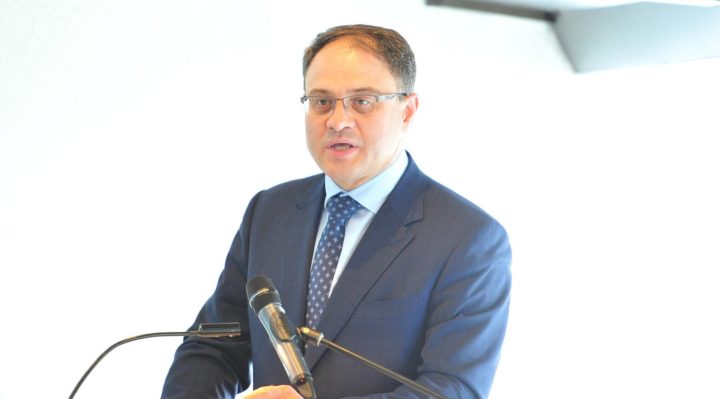 Though there have been some protests during the election, Mr Vassilenko pointed out that there were no serious injuries among the few thousand protesters, while 300 police officers sustained injuries of one degree or another. At press time, six officers remained in hospital.
In order to counteract future protests the new President plans to set up measures throughout the government so that the people can state what their grievances are.
Internationally, the new Kazakhstan government wants there to be more general cooperation in the area of nuclear disarmament. The country is a current partner of NATO in the on-going Partnership for Peace programme and there is also an individual partnership action plan (IPAP) being implemented between NATO and Kazakhstan.
To help further discussions of the most pressing problems in Eurasia, the fourth annual meeting of the speakers of parliaments of Europe and Asia is set to take place in Kazakhstan, where almost 50 speakers from Europe and further 30 or so from Asia are invited to take part. According to Mr Vassilenko, currently more than 50 countries have confirmed their participation, including 44 at the level of speakers.
Mr Vassilenko stressed that Kazakhstan wants to share its experience of resolving conflicts. He referred to the example of offering his country's assistance, if any is necessary, to the President of South Korea on his challenge with North Korea when he was visiting Kazakhstan.
The country also wants to actively support Afghanistan and help in its economic development and stability.
Finally Mr Vassilenko said his country was keen to follow Norway's example in using renewable energy sources and looking after its environment in a better way.
He also underlined that Kazakhstan was looking to the Scandinavian country as an example of improving its environment, referring to their clean lakes, forests and seashores.
Kazakhstan is aiming to obtain 30% of its energy from renewable sources by 2030 and 50% by 2050.
Question: Thank you again. It's a pleasure to meet you here in Oslo during this post election period. Can you elaborate more on how you feel the election went as far as the current political circumstances in the country? Please provide some examples and your thoughts on the new president.
Deputy FM Vassilenko: Yes, well, the June 9th presidential election in Kazakhstan was truly historic because it was the first time that our first and founding President, Nursultan Nazarbayev, was not on the ballot. It was also historic because seven candidates ran in the election and for the first time in Kazakhstan's history, a woman ran for president. The election was truly competitive and even the breakdown of the votes showed that people really had a choice in the platforms that were presented by various candidates. The voters in Kazakhstan have really gone to the polling stations in great numbers, 77.4% of the registered voters turned up to vote, and that's a very high turnout. And I would highlight that this turnout is reflective of the genuine understanding of the people of Kazakhstan that the fate of their country is in their hands.
Secondly, the vote for the incumbent president was also very high. But therea relatively high number of voters voted for other candidates, including for the candidate who has been in opposition to the government for more than 20 years, Mr Amirjan Qosanov.
The president of the country Kassym-Jomart Tokayev in his inauguration speech outlined several important areas of reforms and in subsequent interviews to Western media he called himself a reformer. And that's a very correct description of what the new president has set about doing.
First, he reformed, just within one week after his inauguration, several ministries: he has created a ministry of ecology, geology and natural resources and a ministry of trade and integration. And he has created two new agencies: the Agency for Civil Service and the Agency for Fighting Corruption. He has appointed several new ministers, and they are younger than their predecessors and there are also more women among ministers now than in the past.
The president has also replaced several governors in the country and in our Constitution it is the president who appoints the government, the governors and the mayors of 3 cities of Nur-Sultan (Astana), Almaty and Shymkent.
The President is bringing young people into the government, bringing more women, as he promised he would. Even the first week of Mr Tokayev's presidency shows he is true to his word in terms of his commitment to significant reforms in social and economic area. The president has instructed the government to come up with a plan of a strongly focused social assistance to those who are most in need, he also instructed the government to create conditions for sustainable and inclusive economic growth. He has instructed the government to work out new measures to fight corruption and he has called for the establishment of the National Council of Public Trust. He has already decreed to set up such a council by one of his first decisions as head of state.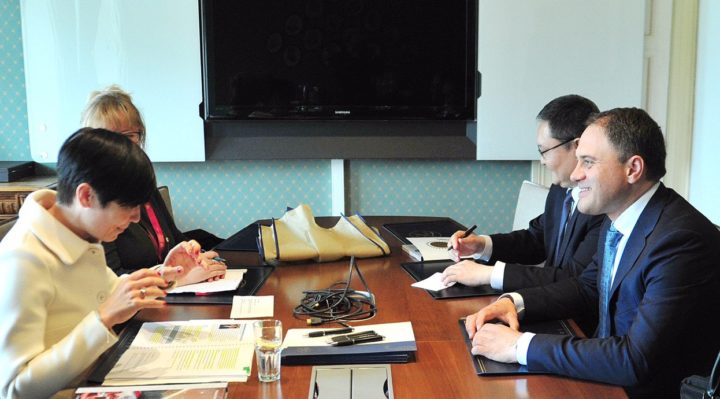 In fact, it was one of his first decrees on the same day of his inauguration to set up this council, which he promised to be set up as a platform for dialogue with the widest range of interests in the country, so that this institution can come up with additional ideas as to how further strengthen the dialogue between the government and the society, and develop reforms that may be needed to improve the democratic principles in the country.
You mentioned indeed the protests and the president is fully aware of these protests, and of course, even before the protests, there was a very strict instruction to the police to not use any force in dispersing the illegal rallies. Indeed, the police in Kazakhstan, contrary to what you may be seeing on TV about what is happening in a good number of other countries, did not use a single rubber bullet or tear gas, or water cannons. They did not even use batons or handcuffs, so that's why they only used their own strengths to react to the attacks that police have sustained in some cases and I think it is very emblematic that during the protests there have been zero cases reported of any injuries among the protesters.
Except for the police who were injured. Six of the police officers are now in hospitals. But zero among the protesters. Because again, there was a very firm instruction that the police is not to use force, under any circumstances. It is important also to distinguish who were there among the protesters and I think the authorities are now dealing with this question. What is important also to highlight is that the president is a reformer, he understands the need for gradual, further political reforms, he has committed himself to those reforms, he is now beginning to move in this direction immediately since the first days of his administration.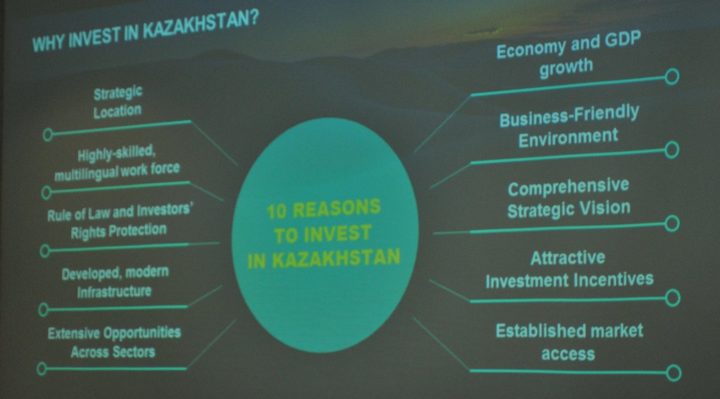 Question: Any foreign factors behind this protest or another motive behind these protestors?
Deputy FM Vassilenko : Well, first of all, I would say that the protests were not enormous, they were not huge. They were significant but you know it's not half of the country taking to the streets. It's a few thousand here and there. For Kazakhstan, of course, we have not seen such protests in many years, it's a significant event, but on a grand-scale, it's not significant. Secondly, indeed there is a fugitive banker who is wanted by the criminal justice in Kazakhstan and in England who had been calling for protests via social media.
I'm not sure how much of an influence these calls had had in organising the protests. They may have influenced some, especially, for example, unemployed youth, who decided to go out into the streets, even though they were warned that these protests are going to be illegal because under the current legislation you have to have a permit for holding a rally and no permit was even sought, so nobody was trying to get a permit to hold these rallies. Again, I think the authorities are very much aware, that even a small-scale protest like this is the reflection of the grievances on behalf of some of the people, so these grievances need to be addressed and there will be a set of measures by the government and by the president's office to deal with those grievances either through providing more opportunities for economic development, or through providing a more targeted and effective social assistance to those who really require this assistance or by engaging in a dialogue with the society about the reforms in the political area that need to be taken. The president has underlined a very important principle of his presidency, that is – one nation, many opinions.
Question: Can you elaborate about gender equality, how the new government is providing for gender equality in politics?
Deputy FM Vassilenko : Well, the new chairwoman of the Agency for Civil Service with the rank of a minister is a woman, having served before as a member of parliament. The new Minister of Culture and Sport, appointed just a few days ago, is a woman. The Deputy Prime Minister, one of the three deputy prime ministers in the government, is a woman. There are 25 % of the members of the parliament who are female. Of course, it's not 50%, but we are aware of that, we are moving towards this greater representation. If you look at the low and mid-level officials in the government service 65% there are women, I don't know where this pyramid gets skewed, but in the top positions there are more men, of course, than women in Kazakhstan still. But in the lower rank positions 65% are women.
Question: How is this new government going to work on environmental side, including in Central Asia?
Deputy FM Vassilenko: Well, we have a raft of issues which we had inherited from this former Soviet Union, one of this is the area around the Semipalatinsk side, one is the areas around in the Aral Sea in the south-west of the country, which was drying because of the use of water for cotton irrigation in the past, we, of course, are a country where more than 98% of our electricity needs is covered by the traditional sources of energy, even though we seek to have 30% of that coming from renewable energy sources by 2030 and 50% of our energy needs to be covered by renewables by 2050.
So these are very ambitious plans, and that is why this Ministry of Ecology, Geology and Natural Resources has been recreated, we had it in the past, now it's recreated. It will be, of course, working across a whole range of issues: promoting the sustainable use of all natural resources that we have, promoting renewable energy development. You know, we have also accumulated enormous amounts of garbage, of waste, and the government is taking now efforts, since a few years ago to take care of that and more and more waste processing plants are built across the country. And already we have introduced things like separate collection of garbage, and processing of recyclable garbage in big cities. This work needs to be continued because in the 27 years of independent development we realise that we need to be doing much more in the environmental protection. Norway, famous for its environment, clean lakes, forests and seashores is a prime example for us to follow and this is an area where we certainly have a lot to work on together.
Question: Sustainable development: can you tell me about your government policies on that area?
Deputy FM Vassilenko: I will be very brief, we are, of course, keen supporters of Sustainable Development Goals of the United Nations. We seek to reach some of them much earlier than we have pledged. Basically, it has been government policies, for many years now, to invest heavily in education to make sure that the education is receiving the larger share of our GDP. And now the plan is to raise its level to 10% of GDP, so it's a huge amount but we are investing in this, we are investing in healthcare and we are investing in social security. We understand that we must afford that because of the need to ensure the quality of our population going forward. Our economy has grown now for 20 years uninterrupted since 1999. There may have been very dynamic years, there may have been some sluggish years. But we have not had a single year of recession since 1999. We need to make sure that this economic growth is reflected in the quality of life of our people and that's exactly what the new president wants the government to do.
Question: Foreign policy: in the future is there any new change in the foreign policy or will all be the same?
Deputy FM Vassilenko: This is an area where there will be a complete continuity. Kazakhstan will continue to play its role as a constructive partner for the international community in resolving international problems, we will be, just as we have before, contributing to the resolution of conflicts in Syria, for example. President Tokayev was the foreign minister in the early 1990s, when Kazakhstan's concept of multi vector foreign policy was developed, which calls for the equidistant, mutually beneficial cooperation with our neighbours such as Russia and China, our neighbours in Central Asia, but also with far away countries such as the European countries or the United States. That is not going to change, that is an area where there will be a complete continuity.
Question: Election results, do they mean people don't want a communist ideology anymore?
Deputy FM Vassilenko: I think the results speak for themselves, and people chose the candidate who they think is best suited and whose pledges are quite relevant for the people. I would highlight also the fact that candidate Tokayev's campaign launched a programme called "BIRGE", which means "together" in Kazakh. That initiative was meant to collect proposals from the people on how we can improve our lives. A total of 540,000 proposals were submitted in writing and online in two months. It's really huge. In his inauguration speech the president said that we will review and categorise every one of them and we will certainly hear what the people want and we will certainly work to implement as much as we can. Now it's a very socially responsive government of the new president.
Question: You went to the Norwegian parliament to brief about situations. What was discussed ?
Deputy FM Vassilenko: We did discuss with Anniken Huitfeldt, chairwoman of the Permanent Committee on Foreign Affairs and Defence in Norwegian Parliament, our bilateral cooperation. We discussed our cooperation in the nuclear disarmament area, we discussed the need for dialogue in Eurasia and in this sense I highlighted the event that Kazakhstan is putting together this year. This will be the foruth annual meeting of speakers of parliaments of Eurasia. The first one took place in 2016 in Russia, the second one took place in Seoul, the third one in Antalia, in Turkey. This will be the 4th one and we are proud to be able to host it. We invited 84 speakers in Eurasia and we now already have confirmations from almost 50 speakers from Europe, from CIS, from Asia. So, we discussed the importance of such a dialogue, and, of course, the Norwegian speaker is invited and we are waiting to hear about who from the Norwegian Parliament may attend. We certainly hope that Norway is properly and duly represented.
It's a unique opportunity for parliamentarians to speak directly to each other in one group. So this is what we have been discussing with Miss Huitfeldt, I also had a chance to briefly discuss our bilateral relations with Foreign Minister Ine Eriksen Søreide. We agreed that our bilateral relations need to receive a new boost. My visit here is just one step in that direction. The business seminar that we held in Oslo on the 18th of June is another step in this direction. We are now going to work together on the exchange of visits, we will continue to work on our initiatives to set up a business council.
Our trade with Norway is only 60 million dollars a year, this is not huge, it's not reflective of the true potential of our cooperation. So we also think that there is a great potential for our countries to know more about each other in terms of people to people contacts. Of course, Smirnov's record here and his win at the Lillehammer Games in 1994 in the most awaited distance of 50 kilometres in cross country skiing is still very much remembered in Norway and in Kazakhstan, but of course there are many cultural and sport connections that can be promoted and this is exactly what our embassy here will be doing.
Question: This is the first time Central Asia is taking part in Oslo Forum. Why has it become a hot topic for the forum?
Deputy FM Vassilenko: Well, I said exactly something along those lines to the organisers of the forum, I thanked them for the attention to Central Asia, but then compared the situation in our region to a set of global issues that they have been dealing with, such as Syria, and others, including quite a few locations in Africa.
I think Central Asia is of course in a different league. But, of course, Central Asia is now living through a period of important transition in its regional relations and cooperation, and it is in this sense that greater international attention to Central Asia is relevant and is needed now. Because of course we have some issues that we will continue to be working together on in the region, including water and energy related issues or including fighting terrorism and extremism.
The stronger the cooperation among the five Central Asian countries, the better for the international community. Also five countries in Central Asia are regional neighbours of Afghanistan. Afghanistan is a country that we view as a source of opportunities now, more than security challenges. We need to be promoting this nexus between development and security. And we need to continue to support economic development in Afghanistan, as we think it will be more conducive to eventual peace in that long suffering country.
Question: A high level European Union delegation met Kazakhstan's former president and present president. Can you elaborate about it?
Deputy FM Vassilenko: Yes, indeed we hosted the European Council President Donald Tusk on the 31st of May, and his visit came just a few weeks before the final adoption of the new EU Strategy for Central Asia which was adopted by the European Council of Foreign Affairs in Brussels on June 17.
It's a very far reaching and far-sighted and strategic document, this new strategy for Central Asia, very visionary. The relations between the EU and Kazakhstan and other neighbours in Central Asia will go from strength to strength now based on this strategy. We contributed to its elaboration, and some of the proposals that we put forward found reflection in this strategy both in the substance and in the mechanisms for how it can be implemented.
We naturally welcome the adoption of the EU strategy for Central Asia, we welcome the stronger engagement by the European Union in the regional affairs because the European Union and its partners in Europe who are not part of the European Union, such as Norway, are viewed as positive partners, who bring with them their technology, their vision, their standards in the economic sense and in the social sense. So naturally, all of the countries in Central Asia are interested in stronger ties with Europe.
Question: What kind of relationship Kazakhstan is having with NATO member states and V4?
Deputy FM Vassilenko : Under the Hungarian presidency last year V4, Visegrád 4, they organised the first meeting of foreign ministers of V4 and C5 (Central Asian Five). And we supported that, our minister attended the meeting in Budapest, we will continue to support it whenever that moves further because we think there is a sense in such kind of cooperation among these loose cooperation initiatives, such as V4 and C5. V4 and its model is quite relevant for the current state of cooperation in Central Asia and for the foreseeable future as well. It looks like a similar concept will be the most acceptable to countries in Central Asia. In terms of NATO, Kazakhstan is a partner for the Partnership for Peace programme, there is an individual partnership action plan – IPAP, being implemented between NATO and Kazakhstan.
Kazakhstan regularly hosts and participates in exercises called "Steppe Eagle". This has been going on since 1996-1997. Usually American troops, British troops and smaller contingents of other countries participate in such exercises. Last year our troops flew all the way to London for participating in the exercises there, on the British soil. So there is a great deal of cooperation under this IPAP in training the command and control personnel, in training our peacekeeping battalion in being able to work with NATO partners, compatibility efforts, so that is on a very strong footing.
Question: Kazakhstan is collaborating with UN peacekeeping operation and mediating peace activities. How is Kazakhstan promoting peace?
Deputy FM Vassilenko: This is our principled position, and we have mostly acted in the past as a host for talks, including under the Astana Process on Syria. Primarily, I would highlight this as the most visible, the most highly prominent process that takes place in Kazakhstan. We are eager to share our experience to contribute to the resolution of other conflicts, especially when we are asked. For example, recently, the President of South Korea visited Kazakhstan and with him there was discussion between our leaders, about how Kazakhstan's nuclear disarmament experience can be relevant for North Korea. But this is something for the Koreans themselves to decide whether or not they need Kazakhstan as a mediator or partner. We are ready to share our experience.
Question: Finally, how do you feel about your trip to Norway?
Deputy FM Vassilenko: Norway is a very very interesting partner for us, in many senses of the word. Because, for example, we need to learn from the Norwegians in terms of the modesty of life, if you will. We have already learnt from the Norwegian experience in setting up our National Fund which is based on the same principles as the Pension Fund set up in Norway, but we need to perhaps exchange more experiences as to how to manage these resources in even more sustainable way than we are doing. Of course, Norway's pension fund is more than one trillion dollars, ours is about 80 billion dollars, which is also a big amount. But there is always more that we can learn from each other.