NATO has received its second A330 multi-role tanker transport (MRTT) from Airbus Defence & Space, with the asset to be jointly employed by partners Belgium, the Czech Republic, Germany, Luxembourg, the Netherlands and Norway.
On 10 August, the NATO Multinational MRTT Fleet (MMF) was expanded by the arrival of aircraft T-054 at Eindhoven air base in the Netherlands. This followed a lead example (T-055) transferred in late June.
NATO says the Alliance-owned assets "Will provide strategic transport of people and cargo, substantially enhance European air-to-air refuelling capabilities, and be available for medical evacuation, if needed."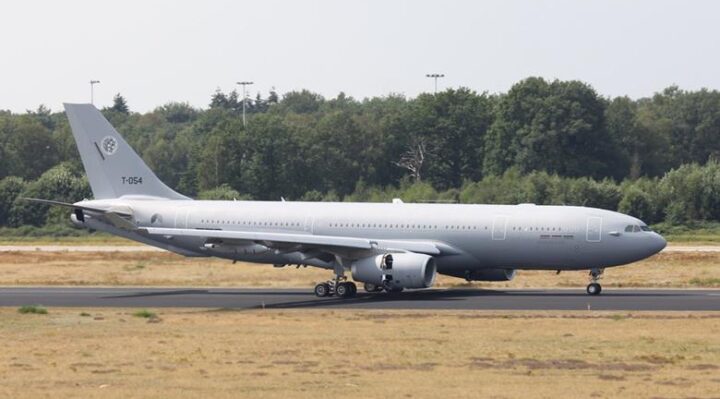 Each aircraft is equipped with a boom and underwing hose and drogue refuelling pods, and configured with 31 business- and 236 economy-class seats. If adapted for medical evacuation tasks, the A330 can accommodate up to six intensive care unit beds and 16 stretchers, along with 21 medical staff and 96 passengers.
Eindhoven is the main operating base for the MMF aircraft, and will be home to five of the eight examples ordered so far. The other three will be flown from Cologne in Germany.
Airbus will deliver the remaining aircraft by 2022, with options in place to add a further three. These would be transferred by 2024.