Russia, irked by the largest NATO-led exercise in decades occurring in and around Norway, has announced plans for its own drills, to include missile launches, in areas overlapping with where the Western alliance is training.
Admiral James G. Foggo , Commander, U.S. Naval Forces Europe has downplayed the provocation, acknowledging that Trident Juncture has given us an opportunity to test our capacity and capability to respond to a collective defense scenario here in Norway.
"We're doing all this is in rather wet, cold, snowy and tough weather conditions which really stresses and challenges the force. Russia has indicated an intent to establish a warning area in international waters off the coast of Norway, As far as we're concerned, this is something that is not abnormal. It is in international waters. These things are called "notams" notice to mariners to let people know that there may be some kind of military activity in that space. We'll deal with it, we'll work around it. We have no particular issue with that. When we do exercises we lay down the same kinds of areas" admiral James G. Foggo said.
On Oct. 30, 2018, the Main Air Traffic Management Center of Russia issued a Notice to Airmen, or NOTAM, alerting civilian aircraft to 'rocket test firings' between Nov. 6 and Nov. 9, 2018, in an area of the Barents Sea north of Norway. This came a day after a similar notice emerged covering a zone further south in the Norwegian Sea and lasting from Nov. 1 to Nov. 3, 2018. Both areas are in international waters, but share space NATO had designated for its sprawling exercise, known as Trident Juncture, the live-fire portion of which runs through Nov. 7, 2018.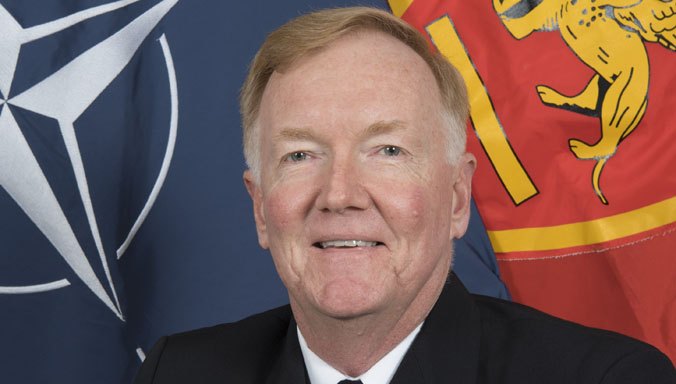 Below is a full rush transcript of the press conference by Admiral James G. Foggo , Commander, U.S. Naval Forces Europe & U.S. Naval Forces Africa
Admiral Foggo: Thank you very much. Ladies and gentlemen, media, thank you for your interest in Trident Juncture and NATO.
Let me just give you a quick overview of where we are. We're about halfway through the LiveEx portion of NATO's Exercise Trident Juncture 2018. Trident Juncture has given us an opportunity to test our capacity and capability to respond to a collective defense scenario here in Norway. So Norway's sovereignty has been violated and under Article 5 in the NATO Charter they have asked for our assistance. We're doing all this is in rather wet, cold, snowy and tough weather conditions which really stresses and challenges the force.
We've brought together almost 50,000 soldiers, sailors, airmen and marines from the 29 NATO nations — all the Allies — and two partner nations, Sweden and Finland. And we're very happy to have the Swedes and the Finns with us, especially because they're used to this cold weather environment.
I think Trident Juncture illustrates that NATO is a very relevant organization, flexible and responsive, and we are united and we are strong. We're ready to defend the borders of the core members of the Alliance.
At the very focal point or core of this exercise we're testing our spearhead force, the Very High Readiness Joint Task Force which was instantiated at a NATO Summit a couple of years ago. We have about 8,000 personnel involved in that Task Force. I have visited their headquarters and spent time with the [chairman] brigade commander who was under a land component commander, a Dutch three-star general, General [Vanderline]. We're learning a lot of lessons learned about how to get some place quickly and set up our capacity and capability to deter and defend.
Today I was out on USS Iwo Jima. Tomorrow I will head up to the Bodø Air Base in Norway, and I'll try to get out to sea and see some of our striking and supporting forces pending the upcoming weather in the next few days. I'll be here for another week.
We had a wonderful DV demonstration yesterday. You probably saw that broadcast on the internet. NRK, one of the local channels, had a very high resolution camera so it's 43 minutes and it's fantastic if you have the time to review it. I was with Secretary General Stoltenberg and Deputy Secretary General Gottemoeller and the permanent representatives or the ambassadors of the Alliance nations and chiefs of defense of the Alliance nations and I think everybody was overwhelmingly supportive of the demonstration of NATO's unity and NATO's strength.
So I'll stop right there and turn it over to your questions.
Question: Can you describe Ukraine's participation in Trident Juncture 2018?
Admiral Foggo: As you know, Ukraine is not a member of NATO and the two partner nations that are participating with forces on the ground here during LiveEx are… We do have a plan to shift from the LiveEx phase in the field to the Command Post Exercise phase at my headquarters in Naples, Italy about a week after we terminate operations here.
The Command Post Exercise will prepare us for the qualification to be NATO's response force for 2019. We currently have two Joint Force Headquarters that are fully manned — one in Naples, one in Brunssum. Brunssum is the NRF for 2018. If certified we will become the NRF for 2019. We have SHAPE, Supreme Headquarters Allied Powers Europe, monitors on site. We have NATO mentors on site. And we have the entire headquarters and the components involved in this tabletop exercise which will go on for the better part of ten days. Ukraine is part of that with staff officers, so that is their contribution and they'll have an opportunity to see and learn from the rest of us as a Partnership for Peace nation.
Question: Can you tell us more about reports of rockets Russia is expected to fire off the Norwegian shore, again, according to reports, and what reaction has there been from Russia concerning this exercise of NATO so far?
Admiral Foggo: I think the Secretary General, Jens Stoltenberg, treated this question very well yesterday.
Russia has indicated an intent to establish a warning area in international waters off the coast of Norway between the 1st and the 3rd of November, and it could be used, this warning area, an area could be used for some kind of a demonstration of a weapons test, but we're not sure. To be sure, I'd recommend you ask the Russians.
As far as we're concerned, this is something that is not abnormal. It is in international waters. These things are called "notams" notice to mariners to let people know that there may be some kind of military activity in that space. We'll deal with it, we'll work around it. The Secretary General shares my view in that we expect that if Russian forces are going to use this area for any kind of a demonstration that they do so peacefully and professionally, as we would do if we were in similar circumstances.
Question: Thank you very much. for years the Finns were rather negative to cooperate with NATO and also not exactly keen to do so. Now both Scandinavian nations are participating. Is it because of Russia? Is it because of changed environment? And how seriously they are involved? And what do you think about their plans to increase cooperation with NATO?
Admiral Foggo: To truly answer your question, the question itself on why the Finns are more disposed to work as partners with NATO now versus years ago, probably that deserves to be asked of a Finn, or in the case of the Swedes.
I can tell you, however, I am delighted that the Swedes and the Finns are with us. They are not members of NATO, they are partners, but they have very effective joint military forces. I've worked with them before in BALTOPS in 2015 and 2016. I've done amphibious landings in Utö, in Ustka in Poland, and Hanko in Finland. I know many of their officers. I stopped in Finland before I came here for the commencement of Trident Juncture. I met with their CHOD, General Jarmo Lindberg who is a fantastic guy. He was with me yesterday during the DV day, and I also spent time in the last two months in Sweden with the CNO, Jens Nykvist who I've known for many years throughout BALTOPS and through my current assignment as JFC Naples.
Both forces extremely professional, extremely capable. Modern equipment. They integrate well with us. They are here and they're doing a great job.
And I think what that does is it sends a message of deterrence to anybody who might want to bother those countries, and I have no particular country in mind when I say that. I say that they are honing their skills for the defense of their territory and that of their interests in the Baltic, and we're very happy that they're with us.
Question: I want to go back to the recent announcement on the missile training areas. They indicated another area as well today up in the north, off the coast of Finnmark. My question is whether there is a an allied force, specifically having in mind that the U.S. carrier Harry S Truman is also in the area. Does that pose a specific security challenge for both the exercise and for the forces? Thank you.
Admiral Foggo: On the "notam" or the intent to conduct missile training, again, those are in international waters, whether it be off Trondheim or further up north. So there is no particular issue. We have no particular issue with that. When we do exercises we lay down the same kinds of areas.
As far as any impact on our training, our ability to get our objectives and our goals conducted in Trident Juncture, absolutely minimal impact. And as far as any security concerns of USS Harry S. Truman, that is a very powerful aircraft carrier. We like to say 90,000 tons of diplomacy. An air wing of almost 70 aircraft. Very strong fighter aircraft with long range weapon systems capability to surveillance aircraft. They are able to get airborne and see the picture, the common operating picture for hundreds of miles around, to refuelers and to electronic countermeasures aircraft, and to helicopters to provide support, sustainment and movement ashore, back and forth.
So no impact whatsoever on what we're trying to do here.
Question: What is the performance of the Greek forces and more specifically the four F-16s of the Greek Air Force so far at the exercise?
Admiral Foggo: I've got a great relationship with the Greek CHOD, Admiral Postalakis. I want to just say hello to him from up here in Norway. Also across your joint force to your Chief of Air Staff. Thank you for sending the four F-16s up here.
I was elated yesterday in bright blue skies off the coast of Trondheim when two of the F-16s came overhead, escorting the NATO AWACS aircraft. It was during the beginning opener of the show, and I was sitting with the Secretary General. We both looked up and saw those aircraft. So they're obviously airborne, they're conducting their mission and they're doing a great job. Thanks for that.
Question: Article 5 has only ever been invoked once in NATO's history. With that in mind, is an exercise of this scale worth the time and money and why now?
Admiral Foggo: I'm glad that you brought up the fact that Article 5 has been invoked before. That time was after 9/11 and the NATO Alliance came to support and defend the interests of the United States of America when we were attacked during 9/11 by violent extremist organizations. NATO has continued to support us throughout and we're very grateful for that as qualified members of the
Alliance.
Now is Article 5 relevant? Seventy years in the alliance, Article 5 has been used once. I think that is a testament to the strength and the power of the alliance because we have deterred any other adversaries out there from taking any measures against any one of the now 29 members of the alliance.
As far as Trident Juncture is concerned and its connection to Article 5, because this is an Article 5 scenario, an exercise scenario where we use fictitious names. It's for the defense of Norway, which in this exercise has had its sovereignty violated.
So it's important for us to demonstrate our capacity and our capability and our military mobility. In other words, in order to deter, you must be present. In order to be present, you have to move large numbers of equipment and personnel very quickly. You have to be agile and flexible in the field.
So if you look at the report card on the 28th of October when the RSOM occurred, which is the receipt and support and onward movement of personnel, with 50,000 people here in this country. That was a huge success. We brought with them 10,000 tracked or rolling vehicles; 250 aircraft; over 65 ships. That's a big lift. So we proved that we could get there quickly. The Very High Readiness Joint Task Force is here — 8,000 personnel who are out in the field maneuvering against real forces, live forces right now.
So there's a very strong message there that NATO can move all this equipment, the equivalent of seven brigades, in 30 days. That's impressive and in and of itself sends a very strong message. It's relevant to Article 5. It's worth the expenditure. It's an incredible training value and it has visibility throughout the entire alliance and with all the media coverage we've been getting it's got visibility around the world, thanks to you guys.
Question: First of all, could you uncover please, do the member states of NATO somehow coordinate their activities of their underwater fleet with the Russian submarines in the Mediterranean Sea? I mean near the coast of Syria in order to avoid the incidents and crashes?
can you confirm the fact that some time ago British submarine wasn't able to hit the target in Syria due to some escort of Russian submarines?
Admiral Foggo: As far as the question goes on the operational issues associated with water space management, that's something that I don't normally get into. Certainly there has been a step increase of submarine presence in the Mediterranean. This is my fifth European assignment. During my first assignment as the Commander of Allied Submarines South and the Commander of Submarine Group 8. So allied submarines for NATO, Submarine Group 8 for the United States of America in Naples, Italy. I was a one-star admiral and that was a great job. There were no Russian submarines in the Mediterranean at that time.
I had one opportunity in Cartagena in Spain to do a submarine rescue exercise where units from the Turkish Navy, a Turkish submarine, the U.S. Navy Deep Submergence Rescue Vehicle and a Kilo Class submarine, a Russian submarine from the Black Sea came out and participated in this submarine rescue exercise. That that was 2011-2012. All that stopped in 2014 with Russia's illegal annexation of Ukraine.
During my time as 6th Fleet Commander from 2014 to 2016, I was a three-star and I had responsibility for Naval Forces in the Mediterranean and in other bodies of water around Europe. I saw the stepped increase of six additional Kilo Class submarines in the Black Sea and in the Med. So there's two operating in the Med right now, four in the Black Sea. That's a huge increase. And they carry the Kalibr missile which I'm very interested in. It's a capable weapon system and from where the Russians operate it's capable of targeting any capital in Europe. Do I think they'll do that? No, I don't, because I think that the NATO Alliance operates from a position of strength.
So it's important for us to know where those submarines are at all times, and that's one of the things in my job description as the Commander of Naval Forces Europe and Africa, and also as the Commander Joint Forces Command, Naples.
On the second question, I have no idea. I can't comment on that.
Question: How satisfied are you with the contribution of Montenegrin soldiers, in particular given that Montenegro joined NATO a little more than a year ago?
Admiral Foggo: Let me just say that I was down in your country, in Montenegro, and I met the leadership and the Minister of Defense. Fantastic people. I congratulated them on or about the time of their one-year anniversary of NATO membership, and then arranged for an opportunity for them to see NATO firepower at its best, and we took them out to the aircraft carrier USS Harry S. Truman. I had the strike group commander do a birthday cake for the Montenegrins to celebrate their one-year birthday of NATO membership.
The team out there on the Harry S. Truman did a fantastic job and I think the leadership of the Joint Force and the Ministry of Defense of Montenegro really got a good experience out of that. And really felt welcome in the Alliance, in one of the most powerful weapon systems that we can bring to bear, the U.S. carrier strike group.
That said, as I've traveled around here in the last few days, I've run into a lot of Montenegrin flags on uniforms. I was down at the [RAFE] Brigade, that's the Italians, and I went to see Brigadier General Ristuccia down south, a very cold part of Norway. He was there with almost 200 Italian soldiers and many others from many other nations including Montenegro. Montenegro was playing a part in the intelligence, surveillance and reconnaissance unit with the [RAFE] Brigade. They're very enthusiastic to be there.
It's funny that you asked me this question because just yesterday before we got into the demonstration of NATO capabilities on the beach with the Secretary General, I walked him through several static displays. We had tanks, we had Howitzers, we had snipers' rifles, we had rocket launchers, we had medical assistants, we had trucks and heavy equipment for moving earth or moving snow as the case may be, and we had a logistics tank to show him how we got all this stuff here to Norway, a country of his origin where he was Prime Minister for ten years. And as he was walking around he saw a Montenegrin flag on a uniform and he made a point of going over to talk to that soldier, and that soldier was a medic. They had a great conversation and he congratulated him for his one-year anniversary. Said thanks for being here. Asked him how it was going. And the Montenegrin soldier said hey, it's pretty cold here. The SecGen goes well, I've been to your country. It can be pretty cold there too. So they both came to an agreement that climate can be an important part of what we do out here in the field.
I think the Montenegrins are doing great. I congratulate them on their membership in the alliance. I think the one year has gone by quickly, and they're fully integrated into what we're doing as you can see from these examples in Trident Juncture. So thank you.
Question: I wondered why it is that we allow Russian observers, at least at the beginning of these exercises when it isn't reciprocal.
Admiral Foggo: I have reporters asking me a lot about the Vostok Exercise that the Russians did out in the Pacific, and I tell them with tongue in cheek, I don't know much about it because I wasn't invited. Now as far as Trident Juncture is concerned, because we subscribe as NATO nations to the rule set of the Organization for Security and Cooperation in Europe, when you have an exercise of this size, and there's a certain criteria and a certain number of vehicles, you are obliged as a treaty member to invite observers from a long list of nations. Russia is one of those nations, as is Belarus. While I was back in the Pentagon probably six weeks ago I mentioned this. The Russians had been invited, we hadn't received a response from them yet, but they did respond, and yesterday at the DV Day presentation on the guest list of observers there were two Russian names of individuals who had come from the Russian Federation to see how things went on the beach.
Why do we do that? I think I'll make the answer short, but there's a flow that goes here. The Secretary General talks about three D's. In his speeches, if you did a word map you'd see that he mentions the term Deterrence, Defense and Dialogue a lot. And I even mentioned this yesterday in the wrap-up. I said sir, I agree with you. In order to deter we must be present. We talked about that. We have to move a large number of personnel and equipment to a space to show a credible deterrent, and we've done that in Trident Juncture.
We're ready to defend. So now that the troops have the capacity, the numbers and the capability, the equipment, and the technological superiority in the systems that we have are here, we can defend the territory of Norway and we can move this aggressor force that's come in here in the exercise out. We can increase the risk calculus and reduce their return on investment to get them to withdraw. That's the whole point.
Now at the same time as NATO operates day to day to day, it's important to have dialogue. Dialogue amongst ourselves as the 29 members of NATO and dialogue with our partners like Sweden and Finland, and also dialogue with non-members of NATO who are not friendly to NATO. And you could count Russia in that mix.
So there's been a lot of dialogue lately. The Secretary General in fact today left Norway, last night, to go back to Brussels and to have a NATO-Russia Council Meeting today with the Russian Ambassador and his delegation that are assigned to NATO. To have a discussion about areas where we may agree or areas where we may disagree. My own Chief of Defense, General Dunford, came to Helsinki recently, sat down at the table and talked to General Gerasimov of the Russian Armed Forces. General Scaparrotti who is my NATO boss here in Europe, he's the Supreme Allied Commander, he has periodic conversations with General Gerasimov and that is a good thing. Because it's a conversation about military matters, again, where we may agree or disagree, to minimize mistakes and miscalculations between our forces as we operate in this theater or other theaters, such as in Syria and Iraq in the Middle East.
So deter, defend and dialogue. The observers were here as part of that dialogue. And I think what they took away from that demonstration yesterday is wow, NATO is united, NATO is strong, and the choreography of that whole thing with aircraft that came as far as from South Dakota in the United States of America, the B-1 bomber flew over nine hours and refueled over the Atlantic Ocean a couple of times to get here and to provide battlefield effects for the demonstration. That's impressive. And I think that's what we want the observers to walk away with, so that it has the requisite deterrent effect.
Admiral Foggo: Thank you very much. I'm a big fan of the media and getting out story out and you all help us do that. You ask hard questions and I like that and I admire that and you should continue to do so. I appreciate your interest, and I hope that as we move forward with the Alliance that you will continue to track what we're doing. We'll certainly be here operating for another week, and then there will be new horizons to sail off into as we move forward in 2019.
So thanks a lot, and as we all move into the holiday season I hope you have a safe and productive holiday with your families.
Admiral James Foggo is a 1981 graduate of the U.S. Naval Academy. He is also an Olmsted Scholar and Moreau Scholar, earning a Masters in Public Administration (MPA) at Harvard University and a Diplome d'Etudes Approfondies (DEA) in Defense and Strategic Studies from the University of Strasbourg, France.
He commanded the attack submarine, USS Oklahoma City (SSN 723) in 1998, which was awarded the Submarine Squadron (SUBRON) 8 Battle Efficiency award and the Commander Fleet Forces Command ADM Arleigh Burke Fleet Trophy for being the most improved ship in the Atlantic Fleet. Foggo completed his major command tour of SUBRON-6 in 2007.
Ashore, he has served in a variety of assignments, most notably as Executive Assistant to the Director of Naval Nuclear Propulsion (NAVSEA 08); Division Chief, Joint Staff (J5) for Western Europe and the Balkans; Executive Assistant to Chairman of the Joint Chiefs of Staff; Executive Officer to the Supreme Allied Commander Europe (SACEUR) and Commander, European Command (EUCOM); and Director, Navy Staff.
In Naples, Italy, he served as Commander, Submarine Group 8; Commander, Submarines, Allied Naval Forces South; Deputy Commander, U.S. 6th Fleet. During this period, he also served as the Operations Officer (J-3) for Joint Task Force Odyssey Dawn (Libya). Additionally, Foggo was a NATO Task Force Commander in Joint Task Force Unified Protector (Libya). During his last European assignment, Foggo commanded the U.S. 6th Fleet, Naval Striking and Support Forces NATO.
Foggo's awards include the Distinguished Service Medal, Defense Superior Service Medal, Legion of Merit, and NATO Meritorious Service Medal. In addition, he was awarded the 1995 Admiral Charles A. Lockwood Award for Submarine Professional Excellence and the State of Oklahoma Distinguished Service award by The Adjutant General. In 2006, he was awarded the Chevalier de l'Ordre National de Merité and in 2017 he was awarded the Legion d'Honneur by the French Government. Foggo is also a member of the Council on Foreign Relations and the Explorer's Club of New York.