Naval forces from Canada, France, Germany, Norway, the United Kingdom, and the United States concluded the NATO Allied Maritime Command (MARCOM)-led exercise Dynamic Mongoose 2020 in the northern Atlantic Ocean, July 10, 2020.
Dynamic Mongoose strengthened enduring relationships and built interoperability among allied forces. The exercise enhanced anti-submarine warfare (ASW) capabilities and increased theater ASW capacity with realistic training in the U.S. 6th Fleet (C6F) area of operations (AOO).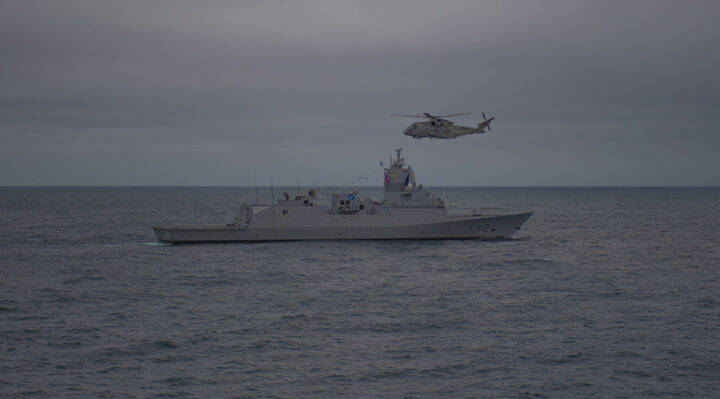 "Roosevelt's participation in Dynamic Mongoose was an invaluable opportunity to apply the ship's advanced ASW technology and demonstrate the crew's sophisticated skillset, while operating in a joint NATO command and control construct," said Cmdr. Ryan Kendall, commanding officer of Roosevelt. "The crew found the complex ASW training scenarios to be very rewarding, and we enjoyed working alongside our allies and regional partners to deepen our professional relationships. Moreover, exercise Dynamic Mongoose demonstrates NATO forces operating together at sea prove to be a credible force to assure, deter, and defend Europe and Africa in an increasingly complex security environment."
The U.S. assets that participated in the exercise were the Arleigh Burke-class guided-missile destroyer USS Roosevelt (DDG 80), the ship's embarked MH-60R Sea Hawk helicopters, and the Virginia-class fast-attack submarine USS Indiana (SSN 789).
"Roosevelt brings the [most advanced] sonar suite and an organically embedded helicopter capability to C6F," said Lt. j. g. Evan Oltmanns, anti-submarine warfare officer aboard Roosevelt. "These two combined present a significant increase in single-ship ASW capabilities and act as a force multiplier for the U.S. Navy and NATO allies."
Dynamic Mongoose 2020 highlighted the inherent flexibility of maritime forces demonstrating theater ASW proficiency and provided the right presence where needed, when it was needed.
Roosevelt, forward-deployed to Rota, Spain, is conducting naval operations in the C6F AOO in support of U.S. national security interests in Europe and Africa.
U.S. Naval Forces Europe-Africa/U.S. 6th Fleet, headquartered in Naples, Italy, conducts the full spectrum of joint and naval operations, often in concert with joint, allied and interagency partners, in order to advance U.S. national interests and security and stability in Europe and Africa.