On the occasion of Norwegian Constitution Day, Norwegian are proud to highlight the unique tradition of celebrating a day that goes back 207 years.
On this very special day, Norwegians all over the world celebrate culture, country and the constitution of 1814. We celebrate our democratic institutions and our King as constitutional Head of State. We celebrate our modern welfare state where income distribution and gender equality has brought social stability and economic prosperity.
In normal circumstances, we will see children, women and men in their national "Bunad" costumes carry Norwegian flags and march accompanied by school brass bands from all over the country through our cities and towns. In Oslo, the capital city, children from Oslo's schools march past the royal palace where the royal family is assembled on the balcony to greet them. Although we this year will have to hold back our celebrations because of the global pandemic.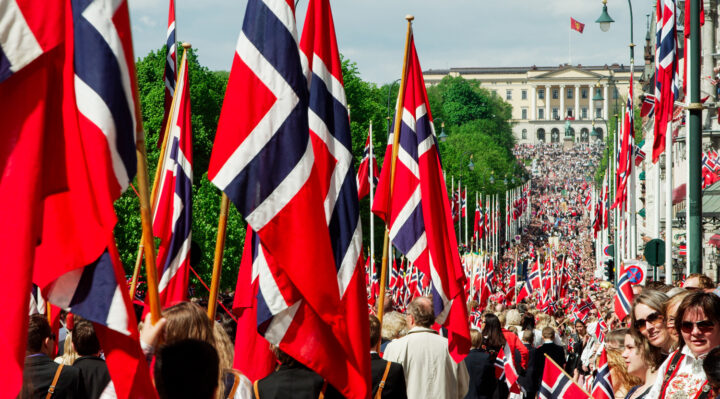 Norway's Royal Family, always at the center of 17th of May celebrations, won't be standing for hours on the balcony of the Royal Palace in Oslo to wave to marching school children but they will make an appearance at 11:30am that will be broadcast nationwide. They'll observe a vastly downscaled ceremony on the palace grounds and then, precisely at noon, lead an attempt to sing the national anthem Ja vi elsker along with Norwegians all over the country. Government officials hope that while the royals sing from the balcony, the rest of the population will sing along in front of their TVs, from their own balcones or in the midst of 17th of May brunches.
Attempts were also being made to restrict access to the grounds of the Royal Palace, to ensure social distancing in a city that still demands two meters between people instead of just one. State health officials, realizing that may not be easy, granted dispensation to Royal Palace staff on Friday to allow the festivities to move forward in a "defensible manner."
After their balcony appearance at midday on Monday, King Harald and Queen Sonja are due to take off in the same vintage car used at the end of World War II for another drive through town like the surprise one last year. Crown Prince Haakon and Crown Princess Mette-Marit will also go for drive around town in the 1966 Lincoln Continental convertible used at both their wedding and the king and queen's wedding. The routes were withheld to prevent crowds from gathering.
They'll end up at Filipstad on Oslo's waterfront, where the royal yacht Norge is docked. It will be decked out with national and maritime flags and the royals will embark on a cruise down the Oslo Fjord towards Tønsberg. Other boatowners are encouraged to sail along in a major boat parade. Local maritime association Oslo seilforening has urged members to dress up, decorate their boats with birch branches, mount flags at the stern and join in.
The most unpredictable factor was the weather, with rain forecast during the day.