The International Maritime Organization (IMO) in collaboration with Norway has launched a major project support its strategy to cut shipping's Greenhouse Gas (GHG) emissions by 50% by 2050.
As member states of the IMO meet in London for the MEPC 74 meeting for key discussions on achieving GHG emission cuts for the industry the UN body announced the GreenVoyage – 2050 project.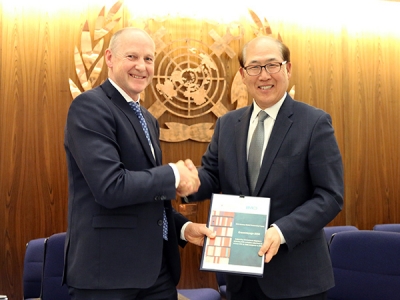 The project is a collaboration between the IMO and the Government of Norway with more than 50 countries in 14 sub-regions across the globe are expected to participate. Norway is providing $1.1m in funding for the project.
Running initially for two years the project will initiate and promote global efforts to demonstrate and test technical solutions for reducing GHG emissions as well as enhancing information sharing.
Eight countries from Asia, Africa, Caribbean, Latin America and the Pacific are expected to take on pilot roles pursing projects at a national level and championing other countries as partners.
IMO Secretary-General Kitack Lim said the project was a direct response to the need to provide technical assistance to States and to support technology transfer and promote green technology uptake to improve energy efficiency and reduce GHG emissions throughout the maritime sector.
"I am particularly encouraged by the fact that the GreenVoyage-2050 project is designed with a private-sector partnership component," he said. "This will accelerate the uptake of technology solutions by the industry".
It is widely acknowledged that the IMO's goals for GHG cuts from shipping cannot be achieved used existing fuels and technology alone and will require the development of new low or zero carbon fuels.