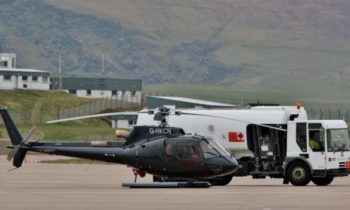 A horror helicopter crash involving three Britons off Norway was caused by a loose tarpaulin getting tangled in the blades, it has emerged.
The aircraft reportedly 'rolled' away from the helideck of a luxury superyacht it was trying to land on near the city of Bergen on Wednesday.
A 57-year-old British man is in a critical following the accident.
Two other UK nationals, both men – aged 53 and 62 – were injured in what is thought to have been a botched landing on the 60m Bacarella vessel on Wednesday.
Haukeland University Hospital confirmed that two men had been released from hospital having suffered minor injuries but said that the 57-year-old was critically ill.
Witnesses described seeing the helicopter "splash" into the water, and images later showed the aircraft being hoisted out of the fjord on the south-west coast of the Scandinavian country.
Air accident investigators from both Norway and the UK are now blaming a loose cover of a newly fitted helideck fuel depot.
Video footage, include CCTV taken from the yacht Bacarella, shows the cover being whipped up into the main rotor by the downdraft as the UK registered Airbus AS 350 came in to land.
A statement from the Norwegian Accident Investigation Board (AIBN) said: "As the helicopter was coming in for landing, the yacht camera shows a cover being lifted up in the air by the main rotor downdraft.
"It went through the main rotor disc. The cover was custom made for hiding a fuel depot newly installed on the helideck.
"The pilot has explained that he observed the cover moving and attempted to avoid it by initiating a climb.
"The cover hit the main rotor, and control over the helicopter was apparently lost. It rotated around its vertical axis while moving backwards, and struck the sea tail first."
The AIBN said the pilot activated the Emergency Floating System which prevented the helicopter from sinking.
Immediately after the accident, a nearby rescue vessel from the Norwegian Society for Sea Rescue arrived at the site.
Bergen resident Jan Haughland, 48, was taking photographs of a tall ship in the harbour when he heard a "crash and splash".
He said: "It was exactly at sunset and I was concentrating on the tall ship when I heard the crash.
"I was slow to realise what had happened at first. There is a lot of shipping and helicopters flying over the harbour normally and I thought maybe someone had dropped something overboard."
Mr Haughland said up to five boats raced to the scene, including a passing passenger ferry that diverted from its course.
The casualties began arriving at the quayside around an hour after the incident, he said.
He added: "I think there were three ambulances and the critically injured person received emergency care on the boat before he was taken."
The computer programmer said it was a "mystery" who the boat was owned by or who was on board.
(pressand journal)