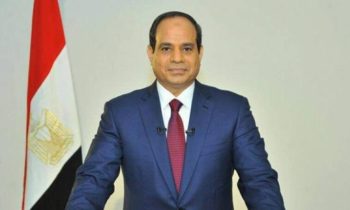 President of Egypt, Abdel Fattah Al-Sisi said on Sunday that Egypt is looking forward to enhancing cooperation in all fields with Norway during his meeting with Norwegian foreign minister Børge Brende, along with Egypt's Minister of Foreign Affairs Sameh Shoukry and Norway's ambassador to Egypt.
According to a presidential statement, Al-Sisi praised the positive development of bilateral relations between the two countries. He added that Egypt is keen to cooperate with Norway in the thriving fields of shipping and port management, fishery projects, and traditional and renewable energy projects.
Al-Sisi further welcomed Norwegian companies to increase their investments in Egypt and contribute to national mega projects that are currently being executed, stressing the importance of continuing economic and trade cooperation between the two countries.
Al-Sisi also said that discussions will be ongoing with Norway in terms of regional topics and international issues of mutual interest, particularly the Palestinian issue and Norway's efforts in rebuilding Gaza.
Moreover, the statement added that Brende noted Egypt's strategic regional and international importance. He also praised Egypt's "ambitious" economic reform programme and its agreement with the International Monetary Fund (IMF), saying that Norway adheres to its commitment of being an economic partner to Egypt owing to its trust in Egypt's economy.
The presidential statement concluded by saying that the meeting tackled regional issues, and disclosed Egypt's vision regarding the political turmoil in Syria, Libya, and other countries in the Middle East. Brende praised Egypt's role in attempting to stabilise the region.