THE HAGUE, Netherlands–Proactively promoting entrepreneurship, innovation, and economic freedom continues to be a critical pillar of U.S. engagement with the world.
U.S. Ambassador Pete Hoekstra said on Wednesday the Dutch government should ban Huawei outright from supplying equipment for a new 5G mobile telecommunications network in the Netherlands if it wants to prevent spying by the Chinese state.
Ambassador Maureen Cormack, Senior Advisor for the Global Entrepreneurship Summit For the Bureau of European and Eurasian Affairs.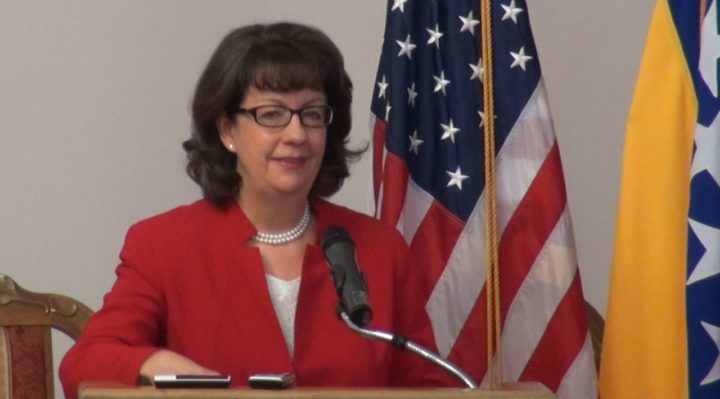 Ambassador Cormack: Thank you so much, As you know, this is the 9th Global Entrepreneurship Summit that the U.S. government has sponsored around the world from Kenya to Silicon Valley, and we are very excited to be here in The Hague, Netherlands.
President Trump and Dutch Prime Minister Rutte announced this together last July at the White House, and the Dutch have been great colleagues. You've seen the beautiful venue here at the World Forum, they've decorated it incredibly. Everything from the Amazon Room that has been basically turned into the jungle to very wonderful interactive rooms in order for debates and solution stages to take place.
We have about a thousand entrepreneurs with about 300 investors here and a whole bunch of ecosystem supporters and government and policy officers, and it's been a very dynamic first day yesterday, and I'm, really excited about today's program.
This year for GES we're focusing on five topic areas. We have agriculture and food, connectivity, energy, health and water, and we are looking at these through some of the broad issues that face us today. Access to capital, how women entrepreneurs get capital and investment, things like industries of the future, from artificial intelligence to 5G, and we've had just great conversations about all of this here at GES.
This year for the first time we have worked really hard to recruit entrepreneurs who are investment ready, who have scalable enterprises rather than people who are just at the beginning of their careers. So we have a much sort of higher caliber, just in the sense that they have raised their businesses to a certain level of entrepreneur.
We've also brought a broad range of investors this year. We do still have angel investors and venture capitalists, but we also have the big family offices, pension programs, corporate offices. We have several trillion dollars of assets under management present in our investor group here.
So we hope that this will lead to very good intersections, to investors finding entrepreneurs who they want to support, entrepreneurs being able to really scale their businesses.
About nine or ten months from now we plan to do a survey to see what the outcomes of this is, because of course those decisions are not made on the spot. People need to build relationships, look at business plans. So we hope over time to really track the results of GES 2019.
Question: What are the perspectives for economic public diplomacy initiatives at the GES level with Eastern European countries?
Ambassador Cormack: First of all, I know that we have a number of Eastern Europeans here at GES, both as direct applicants and through a State Department program called YTLE which is our Young Transatlantic Leaders Exchange Program. We have 50 YTLE participants from about 41 countries across Europe, a number of them from Eastern Europe, who are here at GES and who are part of this multi-month program that brings young leaders together, gives them mentoring, gives them exchange opportunities, and really helps them develop their interests. These include entrepreneurs who are working in areas from fashion to energy, including a Ukrainian who has built a great platform for female entrepreneurs to come together to network, to share knowledge, and to provide mutual support.
The State Department has a number of other exchange programs from Tech Women to Tech Camps for young people that bring people together across Europe in order to help build entrepreneurial skills and give people a chance to really build their own future, but also eventually create jobs and grow the economy for many of their fellow country people.
Question: In the framework of Egypt's presidency of the African Union, what measures can the U.S. government do to support Egypt in enhancing the role of entrepreneurship?
Ambassador Cormack: Thank you. I understand from my colleagues that Egypt has already played an important role in moving forward the African Continent Free Trade Agreement which we very much welcome.
What we heard yesterday over and over again from entrepreneurs on stages throughout GES is the important role that government plays in providing a welcoming framework for entrepreneurs.
I know that we have done a lot of this work in the Middle East and Africa, and I certainly hope that in their role at the head of the African Union right now that Egypt can help countries understand that creating policies that allow entrepreneurs to try new business ideas, to get started.
And one of the most important things that we do in America that is not common elsewhere in the world is to allow businesses to fail. To allow an entrepreneur to try something, get to a certain point, realize it's not going to work, close down that business, and then start new. Our great entrepreneurs throughout American history are people who have tried over and over to do something, failed terribly, and had the courage to start again. But that takes a governmental policy framework that allows a business to declare bankruptcy, allows them to let go of their staffs and then hire new people and they start a new business. And that flexibility is what we heard yesterday from entrepreneurs, the most important thing that governments can contribute to this process.
Question: Why is the U.S. interested in entrepreneurship and supporting entrepreneurship outside of the U.S.?
Ambassador Cormack: We see entrepreneurship as a way for the global economy to rise. America's great businesses didn't start as big businesses, they started as little entrepreneurial enterprises. Whether you go back through history or you talk about things like Facebook and Amazon. That is what has allowed our economy to grow so successfully. And we look around the world to help entrepreneurs grow because it then creates trading partners for the United States. It helps us build the kind of global partnerships that bring people together to develop businesses, to create sustainable jobs, to lift people out of poverty. So we see this as very much in our interest but also in our mutual interest with partners around the world. Successful economies lead to successful countries, and we all grow our world together.
Ambassador Cormack: I only had time to go to a few of them yesterday, but certainly at the end of the day we did one called Land, Air and Sea: Autonomous for All. Listening there to that intersection of new amazing ways to travel. Bell Helicopter has what is no longer a helicopter, right? It looks like sort of a space vehicle that they're planning for urban transport. Unmanned cars. Drones.
First of all, we need policies that guide those. You can't just launch those in cities and over cities. You need a policy framework that allows experimentation but also guards your citizens, your privacy, all the things that we care about.
I also went to the 5G panel, and what is interesting about that for all of us is it's not just faster cell phones, more connectivity with friends. It's what it can bring to things like health care.
If you have a low latency communications network you can actually start doing in rural under-served areas medical care completely by robot because you have a firm connection that you will not lose in the middle of an operation. You can do emergency response in a much more effective fashion if you have unbroken connectivity.
So the way that that will change our world for very positive reasons in areas that we don't currently really think of. We think of this as telephonic, but it's much, much more than that. I think it's going to be fascinating to watch how this develops.
Ambassador Cormack: I just want to encourage our interlocutors, both themselves by giving entrepreneurs support in the media, in the public; also by encouraging their governments to create the kind of framework that allows people to explore their ideas, to help develop the future. Countries around the world have smart people who want to do these things, but the framework that they operate in often determines whether they can be successful or whether they aren't, or whether they come to some place like the United States, right? Part of our greatness is we welcome business people from around the world to come and try out their ideas. But we would love to see other countries promote that kind of business opportunity as well.