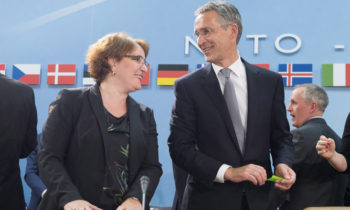 NATO Secretary General Jens Stoltenberg said Georgia's progress on reforms "is on the right track" Thursday (8 October 2015) after NATO Defence Ministers reviewed increased cooperation with Georgia's Defence Minister Tinatin Khidasheli. "Georgia is one of our closest partners and we are moving steadily closer together," Mr. Stoltenberg said.The meeting of the NATO-Georgia Commission welcomed progress made in commitments to strengthen the NATO-Georgia partnership. Mr. Stoltenberg said the substantial package of assistance agreed a year ago had now become a reality. "We have built on our political consultation and our practical cooperation," he said. For example, NATO and Georgian troops trained together in June during Exercise Agile Spirit in Georgia. A joint training and evaluation centre was inaugurated in Tbilisi in August.
The Secretary General reaffirmed NATO's commitment to Georgia's Euro-Atlantic aspirations, but stressed the need for continued progress in key areas of reform, including the rule of law. He called on Russia to respect Georgia's territorial integrity and sovereignty and to reverse its recognition of the Abkhazia and South Ossetia regions as independent states.
Separately, NATO Defence Ministers discussed NATO's long-term political, military and institutional adaptation. "The world is changing fast and our job is to stay ahead of the threats," Mr. Stoltenberg said. He highlighted the continued implementation of the Readiness Action Plan that was agreed at the Wales Summit last year. NATO will also strengthen its ability to counter threats including hybrid warfare, cyber attacks and missile proliferation. Ensuring effective decision-making and building on partnerships to the North, East and South will be further key areas of work ahead of the Warsaw Summit in 2016.