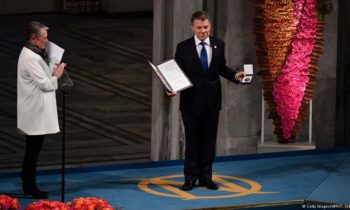 Nobel laureates have gathered to witness the award ceremonies for this year's Nobel prizes. Peace Laureate Colombian President Juan Manuel Santos is receiving his award in the Norwegian capital of Oslo.
Juan Manuel Santos has been honored with the Nobel Peace Prize on Saturday at Oslo's City Hall. The ceremony, aired live on YouTube, was attended by the royal family, members of the Norwegian government, representatives of families who suffered during the Colombian government's standoff with members of the Revolutionary Armed Forces of Colombia (FARC) and former FARC prisoners, Ingrid Betancourt and Clara Rojas.
Speaking at the occasion, Santos described the award as a "gift from heaven" and dedicated it to all citizens of his country.
"I should confess that this news [of winning the Nobel] was like a gift from the heavens…The Nobel Prize was the wind that could propel us to our destination, to the achievement of peace," he said. The Nobel Peace Prize was a "vote of confidence in the faith and future of our country," Santos added.
The Nobel Peace Prize comes with a gold medal, a diploma and a check for 8 million Swedish kronor (824,000 euros, $871,000). Santos promised to use the sum for victims of the war.
Santos' award was recognition for his contribution towards sealing a peace deal between FARC and the government, ending a 50-year-long civil war.
Speaking to the Agence France-Presse news agency before the ceremony began, Santos said he was not sure whether he could repeat his success with Colombia's second-largest rebel group, the National Liberation Army (ELN). "I cannot guarantee that we will finish before the end of my mandate … I will do my best but to establish a timeframe is always counterproductive in negotiations of this sort," he said.
Another ceremony was planned in the Swedish capital of Stockholm later on Saturday to honor laureates in the fields of science, economics and literature.
This year's literature laureate, Bob Dylan, declined to attend the ceremony. His decision is being seen as a slight by the Nobel Foundation, especially since the singer and poet only acknowledged the award two weeks after it had been announced. A member of the Nobel Academy called the behavior "impolite and arrogant."
Swedish dailies also took to commenting on Dylan's no-show, with the Svenska Dagbladet newspaper joking about his "pre-existing commitments" and asking, "But what is Bob Dylan doing instead of going to the Nobel ceremony?"
Dylan has sent a thank you note instead and singer-songwriter Patti Smith will sing his "A hard rain's a-gonna fall" at the ceremony in Stockholm's concert hall. The Nobel Foundation says his prize should be presented to him in person in 2017, either in Sweden or abroad.
Other Nobel laureates this year include Oliver Hart and Bengt Holmstrom, who won the Nobel in economics for their contributions to contract theory. Frenchman Jean-Pierre Sauvage, British scientist Fraser Stoddart and Dutch scientist Bernard Feringa, jointly won the Nobel in chemistry for their work on molecular machines.
David Thouless, Duncan Haldane and Michael Kosterlitz won the prize in physics for their research on superconductors and other unusual states of matter.
The Nobel in medicine this year goes to Japanese scientist Yoshinori Ohsumi for his work on autophagy, the "self-eating" process which lets a cell break down and recycle its contents.
(mg/jlw AFP, AP)