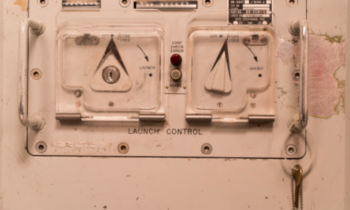 This year's peace price exhibition BAN THE BOMB is both a tribute to Nobel Peace Prize winner ICAN and a statement on the cruelty of nuclear weapons. At the heart of the exhibition are objects from Hiroshima and Nagasaki, as never before shown in Europe; a unique photo series about the current nuclear threat; and a call for action for the public to engage in the work against nuclear weapons.
Every year, the Nobel Peace Center creates an exhibition that celebrates the year's peace prize winner and brings focus to its work. This year's exhibition has been named BAN THE BOMB, and it will be officially opened by the peace prize winner after the award of the Nobel Peace Prize on December 11th. BAN THE BOMB shows the human relationship with nuclear weapons in both the past and present, and tells about ICAN's fight to ban these weapons. For this year's exhibition, the Nobel Peace Center has collected objects belonging to victims of the atomic bombs in Hiroshima and Nagasaki in 1945. Among them is a bag and an air raid hood belonging to a 13-year-old boy killed in Hiroshima.
"It is so powerful to see these objects. They show us that the atomic bombs in Hiroshima and Nagasaki first and foremost hit individuals. These objects are the victims' legacy for the next generations, and a strong reminder of the horror of nuclear weapons", says Director Liv Tørres.
Nobel Peace Center's Director of Exhibitions, Liv Astrid Sverdrup, has herself been to Hiroshima and Nagasaki to borrow items to exhibit in Norway through a unique collaboration with three Japanese museums in Hiroshima, Nagasaki and Kyoto. In Japan, both the Peace prize exhibition. In Japan, there has been much interest about both the peace prize and the exhibition, containing historical objects that are rarely lent out.
For this year's Peace Prize, the Nobel Peace Center has engaged the internationally-renowned documentary photographer Sim Chi Yin. She has traveled along the border between China and North Korea and across six states in the United States. The result is a unique photo series that reflects the human experience with nuclear weapons, in the past and present.
"Especially strong are her pictures from the borders of North Korea and nuclear sites in the United States. These pictures tell us that the nuclear threat is real. That's why we also dedicated considerable space for this year's Nobel Prize winner ICAN. They have offered a new approach to the fight against nuclear weapons and the results we thought were possible," says Tørres.
They have created new gaps in the fight against nuclear weapons and results were thought possible.
(N.Sethu)