Abu Dhabi Airports is to host the Airport Council International (ACI) Airport Exchange 2019. The announcement was made during an official handover ceremony at the 2018 edition of the event last week in Oslo, Norway.
The special handover ceremony at the close of ACI Airport Exchange 2018 saw Mohammed Al Katheeri, SVP Strategy and Communications at Abu Dhabi Airports officially receive the hosting rights and responsibilities to Abu Dhabi Airports.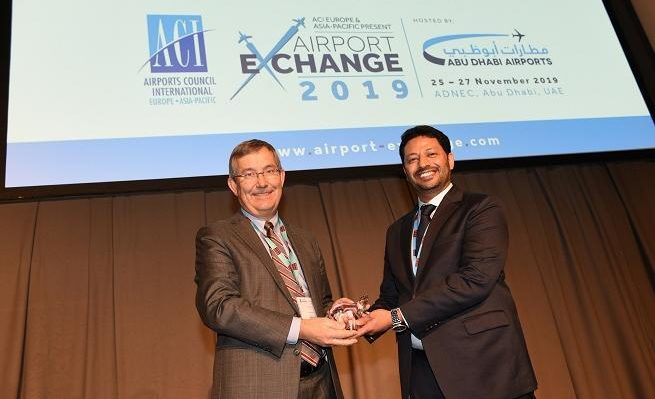 Bringing together 1,500 airport leaders and hundreds of speakers, the ACI Airport Exchange is a major annual event that is hosted by airport groups around the world, with Abu Dhabi Airports being selected to host the November 2019 edition.
Bryan Thompson, CEO of Abu Dhabi Airports, said: "This is a prestigious international event, during what will be a significant time for us as we near the unveiling of one of our most significant projects to date. Our selection to host the 2019 edition of ACI Airport Exchange is a source of pride for Abu Dhabi Airports. We look forward to welcoming the world's airport industry and community to Abu Dhabi next year."
Thompson added: "This major event is in line with our mission and vision of becoming the world's leading airports group. It contributes to our mandate of bolstering Abu Dhabi's status as a global hub for business and leisure travelers."
Hosting the event in the nation's capital falls in line with Abu Dhabi Plan and UAE Centennial 2071. The announcement also follows Abu Dhabi Airports' reception of a series of awards from the Airports Council International.
In December 2017, ACI named Abu Dhabi International Airport (AUH) the world's fastest growing airport in hub connectivity. AUH also received Gold Certificate Recognition from ACI Asia-Pacific, and an accreditation level of 'Reduction' from its Airport Carbon Accreditation program.
Airport Council International is the world's only global trade representative of the world's airport authorities. Its annual Airport Exchange event provides dedicated conference streams focusing on vital areas of airport operations, such as digital innovation, airport security, airport operations and sustainability.