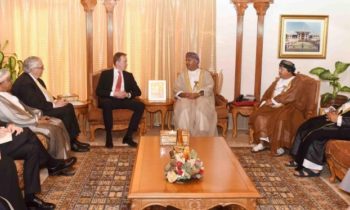 Oman  minister of Commerce and Industry received Borge Brende, Minister of Foreign Affairs in Norway, yesterday.
The Norweigan minister is currently visiting the Sultanate.
They reviewed opportunities of cooperation in the investment areas between the two countries, in addition to efforts of the Sultanate's government to contain oil price fluctuations and the efforts exerted by the competent authorities to finance the budget to support the continuation of the economic growth.
The meeting also touched on means of promoting the relations between the Small and Medium Enterprises (SMEs) in the two countries, as well as efforts of the authorities concerned to encourage SMEs owners to promote their productions locally and internationally.
It should be noted that the trade between the two countries achieved a remarkable growth in the past three years. The meeting was attended from the Omani side by a number of officials at the Ministry of Commerce and Industry, while it was attended from the Norwegian side by the Norwegian non-resident ambassador to the Sultanate and members of the delegation accompanying the guest.
(times of oman)