The United States announced that there will be more sanctions against opponents who support the Nicolás Maduro regime. He asked for union with the factors that fight against usurpation.
Carrie Filipetti, deputy undersecretary for Cuba and Venezuela in the Western Hemisphere Affairs office of the State Department, indicated that it was important that they remain united and focused on the same end goal, she said.
Filipetti acknowledged that there are disagreements among Venezuelan opponents, but said they all seem focused on a single goal: « to achieve free and fair presidential elections. »
« All are working collectively to fight against the attempts of the regime to stimulate democracy, » said the official during an audio conference with journalists.
Asked about the divergent positions of María Corina Machado, representative of the most radical wing of the opposition to Maduro, and Henrique Capriles, more moderate, Filipetti said that « of course » both leaders « still agree with the strategy of the opposition. »
Filipetti pointed out that any vote is impossible under Maduro's mandate.
"The so-called elections on December 6 are a fraud. They are not free. They are not fair. They are not even really elections, « Filipetti said, warning against Maduro's attempts to » manipulate « international public opinion.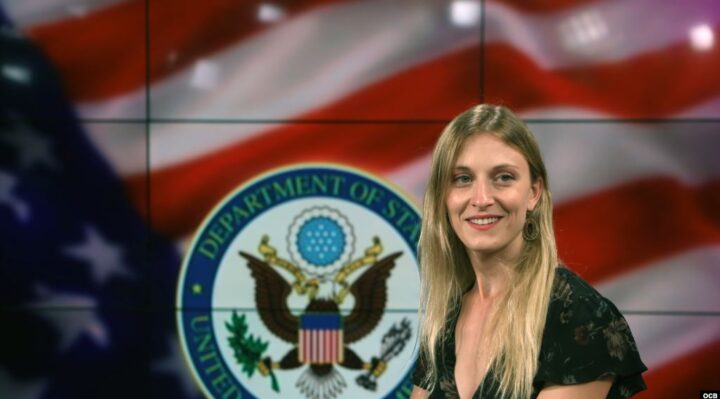 Below is a full rush transcript of the press conference by Carrie Filipetti Deputy Assistant Secretary of State for Cuba and Venezuela Bureau of Western Hemisphere Affairs.
DAS Filipetti: As always, it's my pleasure to speak with all of you, and I hope each of you and your families are staying safe and healthy. As mentioned, I want to take the opportunity to speak with you about some of the recent developments in Venezuela, and I'd like to start by going back to January 9th, which was over eight months ago, when the United States highlighted what we saw as the illegitimate regime's next steps. Aware Maduro and his cronies would continue their years-long effort to subvert all democratic institutions in the country and undermine the constitutional leadership of Interim President Guaido, Secretary Pompeo and the Department of State issued a warning to the international community, noting the importance of insisting on minimum conditions for any upcoming election, and predicting the regime's efforts to undercut key principles for a free and fair election.
Now, in this statement, the Secretary highlighted the 4.8 million Venezuelan refugees, the collapse of the Venezuelan healthcare system, and the illegitimate regime's continued abuse of human rights. He stressed the importance of the international community insisting that any upcoming election be fully free and fair, and the importance of our continued focus on the root of the problem: the continued usurpation of Nicolas Maduro.
Since that statement, the illegitimate regime has behaved precisely as anticipated, and of course the conditions in Venezuela have only worsened. What were then 4.8 million refugees are now 5.2 million. What was then a collapse of the healthcare system to 20-30 percent of its original capacity is now a country in the throes of a global pandemic, without enough soap and water – let alone PPE – to protect its citizens. And what was then the continued refusal of the illegitimate regime to follow through on recommendations proposed by the UN High Commissioner for Human Rights Michele Bachelet is now the regime's complicity and transfer and almost full territorial and financial control to the ELN, FARC and colectivos, whose flagrant abuses in the Arco Minero have generated one of the largest health and human rights crises in the country.
But perhaps most significant given the advance of the so-called "elections" on December 6, is the fact that a mere four months out, not a single one of the internationally recognized conditions for free and fair elections are currently in place. International standards require tested equipment, and yet there are no voting machines in the country. International standards require freedom of association, yet in Venezuela the majority of the opposition parties are banned from running, or have had their party leadership removed and replaced by regime appointees. International standards require the removal of all restrictions on individuals and political parties to allow their free participation, yet there remain over 300 political prisoners in the country. International standards require an open and fair media environment, and yet media censorship runs rampant, with dozens of independent channels blocked by the illegitimate regime and with horrific reports of extrajudicial killings of journalists on a regular basis.
But these aren't the only conditions that are lacking. The National Electoral Council and the Supreme Court of Venezuela are stacked with unconstitutionally appointed regime lackeys, despite the Venezuelan constitution's requirement for these positions to be appointed by the democratically elected National Assembly. And the illegitimate regime has requested EU participation, despite the clear mandate for a minimum of five to six months of preparation.
Now, the illegitimate regime, always underestimating the intelligence of the international community, thinks we will ignore all this. They think they can release 50 political prisoners and we will forget the remaining 300. They think the answer is an invitation to observe elections, without a commitment to undertake the hard work to make them truly free.
But the OAS and the EU's rejection of this invitation is because they know what we know – elections are either free and fair or they are not. There is no in between. Multiple documents, including the Inter-American Democratic Charter, the OAS's American Convention on Human Rights, the UN's Convention Against Corruption, the UN Human Rights Council, the Handbook for European Union Election Observation, and others, highlight minimum conditions, the absence of any of which would render the election in question neither free nor fair.
So Maduro cannot merely postpone the election; he cannot merely release a handful of people; he cannot merely replace the CNE. It is for these reasons that the United States can confidently say that the December 6 so-called "elections" are a fraud. They are not free. They are not fair. They are not even really elections. They are the Maduro regime's final effort to replace the opposition-led, democratically elected National Assembly with hand-picked replacements who would be easier to control. And it's important to remember this fraud is not a new strategy reflecting a changed Maduro – it is a continuation of his efforts to undermine and sideline democratic institutions in Venezuela, an effort that began with the politically motivated contempt proceedings against the National Assembly and continued with the appointment, in direct contravention of the Venezuelan constitution, of the National Constituent Assembly.
So, in sum, postponement alone is not a solution. One or two conditions are not a solution. In fact, parliamentary elections in general are not a solution. This is because no matter what we may hope to be the case, free and fair elections – parliamentary, presidential, or otherwise – are impossible under Maduro's leadership. This was just as true in May 2018 as it is today. Fraudulent elections under Maduro are the problem, they are not the solution. This is why we are and will continue to insist on a transitional government, in keeping with the Venezuelan constitution, that can govern during truly free and fair presidential election processes. We will continue to work with our allies, including the 33 other nations that signed our August 14 Joint Declaration on Venezuela and the almost 60 countries that recognize interim President Guaido, to push for such a transition. And we will continue to amplify the voices of the Venezuelan people, under Interim President Juan Guaido's leadership, who are fighting for their lives, their livelihood, and their freedom.
Question: The United States is concerned about the possibility that Europe will implement a new strategy in Venezuela with less sanctions and a dialogue with Maduro. How could this affect the efforts made up to now? Will it weaken the progress?
DAS Filipetti: I think so far, the EU and its rejection of the invitation to send electoral observation is focused on precisely the same things that we are. These are minimum conditions that we need to achieve. As I said, you cannot just pick and choose which ones you'd like to follow. We are concerned, of course, that the Maduro regime is going to try to manipulate international opinion, that they may agree to postpone the election but make no other changes. And so we will work closely with our allies to make sure that we are continuing to insist on minimum conditions, meeting all of those internationally recognized standards, so that these upcoming elections would be seen as free and fair.
As I pointed out, the U.S. position is that the Maduro regime is in no way willing to undertake that difficult work. To date they've refused to postpone the elections, they've refused to allow true party leadership to continue to govern their political parties, they've continued to hold onto the 300-plus political prisoners, and their attempts at trying to hide this with this dismissal of some of the politically motivated charges against Venezuelan leaders has not worked. And so we are grateful that the European Union and others are really focused on hitting all of these international standards, and we'll continue to insist that they meet all of these international standards.
Question: My question is related to an announce that Maduro made a few days ago. Nicolas Maduro said at a press conference that Cilia Flores, his wife, allegedly traveled to Puerto Rico. Could you confirm if that is true, and if so, how it is possible that this would happen if she is sanctioned by the United States?
DAS Filipetti: It's always good to hear from you. So we also saw those reports. Unfortunately, I'm not in a position to confirm or deny anything. But as you rightly point out, all of these individuals have clear sanctions, not only issued by the United States, but also from multiple countries, including the EU and of course the signatories of the Rio Treaty. And so I think it's safe to say that the travel of any of these individuals who are sanctioned would not be welcome into the United States, and hopefully into the other countries of our partner states as well.
Question: Last year the U.S. Embassy in Bulgaria announced that the Maduro regime has transferred large sums of money to a Bulgarian bank. Has the investigation in the U.S. found the exact amount, the name of the bank, and the purpose of the transfers?
DAS Filipetti: So there's nothing that I would add on that that's not already in the public record, but of course we are always very interested in any attempts by the Maduro regime to continue its theft of resources from the Venezuelan people. I think it's really telling that when the Maduro regime tries to get money, it spends that money on lining its own pockets, on supporting its loyalists, and so on; whereas when the interim government and Interim President Guaido have financial resources, they use that for humanitarian assistance and they use it in order to pay the critical healthcare workers who are on the front lines every day. So it is a great example of the different priorities of the illegitimate regime and the interim government.
Question: A former aide to the president of Ukraine, Mr. Andriy Bogdan, recently claimed that the U.S. was involved in an operation to lure some Russian nationals to Venezuela and to trap them en route while they were traveling and to bring them to Ukraine. He claimed that the U.S. Government was involved. My question is, can you confirm or deny this claim?
DAS Filipetti: Thank you for that question, Andrei. I am actually not aware of this claim and so I have no information to provide on this.
Question: Deputy Assistant Secretary, I hear what you're saying about the illegitimacy of the forthcoming election, but for the opposition, what's the alternative for them? Because the U.S. policy so far of ever-tighter sanctions has also not produced regime change. So what can you offer the Venezuelan people that will help them resolve their deadlock if they're not going to take part in the elections?
DAS Filipetti: Sure, that's a great question, Michael, and I think Interim President Guaido has announced his path forward for how to continue to fight for freedom inside Venezuela. Of course, as you know, there are some individuals that have so far indicated that they have an interest in participating in the elections; there are others who are choosing not to participate. I think the ultimate end goal is that all of these opposition members, all of the international community, work collectively to insist that we don't make exceptions for the Maduro regime to further undermine democracy. We need to continue to fight for those minimum conditions, and most importantly, we need to continue to highlight the fact that a solution here is a presidential election.
I think as time goes by, we're seeing more and more of what the United States has been saying from the very outset, which is that Maduro himself cannot be in charge during an electoral process because every time he is, that election is stolen by regime lackeys. And so we are going to continue to work on – to focus the international attention on that ultimate solution, which is free and fair presidential elections. This is something that the United States pushed forward in our framework for a transitional government. Interim President Guaido himself has called for an emergency government to suit similar purposes. And so we encourage the international community and the Venezuelan people to work with Interim President Guaido to make that emergency government a reality.
Question: There are two U.S. soldiers, Luke Denman and Aaron Barry, who were jailed recently for 20 years for their involvement in the attempted coup against Mr. Maduro. Their families have appealed for a pardon for both of them from the Venezuelan Government. Is the U.S. State Department involved in any way in supporting the men's attempts to get either released or a reduced sentence? They claim that they've not really had much help from the State Department ?
DAS Filipetti: Thanks very much for that question. So as you know, the United States cares very, very deeply about all of our American citizens. I would just quickly point out that these two individuals are former U.S. soldiers; they are not currently employed by the Department of Defense. Of course, they were convicted and sentenced without the benefit of lawyers, and it was done in the middle of the night, so that's of course an incredible miscarriage of justice. Unfortunately, I can't get into really any further details other than noting that our embassy is of course in touch with their families and we are tracking this as closely as possible.
Question: The question is, the Venezuelan opposition seems not to be united at the moment. Henrique Capriles supports the elections; Maria Corina Machado does not support them, but she does not agree with the management of the interim government to name a few examples. From the American perspective, it is possible to achieve Maduro's exit with this scenario?
DAS Filipetti: That's an excellent question, and I would answer it by saying: this is what a democracy is about. There are disagreements. All of those disagreements seem to be focused on the same ultimate objective, which is to get free and fair presidential elections. There's disagreements on how to do that. Obviously, there's disagreements on some sides believing that the United States should be much more active and kinetic; there are others believing that there should be more participation in the elections. In any case, we think it's really important that they are all united and focused on the same ultimate goal. And so this is – this is why we believe that the opposition still remains connected and united because they are all working collectively to fight the regime's attempts to undermine democracy.
DAS Filipetti: Of course, I would just quickly add that there may be some individuals who will try to support the Maduro regime, who will try to truly undermine democracy, and of course, for those individuals who are actively supporting the regime, we're going to continue to apply U.S. sanctions and other efforts. So that is something that we will continue to look out for – there is a distinction between those who disagree on tactics and those who have fundamentally different strategies and hope to support the Maduro regime. Of course, the individuals that you mentioned are still in agreement with the opposition strategy.
DAS Filipetti: I would just say thank you so much for participating. It's always wonderful to speak with you, to hear your questions. I hope we're been able to answer them. And we look forward to speaking with you going forward.