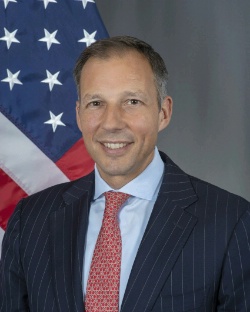 The USA may introduce sanctions against German energetic companies and number of other European countries that take a part in the building of Russian gas pipeline Nord Steam-2. Francis Fallon, Deputy Secretary of the US for Energy Resources claimed this, According to him, the USA is endorsing the continuity of the gas transit through Ukraine.
'We continue endorsing the gas transit through Ukraine. The best thing that would ensure Ukraine the possibility to be an important partner in the gas transit area for Europe after 2019 is to ensure that Nord Stream-2 and TurkSream are not built,' Fannon stated.
The Deputy Secretary claimed that European reliance on Russian gas makes them strategically vulnerable.
'Russia can and should remain a gas supplier to Europe, but should not dominate the market in order to achieve its hostile political goals,' he noted.
Also, he thinks that Nord Stream-2 will divide Europe and will enhance Russian abilities to use their energy resources for political pressure and harmful influence.
As is known, Gazprom and his partners are intended to begin the realization of the Nord Stream 2 project, which costs ten billion dollars in April 2018. It is expected that the 1200 km gas pipeline will be laid through the Baltic Sea, and will connect Russia and Germany passing Ukraine, Poland, and Baltic countries. The capacity of the gas pipeline will be twice increased than the first Nord Stream. The construction is estimated to be completed by the end of 2019.
Full text: Francis Fallon's press conference transcript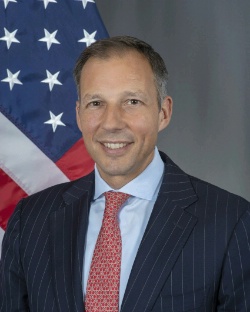 This is my first bilateral trip since being confirmed as Assistant Secretary for Energy Resources at the State Department.  I'm the first Assistant Secretary to be so confirmed, and I think my confirmation underscores the critical importance the United States government views energy diplomacy and the broader context of security of our friends and allies.
Earlier I was in Ukraine and Poland and now Greece — three critical energy partners of the United States and champions of European energy security.  The energy security of our European partners and allies has been a longstanding strategic priority for the United States.  Energy secure partners and allies can be strong partners and allies in meeting global challenges.  We have long agreed and reaffirmed our view.  It's critical for Ukraine to develop a transparent and competitive energy sector.
This can help not only to ensure its own long term energy and economic security, but also to retain its role as a key transit state for European gas supplies.
Make no mistake, the United States remains committed to the success of a stable, prosperous, democratic and free Ukraine.  U.S. support for Ukraine's territorial integrity remains unwavering.  Russia's aggression against Ukraine remains the greatest threat to European Security.  Our sanctions against Russia must remain in place until Russia reverses the actions that triggered them.  We expect Russia to honor its commitments under the Minsk Agreements and cease its support for the illegal armed formations it arms, trains, leads and fights alongside.  We'll never recognize Russia's purported annexation of the Crimean Peninsula.
The United States is and will continue to be a staunch supporter of Ukraine and its Euro Atlantic aspirations, especially its efforts to develop democratic institutions and a transparent and competitive market economy firmly rooted in Europe and the West.
I'd like to speak a bit further regarding Ukraine's ongoing reform efforts.  First, it's important to understand how far they've come in a relatively short period of time.  We recognize that more must be done, but the government has taken meaningful and measurable strides to fundamentally open and liberalize Ukraine's energy markets.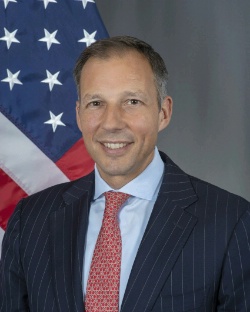 Two weeks ago the Rada passed a critical anti-corruption law designed to counter oligarchic practices. And earlier this week I was in Kyiv and met with Prime Minister Groysman, President Poroshenko, Rada committee leaders and other senior officials.  During that time the supervisory boards of Naftogaz and MGU reached an agreement to take tangible steps toward the goal of unbundling by January 1, 2020.
More work must be done, but we in the international community should pause to recognize this critical step and applaud MGU and Naftogaz's supervisory boards and the leadership of the government of Ukraine on achieving this important milestone.
Europe's reliance on Russian gas is a strategic vulnerability.  While Russia can and should remain a supplier of gas to Europe, it should not be allowed to leverage market dominance to achieve maligned geopolitical goals.  If completed Nord Stream 2 would undermine the great strides taken toward Europe's collective energy security goals while presenting acute security risks for all of Europe.  In particular, Nord Stream 2 would divide Europe and strengthen Russia's ability to use its energy resources for political coercion and malign influence.  It would allow Russia to use the pipeline's construction as a means of increasing its aggressive military presence in the Baltic Sea region, undermine European energy diversification goals, and stall critical European energy diversification infrastructure projects that the EU has deemed vital projects on the EU's Projects of Common Interest list, and damage Ukraine's economic and strategic stability by giving Russia the ability, in tandem with the multiline Turkish Stream pipeline to end or significantly diminish gas transit via Ukraine.  This in turn would eliminate a powerful disincentive for further Russian aggression against Ukraine.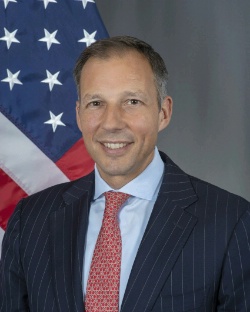 Together, Nord Stream 1 and 2 would concentrate on two-thirds of EU's imports of Russian gas in a single route, creating an energy security choke point.  It would make much of the continent more vulnerable, because any disruption would affect such a large portion of Europe's gas imports.
So this begs the question, what is the purpose of Nord Stream 2?  Our view is that Nord Stream 2 is first and foremost a geopolitical pipeline.  One designed to achieve the Russian government's geopolitical goals.  It is not just a commercial deal.  Rather, it is an instrument of Russia's policy of using its energy resources for political coercion.  This especially is clear in Central and Eastern Europe where Russia's domination of energy market is well known and longstanding.
But even in other parts of Europe Russia uses its energy resources for political influence including by providing commercial advantages to targeted corporate partners.  Energy is one of the hybrid tools Russia is using to co-opt officials, to spread malign influence, and to sew discord in the transatlantic community.  This is why the U.S. continues to strongly oppose Nord Stream 2 and the multi-line Turkish Stream.
Question:  Assistant Secretary Fannon, would you please comment about the energy security and energy differentiation in the area ?

Assistant Secretary Fannon:
 Yes.  We very much welcome Greece's work to diversify via LNG terminals as well as other critical infrastructure, especially the Interconnector Greece-Bulgaria, and the Vertical Corridor.  These are critical steps to diversify and also creates a significant opportunity for Greece as it sits at a geographic competitive advantage to be really the doorway to export gas from Greece throughout the region.
Of course we continue to praise Greece's role in advancing the Southern Gas Corridor via TAP, especially these days.  And we see some real positive strides towards that end.
Question: How far U.S. government is willing to go to, how to say, to persuade European allies not to go on with Nord Stream 2?  And what exact steps, what concrete measures U.S. government can take to, obviously to make European allies more understanding in this?

Assistant Secretary Fannon:
First, the U.S. will continue to diplomatically advance the notion of energy security through diversification of routes, sources and supplies of energy.  More specifically with respect to Europe, we look forward to the European Commission advancing the Gas Directive.  We think that that is an important point and it will advance the principles of transparency that Europe has long championed.  I think there seems to be strong support for it, and so we anticipate the Commission would move forward with it.
Further, I think we support certainly Denmark's actions around its national security grounds, and we're clear that firms operating in the Russian energy pipeline sector are engaging in a line of business that carries significant sanctions risk, and that goes for Nord Stream 2, and of course Turkish Stream multiline.
Question:  When you mentioned, as State Department officials frequently do, that the companies involved in Nord Stream 2 risk elevated sanctions, why does the President not repeat that on his visit to, when he met with European and German officials recently?  He didn't say that in public, and he didn't appear to say that in private.  So are they at risk of elevated sanctions?  Why isn't the President backing you up on that message?

Assistant Secretary Fannon:
The President was very clear in his position at NATO and so I think the position of the U.S. is quite strong and the issue, the risk of sanctions is ongoing.  In terms of future sanctions and whether and when, the United States does not comment on what we intend to do in the future, but we want to underscore the serious risk that exists.
Question: we saw this week that President Trump and the Commission President Juncker were talking about progress on a trade deal and potentially easing the path for more U.S. LNG to Europe.  Given that the U.S. is very keen to help Europe diversify energy supplies, what exactly can the U.S. do to help Europe diversify?  And is it going to give European companies special privileges when it comes to buying U.S. LNG?

Assistant Secretary Fannon:
 First, we're pleased to see Mr. Juncker and the President make the shared statement.  And besides that, the ongoing activities in a lot of countries' importing companies are choosing to bring U.S. sources of energy into the continent.  LNG is just one part of that broader, all of the above approach to energy diversification. But the U.S., of course we don't have a state-driven energy economy, and so it's really up to the private sector actors of the U.S. companies to engage in those projects as it does.  And we've seen that in a variety of countries' export of U.S. LNG because it makes sense, in particular commercially but also in the broader sense of diversification for the purposes of advancing energy security.
Question:  How does the Assistant Secretary rate the chances of Ukraine completing energy sector reform, in particular the unbundling of its gas pipeline system?

Assistant Secretary Fannon:
As I indicated in my opening, certainly more work always needs to be done, but I am extremely heartened and pleased to see this Memorandum of Understanding between the advisory boards of Naftogaz and MGU following the strong leadership of the Ukrainian government to advance the unbundling.
It's going to take some time, and this is an important milestone toward that end.  But it is, the process will unfold over the next year and a half, but we feel very confident after this agreement by the stakeholders to begin this process and to begin it now.
Question:  I would like to ask about the U.S. government position on the drillings that are going to take place in the next month in the Cyprus Exclusive Economic Zone.  And if you have any fears that there may be some tension then, especially with regards to Turkey that has already halted the drillings in part of the last October ?

Assistant Secretary Fannon:
First, I guess, going in reverse order, the U.S. supports Cyprus' right to explore and produce energy in its own economic zone.  We, of course, want all parties to find agreement and work things out as amicably as possible, but it's certainly their economic zone to manage their resource.
And in terms of the meeting, I'm meeting with multiple officials including the Energy Minister Stathakis, the Prime Minister's office, and the MFA Secretary General [inaudible].  They discussed a variety of their shared interests, and we continue to applaud Greece on the important and meaningful steps toward its own diversification and its ambitions to become a meaningful hub for energy transit throughout the rest of Europe.
Question:  The U.S. sanctions in Iran, on exporting more oil in the region.  That will make a shortage.  So can the U.S. counsel its allies to export more oil and more to move the shortage?

Assistant Secretary Fannon:  
I would say that the U.S. producers are certainly active and looking for all opportunities to find markets.  We're confident that the world, that the supplies will be [inaudible] going forward and we'll work with ourselves and other producers to make that so.
Question:  What is the current position of the United States on the Nord Stream 2 pipeline project, and can we expect any economic sanctions to stop this project?

Assistant Secretary Fannon:
The U.S. remains unwavering in opposition to the Nord Stream 2 pipeline, and also I think, not just in our opposition to that pipeline but also our support for continued gas transit through Ukraine.
With respect to — the best way to ensure that Ukraine continues to serve as a critical transit partner for Europe from 2019 is to ensure that Nord Stream 2 and multi-line Turkish Stream are not built as Gazprom would have the technical capability to cut off gas to Ukraine with these projects.
With respect to sanctions, as I mentioned, any business, any businesses operating within the Russian energy pipeline sector are engaging in a line of activity that carries significant sanction risk, and that goes for Nord Stream 2.
Question:  if you could expand a little bit on the significant sanctions, especially in the wake of the bill adopted last summer.  I'm curious as to what would prompt the President to utilize the powers for the term by the bill to stop Nord Stream 2, especially given that this project has been going on for a while.  Construction has actually started, and other than Denmark they have secured all the permits.  So there doesn't seem to be any impetus in Europe to stop this or get ahead of it somehow.  So will the U.S. unilaterally act to stop it?
And if I may, I realize your trip isn't focused on Iran, but just curious as to the Iran files, where does the U.S. administration stand in terms of exemptions for European companies operating in Iran and/or countries, oil purchases from Iran.  Will you consider exemptions?
Lastly, what do you make of this idea that France, Germany, Italy and some other European Central Banks might facilitate various payments in euros to Tehran for oil payments?

Assistant Secretary Fannon:
 I'll try to unpack that one by one.
With respect to sanctions in Nord Stream 2, the United States' position is to not comment on future sanctions activities.  But I do want to underscore repeatedly the significant risk affiliated with firms that participate in the Nord Stream 2 project.
I also think it would be, just to make sure you're all aware, and I'm sure you are, of the considerable calls for Congress for action on bipartisan grounds.  There's been multiple bills introduced within the last week or two in both chambers, and again, under strong bipartisan grounds.  So I think that's just an illustration of the strong unified U.S. position opposing Nord Stream 2 and support for Ukraine in the strongest possible terms.
Switching to Iran sanctions, the U.S. is proceeding, again, with the imposition of sanctions.  It's not the same as it was before.  With respect to the possibility of any exemptions, the government, U.S. government is calling for the reduction of Iranian, the imports of Iranian crude as close to zero as possible.  And with respect to exceptions, those will be, countries certainly are open for discussion, but those discussions will be taking place bilaterally on an individual basis.  There will be certainly a high bar in those considerations and we urge countries to take meaningful steps toward full compliance as fast as possible.
Question:  Do you believe Turkey poses a threat to the greater region concerning energy security as well?
Assistant Secretary Fannon:  We see also Turkey as an opportunity to play a really critical and supportive role in advancing the Southern Gas Corridor.
Question:  The U.S. assessment on the new Romanian offshore energy exploitation to Nord Stream 2 ?
Assistant Secretary Fannon:  We have concerns with respect to the offshore law and we view the Black Sea region as a place of tremendous opportunity for energy diversification.  In that context, we strongly support the BRUA pipeline.
Question: U.S. is currently putting a considerable amount of pressure on Europe in the domain of energy security.  So on one side [wanting] to reduce the dependency on Russian diversification but on the other side to stop imports from Iran which could be a possible significant source of diversification for the European allies of the United States.  In the meanwhile, we also have supplies of oil coming from Venezuela dropping on account of the political situation in Venezuela. So how can you act when it's caught between two fires on one side?  The European allies are being asked to diversificate, but on the other side they have less and less sources available for their energy supplies ?

Assistant Secretary Fannon:
 Well, they're a bit two different issues.  With respect to Russian gas, the case is clear.  Diversification options change market dynamics in regions, and amongst countries.  It changes the entire pricing mechanism of energy because the options become available.
Our view is to advance options, and it's clear, in the case of Lithuania, for example, developed its own LNG facility and it changed the entire pricing dynamic of gas, of Gazprom gas into that country.  It turned a project that was invested in as a security measure, to build the infrastructure, into one that is commercial because it changed the complexion of Gazprom's contracting ability, their pricing power.  So that's what we support.
We fully anticipate that Europe will continue to import Russian gas.  The question is to what extent will there be diversifying options available to those countries to ensure not just the reliable flow of energy, one that's free of coercion, but also one that can allow for those countries to have an ability to negotiate.
So that's our support for that.
With respect to the other issues with respect to oil markets, we will continue to monitor to ensure that there's sufficient balance in the market.  The law requires that for the [president] to certify as such prior to the imposition of sanctions.  So that's something we, again, by law, by U.S., must monitor closely and ensure, certify appropriate supplies are available in the market.
Question:  LNG in Croatia and your opinion of Russian influence ?

Assistant Secretary Fannon:
The United States very much supports the buildout in Croatia of the Krk Island terminal.  We've been a longstanding supporter of that project and encourage the Croatian government and others in the region to advance it.
Of course the European Commission also recognizes it as such and named it as a Project of Common Interest.
So I would suggest that it's not just U.S. support, which was the subject of the question, but there's far broader European support as well.
With respect to Russia, we already spoke to that a little bit.  They oppose and work against the diversification of projects and they do this through multiple channels including disinformation campaigns.  But again, as I described in the context of Lithuania, we know what the outcome is if countries have options.  It's better for those countries and it's better for those in the region and the broader national security of Europe.

Assistant Secretary Fannon:
 Thank you very much.  I would just like to say, again, this was my first bilateral trip as being the first confirmed Assistant Secretary of State for Energy Resources.  I selected this trip to underscore the criticality of energy security in this part of Europe, and I expect to be back here a lot more.  And I want to applaud these three countries on their efforts, ongoing efforts, and the U.S. government will continue to work to support them in every way we can.
Thank you.