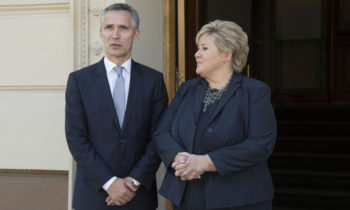 NATO Secretary General Jens Stoltenberg has thanked Norwegian Prime Minister Erna Solberg for her country's important contributions to the Alliance. In Oslo on Friday (5 June 2015), Mr. Stoltenberg stressed that the Alliance is adapting and staying strong in the face of security challenges to the east and the south. He commended Norway for its participation in NATO missions and operations, as well as for its strong political support."You are part of the interim spearhead force; you are doing air policing in the Baltics; and you are investing in new capabilities that will increase your contributions to NATO," the Secretary General said. He added, "your presence in the European High North is significant to NATO."
Mr. Stoltenberg discussed NATO's response to the changed security environment with Prime Minister Solberg, as well as with Finance Minister Siv Jensen, Foreign Minister Børge Brende, Defence Minister Ine Marie Eriksen Søreide, and other senior officials. He also met with the President of the Norwegian Parliament, and held talks with the Standing Committee on Foreign Affairs and Defence.
The Secretary General is concluding a three-day trip to Norway. On Wednesday, he visited Bodø Airbase in northern Norway, and on Thursday he met with His Royal Highness Crown Prince Haakon, and delivered a speech at the University of Oslo.
Speaking of his native country, Mr. Stoltenberg said "Norway is the twentieth NATO Ally I visit as Secretary General; and I must admit that I feel quite at home."