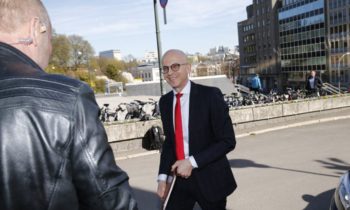 Russia's ambassador to Norway, Viatsjeslav Alfredovitsj Pavlovskij concludes his tenure as ambassador and heads home to takeover deputy chairmanship of the Board of Directors of Russian Railways.
There is nothing unusual about this and six years is a long time, says press attache Andrey Kulikov at Russia's embassy to TV2.
President Vladimir Putin has asked the ambassador Viatsjeslav A. Pavlovskij to conclude his Norway tenure. He has been ambassador since 2010.
The Foreign Ministry confirms to NTB that the ambassador's official period is over and that Pavlovskij is returning to Russia.
The Foreign Ministry has been given due notice.The Russian Federation is the founder and sole shareholder of Russian Railways.
On behalf of its shareholders the powers are exercised by the Government of the Russian Federation.
It approves the President of the Company, forms the Board of Directors annually and approves the annual reports.
Kirill Androsov is the Chairman of the Board of Directors of JSC Russian Railways from September 2011. Before him, the position was occupied by Alexander Zhukov – from July 20, 2004 to September 2011 and Viktor Khristenko – from October 16, 2003 – July 20, 2004. President of JSC Russian Railways is Vladimir Yakunin – from June 14, 2005, before him — Gennady Fadeev from September 23, 2003 – June 14, 2005.