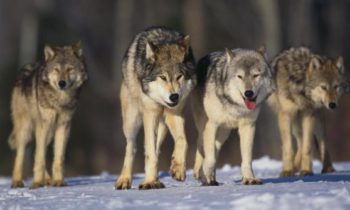 Norway is moving to allow recreational hunting of its "critically endangered" population of wolves, prompting furious condemnation from animal rights campaigners.
Around 65 of the animals live in the Scandanavian country and another 25 cross the border from Sweden.
Last year the government announced up to 47 could be killed by hunters, but that quota was lowered to just 15 two days before hunting season opened.
Now the right-wing minority government is set to approve a new amendment in the favour of hunters, allowing "recreational and cultural" killings of the creatures, according to Media.
Until now, only predators considered a "potential nuisance" to farmers could be exterminated.
There are nine packs which spend all or part of their time in Norway, but the government's targets call for just four to six, prompting criticism from animal rights groups like the Worldwide Wildlife Fund (WWF), the Conservation Fund and the Norwegian Zoological Fund.
"Changing the law to shoot more endangered animals is outrageous, especially in the so-called eco nation Norway," said Nina Jensen, the head of the WWF in Norway.
Wolves are listed as "critically endangered" on the 2015 Norwegian list of endangered animals.
Farmers, hunters and forest owners have always held the right to kill animals they consider a nuisance, putting them on a collision course with green activists and large swathes of the population.
The new measure is currently up for consideration in the Norwegian parliament, but is unlikely to meet with much opposition, according to The Local.
The wolf currently accounts for eight per cent of the 20,000 sheep Norway's farmers lose to predators each year.
Until the mid-19th century, large populations of brown bears, wolverines, wolves and lynxes prowled the Norweigian tundra. By the 1960s, though, wolves had been hunted to effective extinction, and bears almost followed.
But they were protected by law in 1971 and 1973 respectively, and numbers have been crawling back up thanks to Finnish-Russian wolves roaming into Norwegian territory.
There are 430 wolves across the whole of Scandinavia, up from fewer than 10 in the 1990s. They remain under threat from loss of habitat and poachers.Illegal hunting is the largest cause of wolf mortality in the region.
(independent)