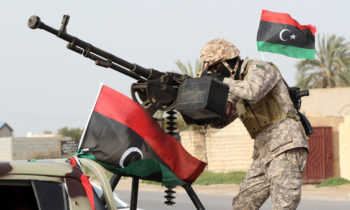 The $850bn Norwegian oil fund has drawn up contingency plans to protect its assets from extreme political events such as a military invasion or coup. This comes at a time when the stability of several international sovereign wealth funds is in question.
A spokesperson for Norges Bank Investment Management, which oversees the world's largest sovereign wealth fund, told FTfm that the oil fund has "drawn up contingency plans for various scenarios that represent a threat to the fund's holdings".
He declined to comment on the details of the plans. It is understood the Norwegian oil fund is helping other state-run entities draw up protective policies to safeguard their assets in the event of extreme political upheaval.
Sovereign funds are moving to protect their assets following the outbreak of civil war in Libya that has raised questions over who is the rightful guardian of the country's $66bn sovereign wealth fund.
The Libyan conflict, which began with an uprising against Muammer Gaddafi's regime in 2011, has resulted in two rival groups, one in the Libyan capital of Tripoli and the other in Malta, claiming responsibility for running the Libyan Investment Authority.
A sovereign wealth fund expert, speaking on condition of anonymity, said: "There needs to be a contingency plan. All sovereign wealth funds are thinking about this."
Angela Cummine, postdoctoral fellow in the department of politics at the University of Oxford, added: "Preparing for a coup or regime change and [potentially] losing capacity to manage the assets [of a sovereign wealth fund] is really important given what has gone on in Libya over the past five years.
"There is a strong case for offshore financial arrangements for sovereign wealth funds in unstable states. [These funds should] have a very good working relationship with financial capitals like New York, Switzerland and London and diversify their physical holdings."
She added that smaller funds that have been set up in Africa recently are under intense political pressure.
Zimbabwe established a sovereign wealth fund in 2014, but the country is facing "huge liquidity challenges in the domestic market", according to Ms Cummine.
"There are remote chances of cronyism and civil war," she said. Mozambique and Tanzania, which are in the process of setting up sovereign funds, and Angola, which established its $5bn fund in 2012, also face significant political headwinds, she added.
Several sovereign funds, particularly those situated in less stable regions, have chosen to hold their physical gold assets outside their home countries in order to mitigate political risks, according to Michael Maduell, president of the Sovereign Wealth Fund Institute, a US-based consultancy.
"It is a really rare scenario, but if your government gets overthrown or there is a revolution, [the safety of the sovereign wealth fund] is a big concern. [The sovereign wealth fund can] become stuck," he said. "Any gold held in vaults could be physically taken [by a hostile force] and assets can be appropriated."
Adrian Orr, chief executive of the $20bn New Zealand sovereign wealth fund, said its financial assets are protected as they are held by a custodian, Northern Trust. But he agreed there are greater risks for the fund's physical assets, "which is why diversification and various risk-mitigation strategies matter".
Norway's central bank, which is responsible for the country's sovereign wealth fund, set up offices in London during the second world war when the country was occupied by German forces, according to Martin Skancke, who used to run the fund.
Mr Skancke, who now runs an asset management consultancy, said: "This made sure that the legal government of Norway in London had access to international financial markets. A lot of this has to do with making sure you have right of title to those assets to enable you to access [the fund], even if you have to leave your normal place of operation.
"Governments should have these plans in place. If there is a national emergency, the government should be able to access those assets."
(ft)