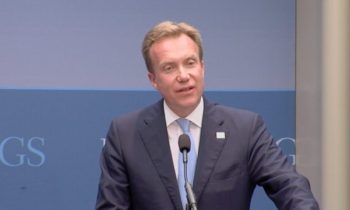 Børge Brende, Norway's Minister of Foreign Affairs, has accepted an invitation to attend the 'Arctic: Territory of Dialogue' 4th International Arctic Forum set to take place on March 29–30 in Arkhangelsk, it was revealed during a meeting of the G20 Foreign Ministers in Bonn, Germany. The visit to Arkhangelsk by Mr. Brende will be the first time a Norwegian Foreign Minister has visited Russia in three years, say the Forum organizers.
The 'Arctic: Territory of Dialogue' International Arctic Forum will be one of the most representative international forums to take place in Russia. It is expected to be attended by 1,500 participants from 14 countries, including the UK, Denmark, Canada, China, Norway, USA, Finland, Switzerland, Iceland, and Japan. Among the participants will be leaders of major Russian and international companies active in the Arctic, international experts, officials, and representatives of the scientific community.
The 'Arctic: Territory of Dialogue' programme, with the key theme of 'People and the Arctic', offers 12 themed sessions, roundtables and discussions, a plenary session to be addressed by the Russian President Vladimir Putin, an extended session of the State Commission for Arctic Development, and a number of special events including the Northern Cities Forum and the Arctic Business Forum.