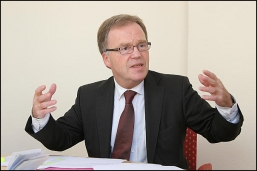 The top Norwegian envoy in Seoul called Tuesday for cooperation with Korea to build hydrogen-powered cars as the two countries are pushing to go green by slashing carbon emissions and switching to renewable energy sources.
Norwegian Ambassador Jan Grevstad said complementary expertise in the energy, maritime and oil and gas industries creates ample opportunity for South Korean and Norwegian businesses to contribute to a green transition, reducing fossil fuel consumption, and relying more on solar, wind and other forms of energy production.
"A great example of the Norwegian-Korean energy cooperation can be found in the transport sector," Grevstad said in a session of the Korea-Norway Economic Cooperation Council at the Federation of Korean Industries, which speaks for Korea's large businesses.
"Korean engine technology is paired with Norwegian hydrogen production and infrastructure technology to create hydrogen driven cars," according to the text of Grevstad's speech provided by the Norwegian Embassy. Grevstad did not elaborate beyond that.
Korea has been racing to develop hydrogen fuel cell cars as they do not produce greenhouse gases that scientists say are to blame for global warming.
A fuel cell car emits only water vapor as it converts stored hydrogen into electricity, which turns the vehicle's motor.
Hyundai Motor, Korea's largest automaker, has become the first carmaker in the world to mass produce a hydrogen-powered car.
Hyundai Motor said it has sold a total of 503 units of the Tuscon fuel cell vehicles, including 26 units in Norway.
Norway is set to ban the sale of new diesel and gasoline cars, beginning 2025 as part of its efforts to move toward a new and greener economy.
Korea is Norway's second largest trading partner in Asia, and the largest international market for the Norwegian supplier industry. (Yonhap)