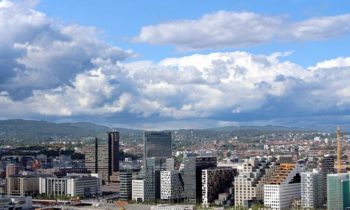 A ban on driving most diesel cars on roads in the Norwegian capital of Oslo went into effect Tuesday in an attempt to tackle harmful air pollution.
It was the first time the ban was implemented since city officials last year introduced measures which are triggered if air pollution hits high levels over several days.
Among the exemptions were taxis, patients being transported to hospital or doctors, and people travelling to catch ferries. Motorists are also allowed to use State highways.
The ban – in effect from 6 am to 10 pm (0500-2100 GMT) – was estimated to be in place at least until Wednesday when weather conditions were forecast to improve.
The air pollution has been problematic for elderly people and people with asthma.
The poor air quality was attributed to a condition known as temperature inversion that caused warmer air at higher elevations in the atmosphere to trap cold, polluted air near the ground.
The ban for diesel engines was due to their higher emissions of harmful nitrogen dioxide (NO2).
Motorists caught violating the ban risk a 1,500-kroner (176-dollar) fine.
A flurry of snow early Tuesday contributed to a slight improvement in air conditions as the snow trapped some of the harmful airborne particles, according to the Norwegian Institute for Air Research.
An estimated 122,000 diesel cars are registered in Oslo, of which 72,000 are owned by private individuals.