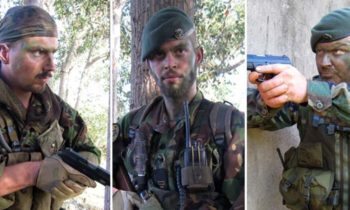 A man with dual Norwegian and British citizenship who had been sentenced to life in prison for murder in the Democratic Republic of the Congo has been freed on humanitarian grounds and returned to the Scandinavian country, authorities said Wednesday.
"I am very pleased to confirm that the Congolese authorities decided yesterday to transfer Joshua French to Norway," the Norwegian prime minister, Erna Solberg, told a news conference. "French came to Norway today and is now receiving necessary medical follow-up. I am relieved that he is now in Norway."
French and his friend Tjostolv Moland were found guilty in 2009 of murdering their driver in Congo and were sentenced to death. Then, in 2014, French was found guilty of strangling Moland, who was found dead in his cell. French claimed Moland had killed himself.
French, 35, had not been pardoned, but a "humanitarian deal" had been reached with Congo's government, Norway's foreign minister, Børge Brende, said. Congo's justice and foreign ministers were present at the president's office in Kinshasa where the deal was made Tuesday, he said.
Solberg said French's mother, Kari Hilde French, had made an "impression" on Congolese authorities and was instrumental in reaching a deal.
"There is no conviction against him," Brende said, implying that French was now a free man. The minister said no money had been paid in the release.
Solberg said French needed medical care but didn't elaborate on his condition.
French and Moland had been in Congo to do research for a potential company that would arrange extreme tourism holidays. They denied killing driver Abedi Kasongo, saying they were ambushed by gunmen.
The two also were convicted of spying for Norway because they were carrying military ID cards at the time. They denied the charges, and the Norwegian government denied that the men were spies.
The Congolese justice minister, Alexis Thambwe Mwamba, told the Norwegian media outlet NRK in February that French would be pardoned this year.
In London, the foreign office had no immediate comment.
Kari Hilde French wrote 7 May on her blog that her son's health in recent years had been "very bad". She said he had been hospitalized several times, most recently in 2016, for five and a half months. "Our greatest wish is to get Joshua French home alive before it is too late," she wrote.
On Wednesday she wrote: "We have finally gotten you home and the joy cannot be described."
(theguardian)