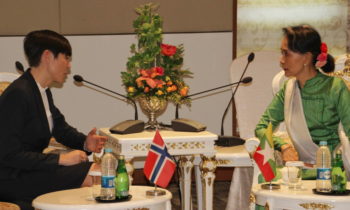 On 19 November the Royal Norwegian Embassy in Yangon was proud to receive Foreign Minister Ine Eriksen Søreide in Yangon. This was the minister's very first visit to Myanmar, and one of her first visits abroad as Foreign Minister. In Yangon, she met with local, international and UN organizations, learning about the situation in the country. She also met with representatives from Norwegian businesses and NGOs in Myanmar.
"I am glad to be in Myanmar, and have been very well received by people here. This is an important moment for me to visit Myanmar and to engage with civil society and the government. I look forward to further strengthening the relationship between our two peoples, including working together to resolve difficult challenges in Rakhine and elsewhere," Eriksen Søreide said.
On 21-22 November Minister Eriksen Søreide was in Nay Pyi Taw to attend the 13th ASEM Foreign Ministers' Meeting. There she met with colleagues from Asian and European countries, including State Counsellor Aung San Suu Kyi.
They had a good and open discussion on the situation in Rakhine, including on the importance of providing humanitarian access, security and safe return. Eriksen Søreide reiterated Norway's readiness to assist the Government of Myanmar in this difficult and complex situation. They agreed to work together to achieve peace, stability, harmony and sustainable development in Rakhine, stated the Norwegian embassy.
( Source: Royal Norwegian Embassy in Yangon, N.Sethurupan)