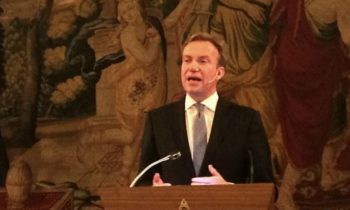 'More needs to be done to safeguard women's rights in Afghanistan. We must build on the progress that has been made,' said Minister of Foreign Affairs Børge Brende. He is keynote speaker in today's symposium on women's empowerment, organised by the Afghan authorities in cooperation with Norway and the US.
The Afghan authorities recognise that women and girls in the country suffer from discrimination and encounter many problems in their daily lives. Infant mortality is higher in Afghanistan than anywhere else in the world, and violence against women frequently goes unpunished. But progress is being made. In 2001, the number of girls in school was close to zero, but now about 3.3 million girls are enrolled in primary school.
'Today's symposium demonstrates the strength of the Afghan commitment to improving the situation for women, and also its breadth, involving everyone from the leadership of the National Unity Government to women and men from every province. You have the full support of Norway and the international community in your efforts,' said Mr Brende.
The aim of the symposium is to move women's issues higher up the agenda in Afghanistan. Participants include people from all parts of the country who are working to improve the situation of women and promote their participation in the economy, politics and society.
'Afghanistan urgently needs women's contributions in all walks of life. Afghan women have achieved a great deal, but are still confronting major problems. They are demanding respect for their rights, they want equal opportunities in education and working life, and they want to play a part in developing the country's future. Women's participation is vital for ensuring the peaceful development of Afghanistan,' said the Foreign Minister.
The recommendations from the symposium will provide input to the upcoming NATO Summit in Warsaw and the donor conference for Afghanistan in Brussels. The symposium follows up the 2014 Oslo symposium on women's rights and empowerment in Afghanistan and the 2013 Washington symposium on advancing Afghan women.
All recipients of Norwegian grants in Afghanistan are required to safeguard women's rights in their projects. One of the projects Norway has funded is the construction of a dormitory for female students in Faryab, which has given many women access to higher education for the first time. Between 2013 and 2015, ten schools with a total of 91 classrooms were completed in Faryab province with Norwegian support. This has provided places for an additional 3 300 pupils, most of whom are girls. About 400 midwives have completed their training at facilities run by the Norwegian Afghanistan Committee in the last few years. This is 10 % of all registered midwives in the country.
(regjeringen)