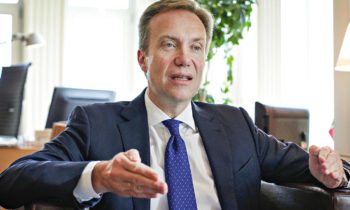 Norwegian Foreign Minister Børge Brende sees increasing chances for the Duterte administration forging a peace deal between the Philippine government and the Communist Party of the Philippines (CPP).
Speaking at the sidelines of the 4th European Ambassadors' Forum in Manila on Friday, the diplomat cited recent positive developments that could help achieve peace.
"We have seen really new momentum in the process with the guerrillas and this is I think important to the Philippines," Brende told reporters in an interview.
"It's a historical opportunity to reach an agreement so that conflict can be settled," he said.
The second round of formal peace talks between the Philippine government and the National Democratic Front of the Philippines and its armed wing New People's Army and political arm CPP was held in Oslo last October.
The third round had been scheduled for January next year.
"So it's going to be on stream right now," Jesus Dureza, the presidential adviser on the peace process, said during the ambassadors' forum.
"Within our sight is the bright prospect of bringing everyone to the negotiating table for a shared vision of sustainable unity and peace in our land," Foreign Secretary Perfecto Yasay Jr. said.
While acknowledging that the road ahead is still "bumpy," Brende said settling the nearly 50-year conflict will bring great opportunities for the Philippines to move forward.
"One thing is to get an agreement. But then it's the implementation and we have to get the implementation right," he added.
Brende also on Friday flew to Davao City to meet with President Rodrigo Duterte for a "broad agenda," including the peace process, bilateral cooperation, maritime sector, economic-trade agenda and regional and global challenges.
The Norwegian official said he will also discuss with the President the Philippines- European Free Trade Association free trade agreement.
Signed last April, the agreement is expected to enter into force next year after completion of necessary internal procedures for ratification by the parties.
(manilatimes)