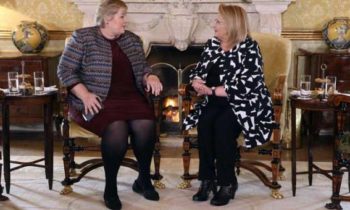 President of Malta Marie-Louise Coleiro Preca received Prime Minister of Norway Erna Solberg on a courtesy call at San Anton Palace today.
During the meeting, President Coleiro Preca conveyed Malta's appreciation for the Norwegian Grants and spoke about the good history which Malta has in managing these grants. The President of Malta was pleased to note that Malta will once again be acceding to these grants.
Prime Minister Solberg and President Coleiro Preca also spoke about the challenge of migration, with a particular focus on child migrants, thousands of which end up missing or unaccounted for. Prime Minister Solberg commended the President's Foundation for the Wellbeing of Society for bringing together the major stakeholders in Malta last week for the conference which was organised together with Missing Children Europe, with President Coleiro Preca saying that 'we need to work in synergy, and we need to harmonise so that a solution can be found to the problem of missing child migrants'.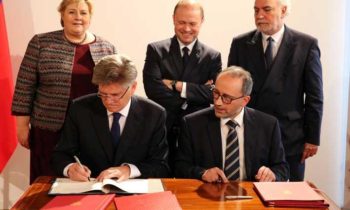 Lastly, President Coleiro Preca and Prime Minister Solberg spoke about the Peace Research Institute Oslo (PRIO). The President of Malta spoke about the 'positive peace' and the culture of peace approach which this institute adopts.
Later, Malta and Norway signed two Memoranda of Understanding; one relating to EEA and Norway Grants 2014-2021, and the other on the Implementation of the Norwegian financial mechanism, amounting to €8 million.
Norwegian Prime Minister Erna Solberg said that the monies will finance projects relating to health, culture, civic society, and poverty. During the signing of the MOUs, Prime Minister Solberg stressed on the need of an outward-looking, strong, and united, EU.
Prime Minister Joseph Muscat, on his part, said that the €8 million grant is another way to show how to make Europe work for many people, as these funds will help many families. Dr Muscat also referred to migration which is a security and humane issue and which needs to be tackled in a rational manner.
Dr Muscat said that the EU is currently in the process to come out with a declaration regarding the central Mediterranean where relations with Libya are crucial. Prime Minister Muscat said that one needs to help Libya manage its own borders and not to resort to pushing back people.