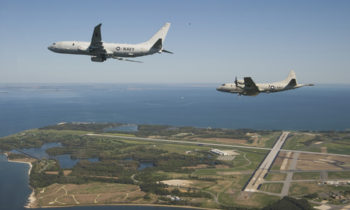 Norway has expressed interest in buying five to six Boeing Co (BA.N) P-8 maritime surveillance planes, a senior U.S. Navy official said on Monday.
Rear Admiral Dean Peters, programme executive officer for anti-submarine warfare, assault and special missions programs, said the Navy had asked potential P-8 buyers to express their interest by next summer.
The P-8 is entering its last three years of production, so international partners would need to place orders relatively soon to get in on the programme before production halts.
"People are showing their interest in the plane," Peters told Reuters.
In addition to a 3 billion pound order announced by Britain on Monday, Boeing is also building P-8 planes for Australia, and will deliver that country's first plane in September.
Leanne Caret, president of Boeing Defense, Space & Security, said the order reflected strong and growing interest in the P-8A aircraft. Boeing had lowered the cost of the plane by 30 percent in recent years, and saw a potential market of 100 aircraft that needed to be replaced or modernised in coming years.
"We have a unique position to take advantage of the economies of scale that only Boeing can provide," she told Reuters in an interview.
Peters said there was also growing interest in countries joining forces to train for, operate and maintain the planes, which could play a role if Norway decided to procure the planes.
"The synergies you get from operating the same equipment can't be overestimated," Peters said.
He said Norway, which is also buying the F-35 fighter jet, was keen to expand its military cooperation with the United States.
(Reuters)