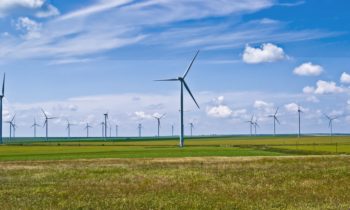 Norwegian wind power developer NTB AS and its partners have announced an agreement to build a 250 MW wind farm in Ukraine's southern region of Kherson, located adjacent to Crimea, the strategic Black Sea peninsula that was forcibly annexed from Ukraine by Russia in March 2014.
The announcement was made at a ceremony attended by Ukraine's president Petro Poroshenkoand Norwegian Foreign Minister Ine Soereide Eriksen on September 6 in Kiev, NTB AS said in an emailed press release.
In close cooperation with leading international industrial companies and financial investors, NBT said the Norwegian developer of wind farms and other renewable energy projects in emerging markets plans to complete the construction of 64 wind turbines on 1.300 hectares by Syvash Lake in southern Ukraine in just 15 months.
On completion, the wind farm will be the largest wind farm in Ukraine to be financed by international non-recourse project financing.
The €292 million EPC (Engineering, Procurement & Construction) contract is part of the €370 million total foreign investments in the wind farm, which will bring Ukraine significantly closer to its ambition of increasing domestic-sourced renewable energy from 6 to 11% by 2020.
NBT plans to develop an additional 860 MW of wind farms in Ukraine to be completed within the next three years, according to CEO Joar Viken of NBT AS.
"Business climate in Ukraine has visibly improved in recent years, and our decision to enter the Ukrainian market is based on the progress the country has been making. We appreciate the support of the Ukrainian Government, the Office of the National Investment Council, regional authorities and other partners for the efforts that made our windfarm project in southern Ukraine possible. We see an outstanding future for the development of the Ukrainian renewable energy sector," Viken said.
Also attending the ceremony were NBT's international partners in the EPC contract; POWERCHINA, one of the largest power plant construction companies in the world, and Nordex Group, a leading producer of onshore wind turbines. The American investment bank J.P. Morgan is the financial advisor to NBT in the transaction. "We are extremely happy to be working closely with POWERCHINA and Nordex to build this first wind farm in Ukraine to be financed by international project financing," Viken said.
POWERCHINA welcomed the Syvash wind farm project as an opportunity to expand its presence in the international renewable energy sector and in the competitive European market.
"This 250 MW wind power project will include the highest international standards in terms of technology, quality, environmental, health and safety. The project marks a very important step in the globalization strategy of POWERCHINA," said Li Yanming, vice president of POWERCHINA.
German Nordex Group will deliver the wind turbines totalling 250 MW for the NBT Syvash wind farm.
"The Syvash wind farm order would mean a perfect market entry of the Nordex Group into the Ukrainian market," said José Luis Blanco, CEO of the Nordex Group.