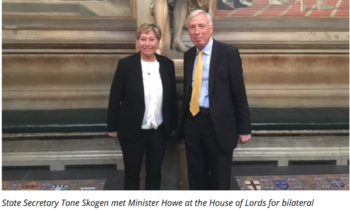 "In times like these, when the security landscape is complex and uncertain, we need close allies. I am especially pleased with the strong UK-Norwegian relations, says State Secretary Tone Skogen. Earlier this week Minister for Defence Procurement Guto Bebb hosted Skogen on her visit aboard a US Navy P-8A Poseidon aircraft – equipment which both the UK and Norway will soon own themselves.
State Secretary Tone Skogen visited London and Royal Air Force Lossiemouth, the military airfield in north-east Scotland which will be the future home of the UK's fleet of MPA's (Maritime Patrol Aircrafts). The Poseidons deploy sonobuoys to help them detect and hunt submarines. The UK is buying nine of the Boeing-built aircraft, whilst Norway is buying five.
"These sub-hunters will take to the skies from RAF Lossiemouth and help us combat a range of intensifying threats, not least increasing submarine activity in the North Atlantic. We're investing £3bn in our own capability, but working alongside Norway takes this to a higher level. Not only could we cut costs by sharing training, spares and repair facilities, but we can patrol the seas together, meaning we've got more eyes and ears on any potential aggressors, says Guto Bebb, Minister for Defence Procurement in the UK. 
"In my discussions with Guto Bebb, I find a like-minded ally with unwavering determination to strengthen NATO and our bilateral defence cooperation. This relates to high-end capabilities such as the F-35 fighter and the P-8 maritime patrol aircraft, training and exercises in the North Atlantic and the Northern region, as well as operationalisation of the Joint Expeditionary Force. I am delighted that the United Kingdom and Norway significantly enhance our cooperation on these and other important issues", State Secretary Tone Skogen says. 
Surveillance of the North Atlantic is important for both UK and Norwegian security. Norway and the UK will intensify cooperation in this important endeavour, also in a trilateral context with the US. As the F-35 is coming into operation in our countries, Norway welcome increased operational cooperation also in this domain – as well as the P-8's. Norway also highly value Royal Marines' training and exercising in Norway, and welcome the deepening relationship between the Marines and the Norwegian Armed Forces. Norway also highly appreciate the UK initiatives and European leadership in forums such as the Northern Group and the UK-led Joint Expeditionary Force (JEF). 
"Norway and the UK have special responsibility both to ourselves and to the Alliance to ensure stability in the High North", concludes Tone Skogen.