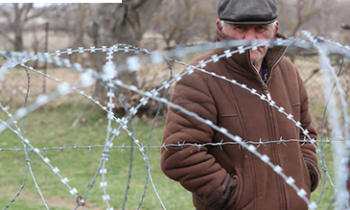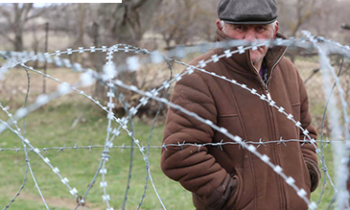 Representatives of Denmark, Finland, Iceland, Norway, Sweden, Estonia, Latvia and Lithuania visited the Administrative Boundary Line (ABL) yesterday between the occupied Tskhinvali region and the rest of Georgia.
The group met with a family living behind the barbed wire fences in the Shida Kartli region in the village of Khurvaleti.
Davit (Dato) Vanishvili's family found itself divided from the rest of Khurvaleti village with the wires established by the Russian occupation forces back in 2015. They were also separated from their wheat field which was formerly their main source of income. However, after the erection of the barbed wire fence, they have been unable to reach their crop fields.
I was in Georgia when I went to bed; when I woke up I was in South Ossetia", Vanishvili used to say from behind the body-height fence.
Read more about the situation along Georgia's occupation line in Lali Tsertsvadze's special report: "Georgia: Easter behind barbed wire"
The representatives of the Nordic-Baltic Eight (NB8) went to the Gori Office of the European Union Monitoring Mission (EUMM) and met with the mission representatives.
EUMM Georgia is an unarmed civilian monitoring mission tasked with ensuring peace and stability for people who live on both sides of the ABL in Georgia's breakaway regions of Abkhazia and Tskhinvali (South Ossetia).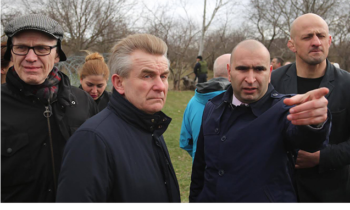 NB8 is the informal format of regional cooperation between Baltic (Lithuania, Latvia, Estonia) and Nordic (Sweden, Finland, Norway, Iceland and Denmark) states, and serves as an instrument for political dialogue and practical cooperation.
Denmark, Estonia, Latvia, Lithuania and Norway are represented by their respective Parliamentary Speakers, while Finland and Iceland – by Vice Parliament Speakers, and Sweden – by its ambassador to Georgia.
Georgia is interested in the development of cooperation with the NB8 in various directions, including domestic affairs, defence and security. Throughout 2016, Georgia has expressed commitment on various levels for the involvement in and hosting of NB8 events.