'Sound, transparent tax systems that increase government revenue and improve the distribution of wealth are essential for the very poorest countries to achieve poverty reduction and sustainable development. Through this agreement with the World Bank, we are stepping up our efforts to help these countries generate increased tax revenues,' said State Secretary Aksel Jakobsen in the Ministry of Foreign Affairs.
The agreement, signed today by Mr Jakobsen and Marcello Estevao, Global Director of Macroeconomics, Trade and Investment at the World Bank, means that Norway will contribute NOK 88 million to the World Bank's Global Tax Programme Trust Fund over three years. Norway has previously allocated NOK 21.5 million to the fund, which supports tax reforms in a number of states, including Somalia, Niger and Afghanistan. These countries are among those with the poorest score on the UN's living standards indicators, and increased tax revenues will enable their governments to provide better services to the population.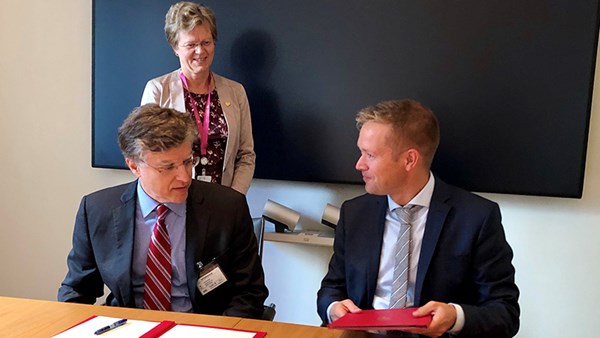 'It is estimated that up to 90 % of the money needed to achieve the Sustainable Development Goals will have to come from domestic sources. Sound tax systems are also prerequisites for fair distribution of resources and if countries are to become independent from development aid. This is why the Norwegian Government over the past two years has stepped up efforts to improve tax systems nationally and internationally,' said Mr Jakobsen.
Countries affected by conflict and fragility and countries with weak institutional capacity are often left out in the global efforts to improve tax systems.
"With the support of Norway, the World Bank will be able to tailor guidance to fragile countries so they can build resilience, strengthen fiscal capacity and reform institutions. There is no one-size-fits-all solution for supporting tax systems in these situations. The World Bank is committed to respecting sovereign decision-making while encouraging good practices to help FCV countries break the cycle of dependence on external resources," said Marcello Estevao.
In 2019, Norway is planning to contribute approximately NOK 300 million to tax assistance efforts.
(MFA, NORWAY)