The annual trade turnover between Kazakhstan and Norway remains limited and is currently slightly over USD 60 Millions. Seafood products and aquaculture, oil and gas services industry, green energy, financial cooperation (including with the Astana International Financial Centre) and ongoing privatization in Kazakhstan are the areas where Norwegian companies could potentially expand their engagement with the country. There are limited business contacts between Kazakhstan and Norway, says Roman Vassilenko, Deputy Foreign Minister of Kazakhstan, at the Business Seminar "Kazakhstan: New Economic Opportunities for cooperation with Norway".
The participants discussed how to improve "connectivity" between the two countries. Launching direct flights between the Central Asian and the Nordic countries in general and between Kazakhstan and Norway in particular would be an important step to facilitate logistics and intensify the contacts between the business communities.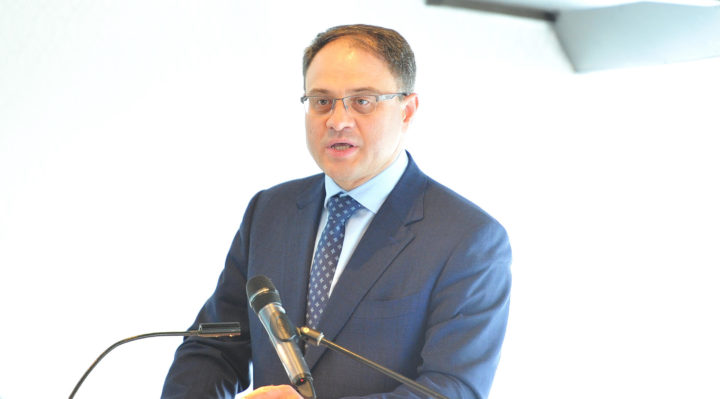 Full text of Roman Vassilenko's Remarks follows:
Dear guests, ladies and gentlemen!
It is a great pleasure to greet you all today at our seminar. We have a lot to discuss, and I want to provide you with interesting information relating to trade and economic opportunities.
At the outset, I would like to share with you first-hand information about some important developments in our country.
On 9 June, Kazakhstan elected Kassym-Jomart Tokayev as the President of Kazakhstan. The new President's guiding principle is "Continuity, Justice and Progress". In his inaugural address, he put forward ten priorities for his Presidency. He made it clear that Kazakhstan is open to the world, new achievements and new technologies. He also stressed that he plans to support businesses, attract and protect investments, stimulate business activity and grow the middle class.
Kazakhstan is keen to work closely with Norway and the Norwegian business.
The annual trade turnover between the two countries is just over $60 million. This signifies that there's a huge unutilized potential for business-to-business interaction.
We have singled out three major areas for economic cooperation.
The first is transports and logistics. In order to boost trade we need to improve connectivity. We have already set up very efficient railroad communication connecting Eastern China with Western Europe. Container shipments going through Kazakhstan reach their destination in just in two weeks, which is much faster than the maritime route and much cheaper than air cargo transportation. With Finland already connected, we believe that the whole of Scandinavia, especially Norwegian seaports, can benefit from this route.
We would like to encourage all Norwegian transport and logistics companies, and those who trade with Asian and Central Asian countries, to participate in this initiative. We are ready to put you in touch with the relevant partners in Kazakhstan and along the whole route.
Agriculture is another area with huge potential for cooperation. Kazakhstan's vast land covers a territory exceeding the size of Western Europe. Kazakhstan ranks 5th in the world in terms of pasture area – more than 180 million hectares of pastures are available for livestock production. 210 000 hectares of land certified to EU and US standards are available for crop production. A total of 40% of the population, skilled in agricultural production, live in rural areas.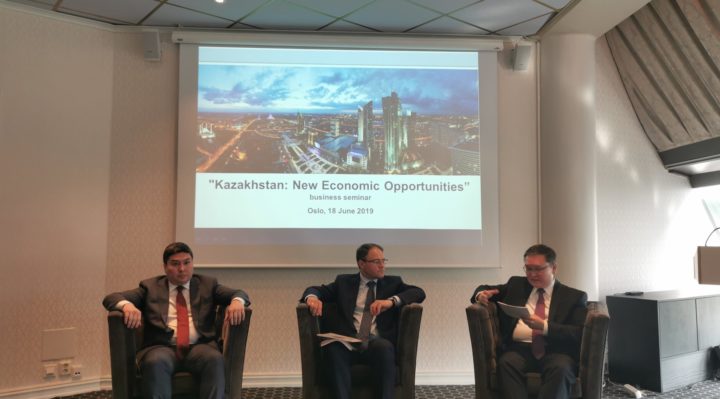 In 2018, gross agricultural output increased by almost 3% and amounted to nearly 13 billion dollars. Almost 23 million tons of grain, 7.5 thousand tons of meat and 107,000 tonnes of milk were produced last year in Kazakhstan. A total of 12,500 tonnes of vegetables and more than 6,000 tonnes of fruits were harvested.
Exports of agricultural and processing products increased by 12.5% to $2.3 billion.
Today, Kazakhstan is among the top ten countries exporting grain and flour.
We know that Norwegian companies are interested in our grains. By the end of last year, over 43,000 tonnes of grain were exported from Kazakhstan to Norway. According to our estimates, this figure can be significantly increased.
Kazakh businesses are also interested in exporting natural juices, dried fruits and many other products.
The Government is introducing "smart technologies" for a breakthrough in the development of the agro-industrial complex. Agrarian policy is aimed at sharply increasing labour productivity and growth in exports of processed agricultural products. Priority will be given to boosting science and research, transfer of new technologies and their local adaptation.
In this context, there are great opportunities for organizing joint processing industries with Norwegian partners.
Kazakhstan has created a favourable environment for investments in agriculture. Kazakhstan ranks 28th in the World Bank's Doing Business ranking. Over the last 5 years, nearly $1 billion of investments have been attracted into the agribusiness sector. More than $200 million of these were in food production.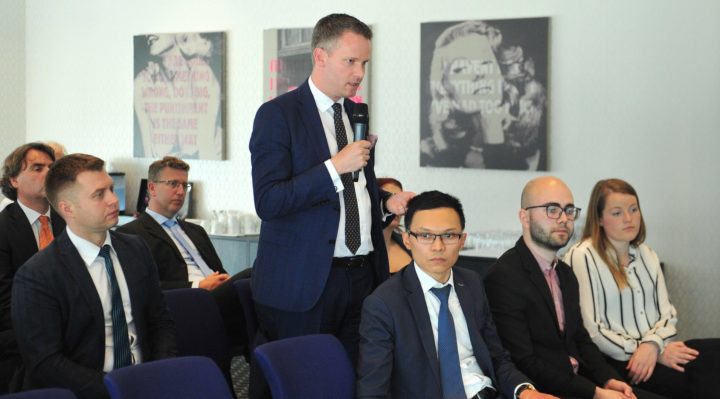 The government has introduced considerable investment incentives in priority areas including in the production and processing of dairy products, fruits and vegetables, oil crops, meat products and deep processing of wheat. These incentives include:
zero interest rate on corporate and land tax for up to 10 years, and on property tax for up to 8 years;
customs privileges for the import of equipment and its components;
assistance and support for projects;
a program of investment subsidies, including reimbursement of part of the costs;
this year, a 50% reimbursement for chemical fertilizers produced in Kazakhstan has been introduced.
Markets for the export of Kazakh agricultural products include China, the EAEU, Central Asia, Iran and the Gulf countries.
In our view, it looks promising to establish joint projects with the Norwegian partners in the production of agricultural products for export, primarily to China.
Along with this I would like to highlight the processing sector. Only 25% of agricultural products produced in Kazakhstan are processed locally, the rest are imported. Only 30% of the milk produced in Kazakhstan is processed locally too. 52% of consumed poultry meat is imported to Kazakhstan.
Due to its climate and geography, Kazakhstan needs further development of greenhouse farming. There is huge potential here as there are on average 263 sunny days per year in Kazakhstan.
The third area for partnership is offered by the Astana International Financial Centre (AIFC).
It is a unique financial hub that combines the best practices and opportunities offered by similar institutions around the globe including New York City, London, Dubai, Hong Kong and Singapore.
AIFC offers the most successful solutions and technologies used by other international financial centres, providing additional exclusive benefits.
This is the first institution in the region to offer businesses a complete and comprehensive legal platform for attracting, implementing and protecting investments. AIFC jurisdiction is based on English Common law and standards applied by the world's leading financial centres. Its independent governing bodies provide additional guarantees and support for businesses and their operations.
The AIFC Court, which is separate and independent from Kazakhstan's judicial system, comprises of the Court of Appeal and the Court of First Instance, which offers a special fast-track procedure for small claims of up to $150,000.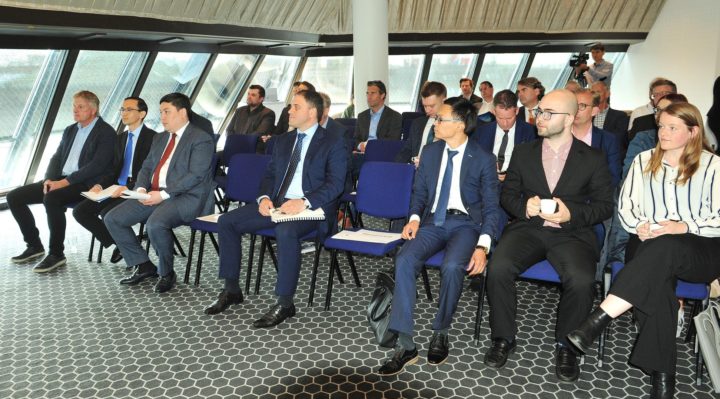 The new Astana International Exchange (AIX) was created based on innovative solutions and with the support from experienced and influential international players. Its main strategic partners are the Shanghai Stock Exchange and NASDAQ, which provided the trading platform for the AIX, as well as Goldman Sachs, and the Silk Road Fund, which provides access to projects under the Belt and Road Initiative.
A friendly tax regime and operational incentives reduce expenses and increase the competitiveness of businesses cooperating with the AIFC.
We invite Norwegian law firms to consider AIFC as a dispute resolution venue. And we invite financial institutions, private investors, and fin-tech innovators to utilize all the benefits offered by this unique organization.
I would also like to mention two other institutions based at the EXPO-2017 site.
The first is the Astana Hub – International IT and startup centre. Its mission is to develop a startup culture and to support high-tech projects. By 2022 it is planning to invest $175 million in resident startups.
This organization is interested in bringing in Norwegian expertise, managerial, mentoring and investment skills, startup set-up practices, and the establishment of the resource based startups.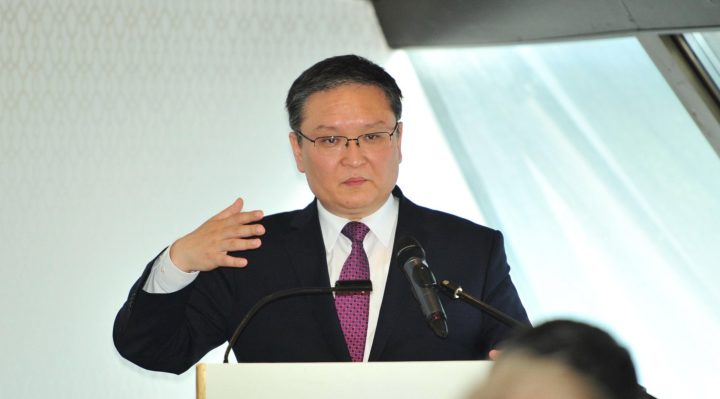 At the same time it offers many opportunities for Norwegian companies, including visa, workforce and other preferences. Norway can also serve as a landing place for Kazakh and Central Asian startups in Europe.
The second organization is the International Green Technologies and Investments Center. Its mission is to assist the development of the green economy in Kazakhstan. This includes the development of the electric power industry, the reduction of air pollution, energy saving and energy efficiency, alternative sources of energy, conservation and sustainable ecosystem management, introduction of a waste management system, the development of productive and sustainable agriculture and sustainable use of water resources.
Dear friends,
I hope that together we can implement and bring to life the proposals I have covered. The Foreign Ministry, the Embassy and the institutions I have mentioned are ready to extend to you every possible assistance and support in facilitating your business ideas and projects.