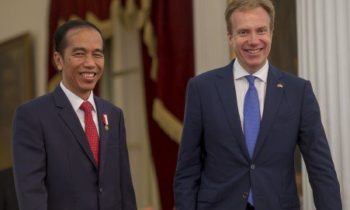 Indonesia President Joko "Jokowi" Widodo met with Norwegian Foreign Minister Børge Brende on Tuesday to discuss the strengthening of bilateral ties between the two countries, including by cooperating together in several sectors such as the environment and the fisheries.
Brende's first trip to Indonesia was meant to increase cooperation between Indonesia and Norway, Foreign Affairs Minister Retno LP Marsudi said on Tuesday.
Indonesia and Norway had previously cooperated in the Redd+ program since 2010, which aimed to lower greenhouse gas emissions and deforestation. The arrangement had three stages: namely preparation, transformation and implementation. Indonesia and Norway are currently shifting from the first to the second phase, Retno said.
"The President has ordered the acceleration of the implementation as well as the strengthening of cooperation between the Environment and Forestry Ministry and the Peatland Restoration Agency," she said in a press statement.
Moreover, Retno said Maritime and Fisheries Minister Susi Pudjiastuti had also visited Norway in August last year where she signed agreements to eradicate illegal fishing and to promote fish cultivation and sustainable fish management.
Brende had expressed Norway's intention to increase trade and investment ties with Indonesia, Retno said, adding that Norway had invested US$1.2 billion in pension funds in Indonesia.
Furthermore, the meeting also explored other areas of cooperation between the two countries, such as in hydro power as almost 100 percent of Norway's energy comes from hydroelectric dams and the European country has made several investment in the sector, she added. ( rin )