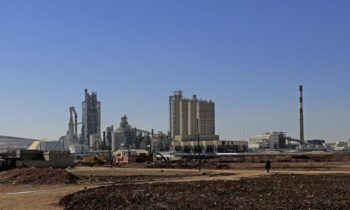 A former member of Norwegian intelligence has been arrested in France as part of the inquiry into cement-maker Lafarge's alleged dealings with the Islamic State (IS) armed group and other jihadists in Syria. Jacob Waerness has previously said that company bosses, seven of who have been charged in the investigation, knew of negotiations with the Islamist militias fighting Bashar al-Assad's regime.
Waerness, who was responsible for security at Lafarge's Syrian plant between September 2011 and October 2013, was arrested on a stop-over at Paris Charles de Gaulle airport on 2 May, judicial sources have confirmed.
He was charged with financing a terrorist enterprise on 4 May and freed under judicial control.
Former CEO Bruno Lafont is among the seven Lafarge executives who have been charged over allegations that the company paid "taxes" to IS and other armed groups to keep the plant open when Assad's forces lost control of the area around it.
In a book published in Norway in 2016, as well as in several interviews, Waerness has said that Lafarge negotiated with IS and al Qaeda's Syrian arm, the al-Nusra Front, through an intermediary, Firas Tlass.
IS leaders "wanted taxes", he said. "They wanted to be more like a state."
The plant "should have been closed towards the end of my contract", he said. "We knew who IS was. By then we knew we couldn't stay in the region without direct or indirect contact with them."
Waerness claimed that company headquarters in Paris was informed, in particular by security chief, Jean-Claude Veillard, who has also been charged.
Lafont denies knowing about the contacts but the former head of the cement arm, Christian Herrault, who is also among those arrested, claims to have told him about them in Autumn 2014.