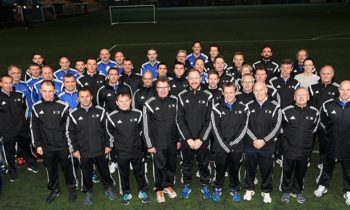 The first UEFA Study Group Fitness for Football seminar following a series of pilot events has been held in Oslo, featuring a mix of presentations, discussions and practical sessions. Following a successful pilot phase, the first Fitness for Football seminar as part of the UEFA Study Group Scheme has taken place this week in Oslo involving coaches, coach educators, fitness experts and medical staff from six UEFA member associations.Along with participants from host nation Norway, delegations ranging from four to six people from the associations of Moldova, Hungary, Belgium, Belarus and Georgia were in attendance for a busy four-day programme featuring a mix of presentations, discussion groups and practical training sessions on subjects including the demands of modern-day football, keeping players fit to play and fitness in football from a long-term player perspective.
The first of three pilot seminars had also been held in Oslo in March 2013, prior to subsequent sessions in Istanbul and Baku, and Dr Paul Balsom, one of a four-man working group for the Fitness for Football programme, has noticed the seminars evolve since then.
"I think at the first conference in Oslo it was more of a one-way communication where there were lectures and the audience listened. The biggest change is that the people in the audience now have a bigger say, are able to express their ideas, able to speak themselves, so it's far more integrated, there's far more interaction," said Balsom, who is performance manager of the Sweden national team and Leicester City FC.
Each of the five visiting associations was given the chance to present its own approach to fitness and football, followed by a question and answer session. Heading the delegation from the Hungarian Football Federation (MLSZ) was technical director László Szalai: "We can learn from each other, so we can talk about football, about fitness, about physical preparation.
"We are always finding small details and these details build up in our education programme. So I think it is very important to exchange experiences in this area so we can use them, and it is very useful if we have a picture from other associations' education programmes as well."
Another key aspect of the week were practical sessions overseen by guest speakers from the host Football Association of Norway (NFF). Physiotherapist for the Norwegian men's Under-21 and U23 teams, Bård Homstøl, offered an insight into football-specific movement efficiency while the senior side's fitness coach Jordi González Aznar led a demonstration on endurance which centred on high-intensity drills with explosive actions.
In 2015, five more Fitness for Football seminars are planned as part of the UEFA Study Group Scheme, to be staged by Belgium, Denmark, Italy, the Netherlands and Sweden.