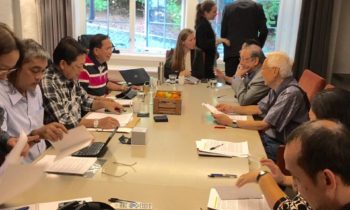 Peace negotiators of the incoming Duterte administration and representatives of the Communist Party of the Philippines-National Democratic Front (CPP-NDF), among them NDF founding chairman Jose Maria Sison, are about to begin informal and exploratory talks in Oslo, Norway, GMA 7 late night news program "Saksi" reported Tuesday night.
President-elect Rodrigo Duterte's Presidential Peace Adviser Jesus Dureza and incoming Labor Secretary Silvestre Bello III had met with Sison for tea even before the talks began, with the meeting described as good-humored and warm.
Among the matters to be discussed during the formal dialogue are the resumption of formal talks, amnesty for the Communist insurgents, and a ceasefire. Formal talks between the government and the NDF were last held in 2004, though backchannel discussions had been going up till 2014.
While both parties were optimistic that talks would go well, outgoing Presidential Adviser on the Peace Process Secretary Teresita Quintos "Ging" Deles, who was also in Oslo, admitted that negotiations between the CPP-NDF and the government had been difficult.
Nevertheless, Deles was hopeful that the informal talks would be fruitful given the time and effort both parties had invested in negotiations.
When the informal talks began, the Norwegian facilitator said, "I hope that this will be a room full of constructive talks, bumps that will be overcome, and as third party facilitator, we will let you be in the driver's seat of these talks."
Sison, for his part, said that the CPP-NPA was thankful for the opportunities given them by the new Philippine administration, among which was the chance for them to recommend people for Cabinet positions.
"When we said that we can, maybe, well known communists and officials of the NDF cannot take positions yet. We can recommend highly qualified, patriotic, and progressive elements. And so we have gone beyond four cabinet posts," said the CPP-NPA founding chairman.
(DVM/KG, GMA News)