Brian Hook, the U.S. State Department Special Representative for Iran, said in a press conference on Thursday that the United States is going to ensure that the arms embargo on Iran is extended "one way or the other".
The U.S. sent a revised version of the Iran arms embargo to the members of the U.N. Security Council on Thursday, with the embargo previously set to expire on October 18.
The proposed resolution is "a clean rollover of the existing arms embargo the Security Council put in place thirteen years ago [in 2007], and has voted to keep it in place several times since," Hook told reporters, adding, "Our proposal's main theme is an arms embargo for an indefinite period."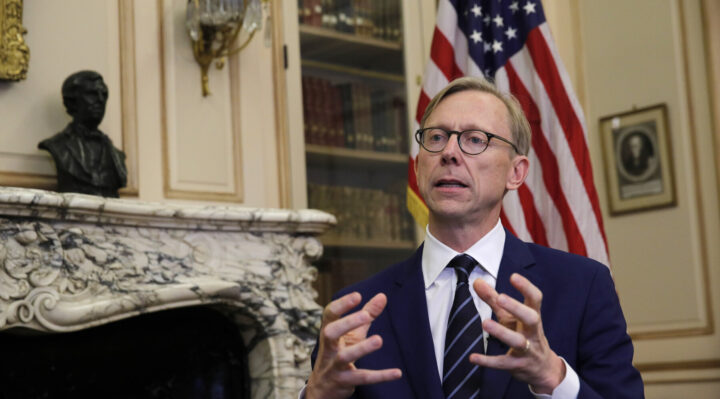 "Letting the arms embargo expire was a big deficiency of the Iran nuclear deal," Hook said, calling the new proposal "a compromise text" with the U.S. that includes provisions supported by all permanent members of the council. "Its expiration should never have been based on an artificial timeline of five years. It was an irresponsible concession."
Should the proposed resolution fail to pass, the United States has threatened to invoke the "trigger mechanism" included in the Iran nuclear deal known as the Joint Comprehensive Plan of Action (JCPOA), which would reinstate all sanctions on Iran if the embargo is lifted.
Hook also urged Security Council members to vote for the extension out of respect for the Middle East nations that "live in Iran's dark shadow," saying, "Abstaining may carry a certain appeal for those who want to have it both ways, to express concern without addressing the concern. But abstentions will not be forgotten by nations in the region who are counting on council members to vote yes."
Below is a full rush transcript of the Briefing with Brian Hook Special Representative for Iran and Senior Advisor to the Secretary of State.
Mr. Hook: Thanks very much, The United States has now circulated to Security Council members our resolution extending the Iran arms embargo, and we expect a vote very soon. I want to make two points: the first on substance and the second on process.
First, on substance. The United States has tabled a clean rollover of the existing arms embargo. The Security Council put this in place 13 years ago and has voted to keep it in place several times since. Our proposal maintains the arms embargo for an indefinite period. This was the case prior to the adoption of Resolution 2231. The arms embargo should stay in place until Iran's behavior changes. Its expiration should never have been based on an artificial timeline of five years.
Taking a step back, letting the arms embargo expire was a big deficiency of the Iran nuclear deal. It was an irresponsible concession. We are doing our best to fix the mistake.
The resolution we have tabled is significantly different from the one we initially circulated in June. We listened to the Security Council members and created a new text that is both reasonable and necessary. So this is a compromise text.
What we are proposing enjoys ample precedent. In fact, the Permanent Members of the Council have all supported the same provisions we are now proposing, and they have done it several times in the past.
It is not just the Trump administration and the U.S. Congress that supports extending the arms embargo. Countries in the Middle East that live in Iran's dark shadow strongly support our resolution.
In the last month, I traveled to Saudi Arabia, the United Arab Emirates, Qatar, Kuwait, and Bahrain to hear their views. This weekend, this last weekend, the six members of the Gulf Cooperation Council, in the middle of a rift entering its fourth year, came together to firmly ask the Security Council to extend the arms embargo. They want it extended until Iran is at peace with its neighbors. These Middle East nations, more than anyone else on the Council, know firsthand the dangers of lifting the arms embargo. Not only do they want it extended indefinitely, they asked the Council to impose new measures to stop Iran from proliferating weapons. I want to quote a few sentences from the GCC letter dated August 8th:
"Iran has not demonstrated its commitment – Iran has not demonstrated its respect for international law…that would justify the lifting of current UN restrictions. It has continued to proliferate weapons across the region as an integral part of its expansionist regional policy and longstanding interference in the internal affairs of Arab States, including GCC member states, in clear violation of the UN Charter. We have stressed that Iran has been a state sponsor of terrorism in our region and has actively incubated, trained, equipped, and directed violent armed terrorists throughout the region…"
The letter also states that "UN restrictions are foundational to international efforts to block the supply of weapons to Iran and its proxies…We call on the members of the UN Security Council to uphold your mandate…and to act to maintain UN restrictions on Iran's ability to purchase or provide arms."
I also traveled to Israel in the last month. Arab Nations and Israel have the same message to the international community: the Middle East needs fewer Iranian weapons, not more.
So many nations around the world have had their own citizens killed by Iranian weapons. This includes the United States. In Iraq alone, 603 Americans were murdered with Iranian weapons and thousands were injured, many permanently. Iran midwifed Hezbollah, a group that had killed more Americans than any other terrorist group before 9/11. Who in 2015 thought it was a good idea to give Iran more weapons?
So the question today is this: Will the Security Council listen to nations in the region? Will it respect the wishes of those closest to the conflict – or will it ignore them? This is a simple yes or no question when it comes time to vote. Abstaining may carry a certain appeal for those who want to have it both ways, to express concern without addressing the concern. But abstentions will not be forgotten by nations in the region who are counting on Council members to vote yes.
The second point I want to make relates to process. The United States has been committed to a fair and open diplomatic process to fix the problem.
We have been transparent about our objectives while prioritizing dialogue and engagement at every step. Secretary Pompeo first raised extending the arms embargo when he spoke at the Security Council in December of 2018. It is now August of 2020. We have heard the feedback of Security Council members and adjusted our approach accordingly – the text we have tabled underscores this.
I make this second point about process because some have said we are rushing things. State Department diplomats have spent 19 months engaging leaders around the world in discussions on the embargo. It expires in 66 days. We have given the time, and we are now short on time.
When it comes to national security, this administration does not base its decisions on a whip count. We also do not promote multilateralism for the sake of multilateralism. We make decisions based on advancing the security of the American people and our allies and partners. For those who see it the same way, there is no better friend than the United States. For those who object to our proposal, we answer, "Please show us yours." It has been almost two years and only the United States has tabled a proposal to deal with the arms embargo expiring.
If the Security Council fails to uphold its mission and extend the embargo, then the United States will keep this process moving forward under the terms of 2231. If geopolitical confusion and fear of Iranian retaliation paralyzes multilateralism, the Trump administration will do as we have always done and keep moving forward to advance peace and security.
Question: What is the mechanism that the U.S. will be using for dispersing this aid and how will it be spent? Also, how does the Trump administration view resolving the crisis in Lebanon? Do they see it as requiring government change or accountability?
Mr. Hook: Well, this is a call to discuss the arms embargo on Iran. What I can say is Secretary Pompeo has had a number of discussions about Lebanon. He is committed to supporting the Lebanese people, who have not been well served by Hizballah. I think the people of Lebanon are tired of the corruption, the lack of transparency, the lack of accountability. And on specific questions of aid, I refer you to prior question – prior statements by the Secretary and people in NEA.
Question: Bloomberg's reporting that there are Iran is transferring new generations of advanced centrifuges into Natanz following the explosion there. Can you confirm that? And on the Security Council, as you said, "Please show us yours." The Europeans, as you know, are working with the Chinese and Russians to get an extension of six months – obviously, that's not what you want. Would you support that if the rest of the Council supports that?
Mr. Hook: I can't confirm that. I haven't taken a look at that story. If it is true, it again demonstrates the problem of the Iran nuclear deal is that Iran retained most of its nuclear infrastructure. And the fact that they are able to increase their purity and increase the stockpile is another example of how this problem fell well short of its – of how this plan fell well short of its goals.
On the second one, we have not received any proposal on addressing the expiration of the arms embargo. And so I don't have any comment on something that doesn't exist.
Question: You said that the resolution you're introducing is a compromise. Could you talk a little bit about how it is a compromise? Who did you reach out to to find a compromise? Did you reach out to countries like – to members like Germany, and in what way did you take into account what those countries are proposing?
Mr. Hook: I remember making trips to the UN Security Council for private consultations back in November and December and had consultations with the E3 in – it was January or February. I was in Paris for hours of discussions with the E3 political directors. I'm in regular touch with my European counterparts. There were concerns that the resolution that we had circulated, which had a very strong – very strong sort of structure for monitoring and enforcing sanctions compliance, and there were some concerns expressed that this text would make it harder and not easier to pass through the Council. And so the – this text that we have put into blue yesterday is exactly four paragraphs long and it has ample precedent in the Security Council.
This is a clean rollover of the existing arms embargo, which has served the international community well. It was the right thing to do back in 2007 and we have not seen any change of heart by the Iranian regime to be at peace with its neighbors that would justify letting it expire. And so we have presented a concrete and realistic proposal, and we hope others see it that – the same way.
Question: You mentioned in the call that there's a unanimous support from the GCC for the arms embargo extension, but a Qatari foreign ministry official told Al Jazeerathat Qatar does not think that Qatar did not necessarily support the GCC letter. So I just wanted to see what your response to that would be ?
Mr. Hook: I don't know who the official is. What I do know is that on a letter dated August 8th, in the first paragraph, it says that this letter is on behalf of the UAE, the Kingdom of Bahrain, the Kingdom of Saudi Arabia, the Sultanate of Oman, the State of Qatar, and the State of Kuwait. They have formally approved this letter and that was the product of a lot of discussions in the region. And this rift is entering its fourth year. And I think when – I think this is the only significant political statement that the GCC has issued since – certainly since June of 2017 when the rift started. And so I think it's important for people to recognize the significance of this statement. And I encourage people to read it, because it is a two-page, very detailed analysis and it is a correct analysis. It describes exactly Iran's threats to its neighbors in the region.
Question: How will the decision to extend the arms embargo affect Iran in light of Iran's China agreement? And relatedly, What efforts are you making to mobilize support for the decision to extend the arms embargo?
Mr. Hook: Well, on the first question, I published an editorial in The Wall Street Journal about two weeks ago, maybe three, that analyzes the purported U.S. – the reported China-Iran partnership. And so I'd refer you to my comments and my analysis in that op-ed.
I think I explained in my opening remarks that it was in December of 2018 when Secretary Pompeo went to the Security Council. I was there for that trip. I remember him ringing the bell and sounding the alarm at the Security Council that the arms embargo on the world's leading state sponsor of terrorism was going to expire and we should start working on it now. So I think we have taken all the necessary diplomatic steps. Secretary Pompeo and I and others have been through the region and through Europe many times, and we are now 66 days away from this embargo expiring, so the time to take action is upon us.
Question: What do you think your successor, Elliott Abrams, is bound to bring to the table?
Mr. Hook: Well, that's probably a question for Elliott. I don't want to speak on his behalf. Elliott's an old friend, and he's an able colleague. So I'll be turning over the file to him in the next week or two. I think people are getting an upgrade. He's been working on Middle East issues for decades, very well known to the State Department, and also his service across many administrations. So he will do a great job on this file.
Question: My question is about snapback and 2231. What do you say to critics who say that the U.S. pulled out of the JCPOA and so are legally unable to trigger this mechanism?
Mr. Hook: Later today we'll be circulating to Council members a six-page legal memo that would answer the question that you asked. It will explain our rights under 2231. It was prepared by the State Department's Office of the Legal Advisor. The State Department has some of the best legal minds in the world. The arguments that we have seen on this question of standing are long on emotion and short on substance.
The memo that we are going to circulate is going to look at a number of issues. Just to preview some of it, Resolution 2231 establishes a fixed term, "JCPOA participants." That expressly includes the United States in its definition. Resolution 2231 places no other conditions on the eligibility of states that are among the named JCPOA participants. Developments beyond the four corners of Resolution 2231 did not and could not change the United States' right to initiate snapback. I think this is probably more specific to the question you've answered.
The JCPOA is a nonbinding political arrangement. It is not a – it has no binding commitments. There are nonbinding political commitments, but it is not an international agreement that imposes binding obligations. And Resolution 2231 did not transform the JCPOA from a nonbinding political arrangement despite some of the claims that I think you've heard people make. So we will be explaining this and how 2231 works. Our reimposition of sanctions on Iran didn't change our legal rights and obligation under 2231.
One of the points I think it's important for people to understand is, JCPOA participants are free to stop performing nonbinding political commitments at any time without violating international law. Now, they still have to comply with international obligations that are independent of the Iran nuclear deal, and that includes their legal obligations under 2231. The United States is in full compliance with its legal obligations under 2231, and specifically, that means the measures in Annex B to the resolution that the Council rendered legally binding through operative paragraph 7(b). That places restrictions on nuclear- and missile-related transfers to Iran, and it established a target – a targeted asset freeze and travel ban.
So those who argue that a state cannot avail itself of legal rights if it is in violation of corresponding legal obligations don't know how to read 2231, or they are applying a reading of the text that has no basis in precedent. If this issue about – I can just – I mention this because you mentioned about the legal piece. You should take a look at operative paragraph 1 of 2231. It makes it very clear that the 2231 endorses the Iran nuclear deal, but it does not make it legally binding.
So it's important for people to define their terms. The Iran deal is a political arrangement consisting of nonbinding political commitments. That was stated by the Obama administration itself. So we'll circulate our memo today, and that will be our statement on – on the – on the matter.
Question: If, this arms embargo resolution fails, as most people expect it to, how quickly then do you think we will move to snapback? And if then there is opposition to the U.S. snapback move from Russia, China, and maybe Europeans, what will the U.S. do? Will you simply declare that snapback has been activated and that it's – declare it's done? How will it work from this point of view for you?
Mr. Hook: Well, we have always tried to take this one step at a time. And right now we're focused on the arms embargo and ensuring that it passes. As I said earlier, national security is not a – it's not a popularity contest. We don't make our decisions based on a whip count. It is clear that letting the arms embargo expire would be very bad for promoting peace and security in the region and beyond the region. Letting the arms embargo has consequences beyond the region because the Iranian regime has conducted terrorism across five continents. And so I – and much of that has been in Europe.
And so allowing the arms embargo to expire on a terrorist regime would be negligence. It would be an act of gross irresponsibility. So that's how we see it. We certainly made the case on the merits for why it needs to be extended, and we'll see how the Council lines up. But I remember I said this in a Wall Street Journal editorial a few months ago: There are – one way or the other, we are going to ensure that the arms embargo is extended.
Question: Some reports in Washington say that the shakeup in the Iranian office at the State Department happened after the U.S. sanctions and strategy on Iran have failed. Do you agree on that? And why did you resign at this time?
Mr. Hook: Well, we've run a very successful foreign policy. We have been very effective. There's a great deal of pride in the results that we've been able to accomplish. We've achieved historic results countering the Iranian regime. And so anybody who is claiming what you quoted is, I think, motivated because they simply don't like our strategy.
In terms of my departure, as we say in Iowa, it's time to rotate the crops. I very much believe in public service, but I also enjoy life in the private sector. I've served for three and a half years at State. It's been a great honor to be an American diplomat. This is my second tour at the State Department. I enjoy working with my colleagues. I've enjoyed all of the work. We've been, I think, very successful in the Iran Action Group because President Trump enforces his red lines, and he understands the importance of restoring and maintaining deterrence. Secretary Pompeo has been a great boss. And I'm turning the Iran file over to a very capable diplomat, Elliott Abrams. And so that's largely the background on my departure.