The Baltic Region's maritime-focused exercise BALTOPS 50, which includes defensive cyberwarfare tactics for the first time, has launched, the U.S. Navy said.
Air and maritime assets from 18 NATO allies and partner nations will participate in BALTOPS 50's live training events, which kicked off on Sunday and will go through June 18, the U.S. Navy announced.
Participating nations include Belgium, Canada, Denmark, Estonia, Finland, France, Germany, Italy, Latvia, Lithuania, the Netherlands, Norway, Poland, Spain, Sweden, Turkey, Britain and the United States.
The events include air defense, anti-submarine warfare, amphibious operations, maritime interdiction, and mine countermeasure operations.
"This year, we celebrate the 50th BALTOPS, an exercise that sets the foundation of interoperability across the Alliance," U.S. Vice Adm. Gene Black, commander, Naval Striking and Support Forces NATO and commander, U.S. Sixth Fleet, said in the announcement.
"For the first time, exercise design incorporates defensive cyber warfare tactics, techniques and procedures as BALTOPS continues to adapt and train to ensure an asymmetric advantage in the era of modern warfare," the Navy announcement added.
The exercise has been divided into two at sea training phases, the combat enhancement training and forced integration training portion, along with a final tactical phase as it was last year.
Also, similar to last year, Naval Striking and Support Forces ashore will command the exercise from headquarters in Portugal.
"II Marine Expeditionary Brigade and Expeditionary Strike Group 2 will command and control exercise Marine forces throughout the exercise from aboard USS Mount Whitney, demonstrating international naval integration and power projection ashore for an amphibious demonstration in Lithuania," the Navy added in the BALTOPS 50 announcement.
Ships and aircraft will transit through the Danish Straits in the first six days, demonstrating the CET/FIT phase, and "focusing on maritime operations in critical chokepoints, ensuring access and freedom of navigation in the Baltic Sea," according to the statement.
The exercise will continue to move east during CET/FIT phase, and will end with the tactical "free-play" phase, which gives commanders more freedom and is designed to emulate "real-world situations," the Navy said.
The maritime-focused exercise that brings together NATO allies and partners has been held in the Baltic region since 1972.
"BALTOPS stands as the keystone of our exercise season, demonstrating half a century of the unwavering commitment of our partners and allies," Black said in the BALTOPS 50 announcement.
"Lessons learned in BALTOPS enable international strike group operations, advanced missile defense capabilities and seamless surface action group missions," Black said.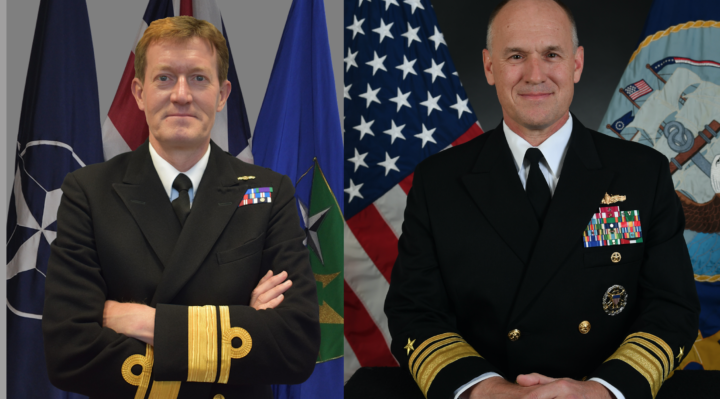 Below is a full rush transcript of the press conference by Special Briefing via Telephone with Vice Admiral Gene Black Commander, U.S. Sixth Fleet and Commander, Naval Striking and Support Forces NATO And Rear Admiral James Morley Royal Navy, Deputy Commander, Naval Striking and Support Forces NATO.
Vice Admiral Black: Well, Good morning, Thank you for joining us as we commence BALTOPS 50. I'm Vice Admiral Gene Black. I'm the Commander of Naval Striking and Support Forces NATO; I'm the Commander of the U.S. Sixth Fleet. As Justin said, with me today is Royal Navy Rear Admiral James Morley, my Deputy Commander at STRIKFORNATO. I'm calling in from Naples, Italy, headquarters of the U.S. Sixth Fleet, while Admiral Morley is calling in from our headquarters at Oeiras, in Portugal, from Strike Force NATO. We will command and control BALTOPS 50 this year from Strike Force NATO's operations center.
Yesterday we began the 50 iteration of BALTOPS, an exercise that sets the foundation of interoperability across the alliance. Eighteen nations with more than 40 ships, 60 aircraft, and 4,000 personnel will operate together in the Baltic Sea. BALTOPS represents half a century of unwavering commitment to maritime security by our partners and allies. Lessons learned during BALTOPS enable international strike group operations, advanced missile defense capabilities, seamless surface action group missions, amphibious operations, and mine warfare. In other words, we will exercise the full range of maritime missions.
Last week the French carrier Charles de Gaulle and the UK carrier Queen Elizabeth operated alongside one another in the Mediterranean. Two weeks ago, during exercise Formidable Shield, a Dutch ship passed ballistic missile tracking and targeting information to a U.S. Navy destroyer that successfully engaged an inbound ballistic missile threat. These high-end international capabilities derive from exercises like BALTOPS, which routinely demonstrate the strength, commitment, and capability of our alliance.
BALTOPS stands as a premier annual joint multinational maritime-focused exercise in the Baltic Sea. The exercise continually adapts to meet current and emerging regional security demands, bringing together participating nations in a realistic training environment to ensure maritime security and stability. Through 50 iterations of this exercise, generations of allied and partner nation sailors, soldiers, marines, and airmen have growth together in operational experience and built lasting relationships based on mutual respect.
I am pleased to give the floor to Rear Admiral James Morley, Royal Navy, who will provide you with an overview of the execution of BALTOPS 50, and then we will take your questions.
Rear Admiral Morley: I'm Rear Admiral James Morley; I'm the Deputy Commander of Naval Striking and Support Forces NATO, and I'm speaking to you from Portugal.
BALTOPS forms a key element of NATO's exercise program – a key part in the alliance deterrence and defense, as both readiness and operating with each other rely on military training. It's the largest maritime exercise we conduct in the Baltic region. It serves a number of purposes, but principally it's an opportunity to demonstrate alliance cohesion, a chance to demonstrate and to develop and to test alliance capability, and it's all done with an emphasis on transparency. And I might just touch on each of those points in turn.
So first of all, BALTOPS is conducted annually, as the Admiral has described, and it's the 50th exercise. It's a perfect platform for allies and partners to work together, and is a demonstrable commitment by NATO to the security and stability of the Baltic Sea region. This year we have 16 NATO and two partner nations contributing, so 18 nations together, including Sweden and Finland. And among them we bring 40 ships, over 60 aircraft, and over 4,000 people to the exercise.
Secondly, the exercise demonstrates and develops alliance capability and readiness. The chance for allies to operate alongside each other, just as they would fight together, training across the entire spectrums of naval warfare against conventional threats from aircraft, ships, and submarines, including this year against a highly capable Swedish submarine, and in mine warfare, in amphibious operations, and in maritime interdiction operations.
We're going to do this in two distinct phases. The first is a training and integration period to improve unit readiness using a pre-planned serialized program; and then a tactical exercise, or free-play phase, where we'll immerse ourselves in a fictitious scenario. Units won't know what the enemy will do next and will be expected to react as they would for real to a series of multi-threat challenges.
For the first time we'll be playing defensive cyberwarfare tactics, techniques, and procedures into the scenario. It's something we contend with and do every day, but it'll give both commanders and operators something else to contend with. We'll also be experimenting with unmanned and autonomous systems, particularly in mine warfare.
Finally, all this takes place with an emphasis on transparency. BALTOPS is a long-planned and publicly announced exercise conducted in compliance with international law, with a strong focus on real-world safety.
In preparing for the exercise, we have of course had to account for the COVID pandemic at every stage, planning activity virtually wherever possible and minimizing travel. One of the benefits has been to force the pace of adopting distributed command and control arrangements, in the same way that many organizations are now considering permanent changes to ways of working. So while Admiral Black is connected from his headquarters in Naples, the team here in Lisbon will maintain overall control of the exercise. Meanwhile, the command ship USS Mount Whitney will be in the Baltic to host the command teams from the Second Expeditionary Strike Group and Second Marine Expeditionary Brigade.
Participation in BALTOPS allows allies and partners to demonstrate their commitment to regional security, working together. The activity is a reinforcement of NATO's commitment to regional security and a stable and prosperous Baltic Sea region, sending a strong message towards any potential adversary and reducing the chance of conflict.
Question : Have you seen any indication of a Russian military buildup in response to these exercises? Have you seen any indication of increased Russian cyber activity?
Vice Admiral Black: As we said, BALTOPS is regularly scheduled and announced, and always there is a slight uptick in Russian activity as we bring forces into and operate in the Baltic. It's completely within the realm of what we would expect, and we don't anticipate anything terribly out of character from what we've seen before.
With regard to the cyber ops, I prefer not to comment due to the concerns with operational security.
Question : How are the present tensions in the region between Russia and Belarus and the Western allies affecting the exercise? Is there a higher risk of provocations or other conflict, and how will these risks be addressed during the exercise? And was the program of the exercise somehow altered or affected by those tensions?
Vice Admiral Black: As I said earlier, this is previously scheduled. It's the 50th iteration. It's generally in the same size and scope that we have done, and I do anticipate there will be Russian activity in response, as there always is, and is probably appropriate.
With regard to tensions between Belarus and that, I'll defer to my partners in the State Department to comment on that.
Question : Is this year's BALTOPS exercise linked to other exercises being held by the allies across Europe?
Vice Admiral Black: While BALTOPS is not linked to another exercise, it does run concurrently with several that are ongoing in the theater, including Baltic Fortress hosted by the Lithuanians, and then DEFENDER-Europe, which is part of a series hosted by the U.S. Army in Europe.
Question : I was wondering if there is any new – other than cyber, is there any new aspect or new equipment being used? I mean, are any new unmanned underwater vehicles being used or used for the first time during an exercise or an international exercise, for example?
Rear Admiral Morley: As I outlined in my opening remarks, the majority of the experimentation and new equipment that we're trialing in this exercise are in the mine warfare area of warfare. So we've got a high number of mine warfare platforms taking part this year, probably more than usual, from a range of nations. And we'll be using a range of both conventional and autonomous systems that various nations are trialing in the exercise to give them some real-world context and to test them alongside conventional capability.
We can provide you with a bit more detail on that, if you want, in either a separate session or we can provide you with the actual detail. I know Janes is particularly interesting in this particular aspect. So we are very happy to provide that separately. Over.
Question: My question is the Russian cyber company's activities within NATO countries, especially in Amsterdam, they're having some cyber operation in Amsterdam against the NATO countries. How U.S. can respond to this?
Vice Admiral Black: Nadarajah, Admiral Black here. Thanks for your question. I don't really want to get into operational matters with regard to cyber.
Vice Admiral Black: Thank you for pulling this together and thank you to all of the folks participating for your interest in BALTOPS. As we said, this is the 50th iteration of this exercise, and it's foundational to so many of the things we do as an alliance. We're excited to be able to be doing it at sea, and mindful of the COVID restrictions, though, we are still able to have some interactions ashore and among the sailors, which we weren't able to get last year.
Rear Admiral Morley: The activity is absolutely a reinforcement of NATO's commitment to regional security and a stable and prosperous Baltic Sea region, and we'll be doing everything we can to reinforce that during the period of BALTOPS 50. To go back to Justin's question, very happy to take offline some – correction, Nicholas's question – very happy to provide him with more detail on the specifics of the unmanned systems that we're trialing during the exercise.