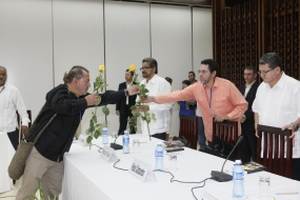 The agreement on victims will seek justice to be done and the end of violence of the conflict in Colombia, remarked today here Dag Nylanderel, representative for Norway, guarantor country in the peace negotiations. The main purpose of this agreement on victims is to guarantee giving dignity, to do justice and pave the way to end the violence of that conflict and for anybody else to be a victim, said Nylanderel.The delegations of the Revolutionary Armed Forces of Colombia-People's Army (FARC-EP) and the Government reached an agreement about the victims of the conflict that has been affecting that nation for more than 50 years.
About the agreement, Nylanderel highlighted the creation of a comprehensive system of the truth, compensation and non-repetition.
The different measures of this comprehensive system should contribute to satisfy the rights of the victims, by means of a combination of legal and extrajudicial mechanisms, he said.
Implementing the measures included in this system would have the purpose of preventing re-victimization and repetition, as well as guaranteeing the end of the conflict and preventing the emergence of new forms of violence, he added.